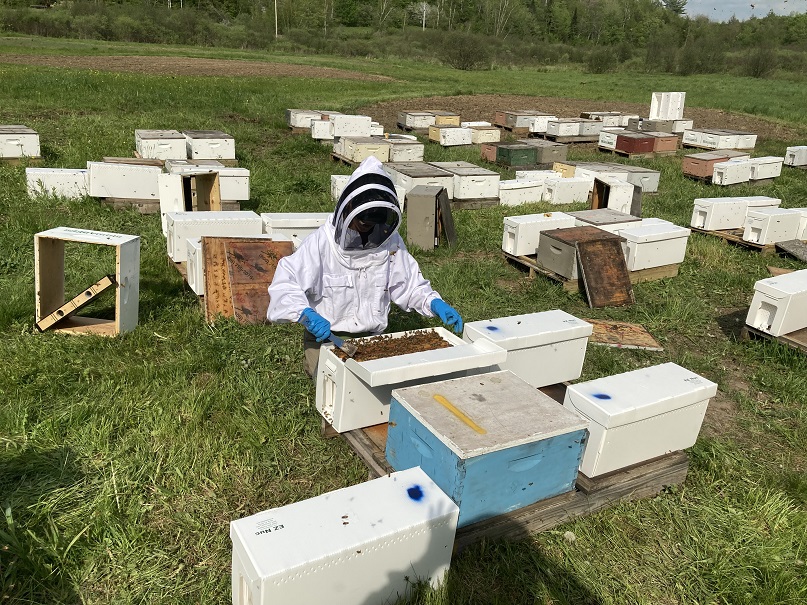 Honey bees play an important role in our food system by providing essential pollination services for both food and forage crops.  In addition, the honey produced by honey bees is a popular foodand natural sweetener. Honey and other hive products like beeswax and propolis are used in value-added products, as well as health and beauty products.   
In Vermont, there are approximately 750 registered beekeepers, 1,400 apiaries, with approximately 16,500 colonies. A majority of the beekeepers in the State are backyard or hobbyist beekeepers, however, most of the bee colonies are managed as part of commercial operations. 
The Vermont Agency of Agriculture, Food and Markets' (VAAFM) Apiary Program works to accomplish the dual-purposes of: ensuring that Vermont beekeepers comply with the Chapter 172 Inspection of Apiaries; and supporting the Vermont beekeeping industry through education, outreach and promotion, with a focus on honeybee disease and pest mitigation.
Please click on the following links for further information on VAAFM's Apiary Program statutory requirements: Chapter 172 Inspection of Apiaries and the Apiary Program Inspection Regulations.
Apiary Registration
Any person owning a bee, apiary, colony, or hive in the State is required to register with VAAFM and pay an annual registration fee of $10.00 for each apiary location. (see 6 V.S.A. §§ 3022-3023).
Registration for new apiary accounts is due upon ownership of bees. VAAFM will mail previously registered owners a renewal form prior to June 1st which must be completed and submitted to VAAFM by June 30th each year. A late fee may be assessed if renewals are submitted after June 30th. (see 6 V.S.A. § 13).
Please click on the following link to download a copy: Apiary Registration Form.
Apiary Renewals are now available online! 
Additional information and FAQ's can be found on the VAAFM License and Registration webpage.
USAPlant ID and Pin is included on the paper renewal form, mailed to previously registered beekeepers Mid-May of each year. 
Colony Health and Varroa Mite/Pest Mitigation Plan
Vermont beekeepers are to annually report any diseases found in their colonies as well as have a Varroa Mite and Pest mitigation plan for their apiaries (see 6 V.S.A. §§ 3023). The following online survey serves as a reporting format for these requirements. Colony Health and Varroa mite/Pest Mitigation Plan
Relocating or Requesting a New Apiary Location
Establishing or relocating an apiary outside of personal property requires approval prior to placing bees in the location. Beekeepers currently registered in Vermont seeking to establish or relocate and apiary can request a new apiary location by submitting the Apiary Location Request Form. If you are registering bees for the first time, please use the Apiary Registration form above. 
https://agriculture.vermont.gov/form/apiary-establishment-request
New in 2022* A map is now available as a tool to locate available apiary locations in Vermont. 
Inspections
Persons engaged in the rearing of bees for sale are required to have their apiary inspected prior to any sale of bees at least once each summer season to ensure the bees are free of any disease. (see 6 V.S.A. § 3028). Please request an inspection a minimum of two weeks prior to the intended sale of bees. 
To request an inspection, or if you suspect a presence of a honey bee disease or a potential pesticide kill,  please fill out the Inspection Request Form by clicking on the following link: Inspection Request Form.
Transporting bees and used equipment
An import permit is required for bees and/or used beekeeping equipment coming into Vermont. (see 6 V.S.A. § 3032).
To obtain an Import Permit:   
1. Fill out the Hive Import Form.
2. Submit a valid (within 45 days of intended import) certificate of inspection.
The above documentation must be submitted, at a minimum, 10 days prior to intended import. 
Enforcement and Compliance
The Secretary is charged with enforcing the provisions of Chapter 172: Inspection of Apiaries. (see 6 V.S.A. § 3022).
The Apiary Program has the ability to issue Cease and Desist Orders (CDO), Letters of Warning (LOW), Corrective Action Letters (CAL), and Notices of Violation (NOV), in addition to other enforcement actions and remedies, in order to gain compliance with the rules and regulations governing the Program.  NOVs carry a monetary penalty in addition to requiring corrective action.  Please consult the Administrative Penalty Matrix and Guidance Form below in order to see how a penalty is assessed.
Beekeepers seeking to locate or relocate an apiary within a 2-mile radius of an apiary registered to a different person are required to provide written permission to the Agency. The form below shall be used for this purpose.  To find your existing apiary USA Plant ID, log in to the database here. 
Apiary Location Permission Form
Questions about the Apiary Program can be directed to
Brooke Decker serves at the Pollinator Health Specialist and State Apiculturist