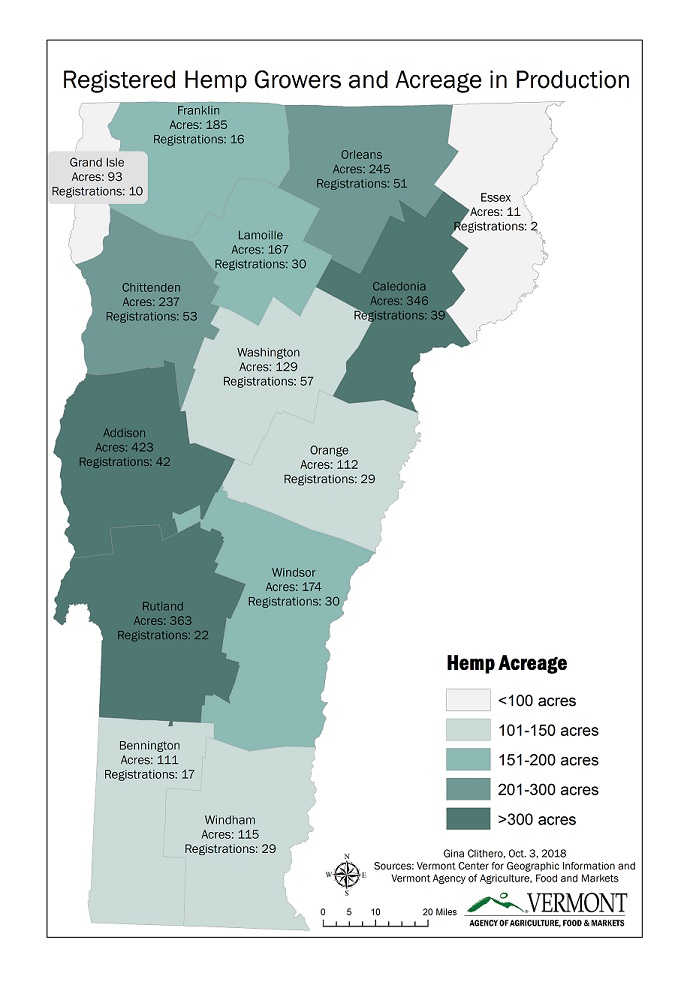 Industrial hemp or hemp is the Cannabis sativa L. plant including all parts of the plant, whether growing or not, with a delta-9 tetrahydrocannabinol [THC] concentration of not more than 0.3 percent on a dry weight basis. In Vermont, hemp is considered an "agricultural product" when grown by an individual that is registered with Vermont Agency of Agriculture, Food & Markets (the "Agency") as part of its pilot program. Cannabis sativa L. with a THC concentration greater than 0.3 percent on a dry weight basis is not hemp and is not an agricultural product. It is a violation of the federal Controlled Substance Act to cultivate or possess hemp in Vermont, unless the hemp is grown, cultivated, or marketed under a pilot program authorized by section 7606 of the federal Agricultural Act of 2014, Pub. L. No. 113-79 (2014 Farm Bill).
The Agency through its Hemp Program, authorized under 6 V.S.A., chapter 34, accepts registrations from interested hemp growers and processors.  There are no residency requirements, minimum acreages, or limitations on the numbers of registrants. This is an annual registration; applications received and processed in previous years are not valid beyond the end of that calendar year.  Growers and processors must have a valid registration prior to sowing through harvesting, drying and processing.
2019 Industrial Hemp Conference
Please join University of Vermont Extension Northwest Crop & Soils Program and Vermont Agency of Agriculture, Food and Markets at this one-day conference to expand industrial hemp knowledge of farmers from seed to sales. Beginning at cultivation through processing and sales, Friday, February 8, 2019, 9am to 6pm at the Hilton Burlington Lake Champlain in Burlington, VT.
 Register online at www.regonline.com/2019industrialhempconference
The welcome and plenary session will be given by Monique McHenry, PhD at UVM and Director of Cannabis Science and Medicine Program. She will talk about cannabis as a plant focusing on the taxonomic challenges and the chemicals that make this species unique. The lunch speaker is Dr. Jay Noller who is a Professor and Head of the Crop and Soil Science Department at Oregon State University. He is an original leader for research and development for Oregon's hemp industry
Multiple breakout sessions will include educational and information sharing opportunties on the types of hemp grown for food, fiber, and flower including breeding and selection of hemp for CBD production, and growing, harvesting, and drying/storage methods.