The Vermont Agency of Agriculture, Food & Markets is committed to transparency and open government in serving the citizens of Vermont.  To fulfill this important aspect of the Agency's mission, VAAFM utilizes a variety of methods to disseminate information to the public including press releases, social media, responses to public information requests, public meetings, technical assistance and web based content.
Press Releases
VAAFM routinely issues press releases pertaining to Agency programs, grant funding, events and other important topics.  Press releases can be found on the Agency website at https://agriculture.vermont.gov/blog.  You can also sign up to receive VAAFM press releases via email.  Please request this to Scott.Waterman@Vermont.gov .
Social Media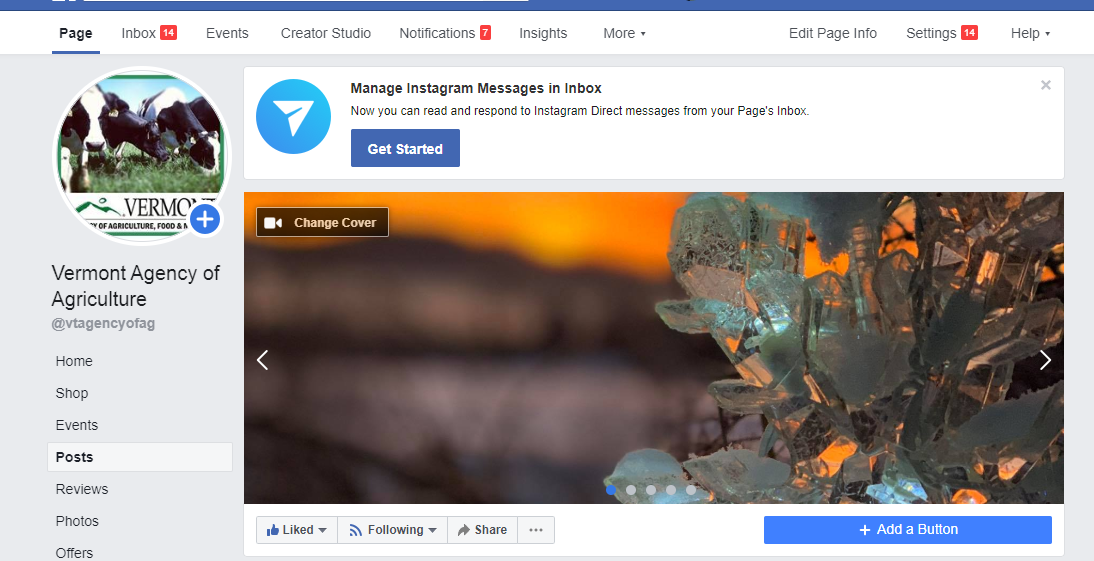 The Vermont Agency of Agriculture, Food & Markets employs social media to further inform the public of important agriculture news, imagery and Agency efforts.
Vermont Agency of Agriculture Website
Many questions about the Vermont Agency of Agriculture, Food & Markets can be answered through the VAAFM webpage. Funding opportunities, water quality, agriculture development, pesticides, specialty crops, and much more, may be explored on our webpage.
PUBLIC RECORDS
VAAFM Public Records contacts:
Scott Waterman | Director of Communications and Policy | Scott.Waterman@vermont.gov
Diane Bothfeld | Director of Administrative Services, IV and Dairy Policy | Diane.Bothfeld@vermont.gov
State of Vermont Public Records Statute
The Vermont Public Records Act was passed into law by the State Legislature to address the need for public access to government information.  The statute requires government agencies such as the Vermont Agency of Agriculture, Food & Markets, upon request, to deliver records to those seeking information.
The statute also establishes exemptions that protect certain information from release. The many reasons for those exemptions include, but are not limited to, protecting personal information of citizens, protecting a business's proprietary information, and protecting various other types of private information from being released.  The Vermont public records statute can be found online at: http://legislature.vermont.gov/statutes/section/01/005/00317
Public Record Requests
The Vermont Public Records Act includes a requirement for a government agency to produce a requested record within a specific period of time. Once a public record request is received by a government agency, the statute requires the agency to either, provide the document within three business days in its entirety, redact the record with a statutory explanation for the redaction, or provide notice of the need for a ten-day extension before providing a response to the request for information. If deemed appropriate, an agency may also deny the records request by citing an applicable statutory exemption. Per statute, the requestor can appeal this decision. For VAAFM, an appeal is made directly to the Secretary of the Agency of Agriculture. The Public Records Act places the onus on the government agency to comply with the request in a practical and responsive manner, always with the public interest and transparency in mind.
Records requests can be made by mail, email or phone directly to the Agency of Agriculture. The Vermont Access to Public Records Act, Title 1, Chapter 5, Subchapter 3 of the Vermont Statues Annotated, provides for access to public records. The Act also includes specific exemptions from public inspection. Those exemptions are set forth in 1 V.S.A. § 317.
Executive Branch agencies are required by law to log all Public Records Act Requests and related information in the Public Records Request System database. The database is posted on the Agency of Administration (AOA)'s website and is available to the public at: aoa.vermont.gov/stay-informed.