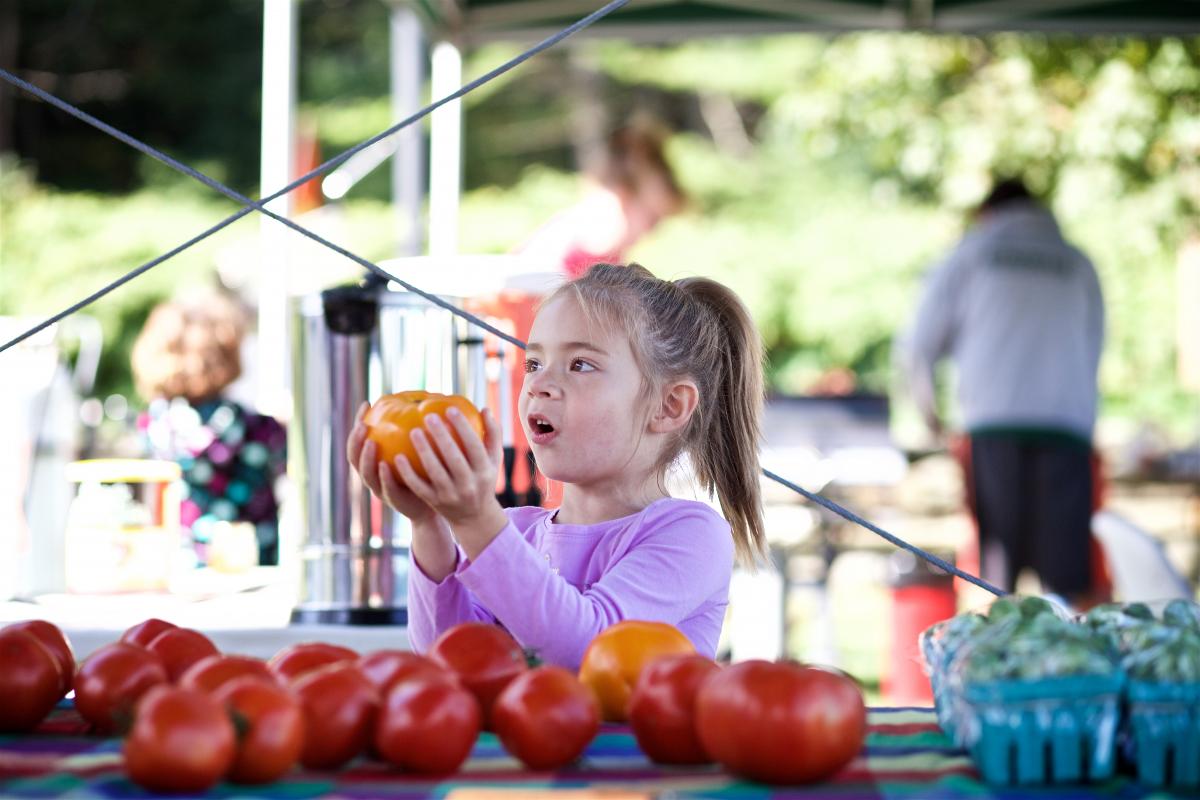 Agritourism in Vermont
As described in the Vermont Food System Plan Agritourism Issue Brief, "Agritourism is a way for Vermont farms to differentiate themselves through authentic experiences that strengthen the Vermont brand and increase product sales." Learn more in the Vermont Agriculture and Food System Strategic Plan 2021-2030. 
The Vermont Agency of Agriculture, Food & Markets works in partnership with public, private, and nonprofit entities to increase the economic impact of agritourism on the working landscape. Agritourism is an important strategy for promoting agricultural literacy, through activities to promote a better understanding of food and agriculture among an increasingly urbanized public. It contributes to farm viability and the vitality of the working landscape by providing additional income to farm businesses. 
Vermont Laws Related to Agritourism
Act 31 of 2021: Limiting Liability for Agritourism  
On July 1, 2021, Vermont Act 31 (H.89), An Act Relating to Limiting Liability for Agritourism, went into effect. Act 31 acknowledges that there are "inherent risks" in participating in agritourism activities and shifts those risks to properly warned consumers. The Act covers recreational, educational, entertainment, historical and nature-based activities on farms, such as farm tours and pick-your-own. It does not include on-farm lodging, retail establishments or farm stands. 
To qualify for the limitation on liability, an agritourism host must post the required warning notice in a clearly visible location at or near the main entrance to each agritourism activity and include the warning notice language in every written contract between the agritourism host and a participant.
The required warning notice must read: 
WARNING: Under Vermont law, an agritourism host is not liable for the injury or death of a participant in an agritourism activity resulting from the inherent risk of the agritourism activity. Inherent risks include the risk of animals, weather, land conditions, and the potential for you as a participant to act in a negligent way that may contribute to your own injury or death. You are assuming the risk of participating in this agritourism activity. 
The warning notice must be posted and maintained on a sign: 
in a clearly visible location at or near the main entrance to each agritourism activity 
in black letters at least one inch in height containing the above warning notice 
For more information about Act 31, visit the Vermont Agritourism Collaborative Safety, Liability, and Regulations page. 
Univeristy of Vermont Extension is distributing a limited supply of printed signs at no cost to farms. Contact vtagritourism@uvm.edu if you would like a sign.
Act 143 of 2018: Accessory On-Farm Businesses
​As of July 1, 2018, municipalities with zoning regulations cannot prohibit accessory businesses in the same location as a "farm." A business meeting the definition of an "accessory on-farm business" can only be reviewed by the local municipality under site plan review and require the business to meet performance standards for similar commercial uses. A farmer, farm resident, or farm lessee may operate a subordinate business located on a farm regulated by the Agency of Agriculture, Food & Markets under the Required Agricultural Practices (RAPs) rules that includes one or both of the following types of businesses:
The storage, preparation, processing, and sale of qualifying products, provided that more than 50 percent of the total annual sales are from products that are principally produced on the farm at which the business is located.
Educational, recreational, or social events that feature agricultural practices or qualifying products, or both. Such events may include tours of the farm, farm stays, tastings and meals featuring qualifying products, and classes or exhibits in the preparation, processing, or harvesting of qualifying products.
A "farm stay" means a paid, overnight guest accommodation on a farm for the purpose of participating in educational, recreational, or social activities on the farm that feature agricultural practices or qualifying products, or both. A farm stay includes the option for guests to participate in such activities.
At the same time as seeking a permit from the municipality, an individual should also contact a Regional Permit Specialist at the Department of Environmental Conservation to understand what other permits may be necessary to operate the business, such as potable water supply and wastewater, and fire safety permits.
When an operator receives a local permit for an accessory on-farm business and applies agricultural pesticides on the farm, the operator is required to meet EPA's Worker Protection Standard and post signs in the areas of application if the accessory on-farm business takes place in the same area.
For information on how to apply for site plan approval, please contact your municipality.
These general summaries of Act 31 and Act 143 are provided for public notice and convenience and may not be exhaustive. They are not intended to aid in the interpretation of legislation and do not alter or effect an Act's legal requirements. Interested parties should always review the law—and seek legal advice as necessary—to ensure they are meeting its requirements. ​
Agritourism & Agricultural Land Planning Resources