Looking for a different meat? How about trying local lamb.
WATCH as Chef Michael Kloeti from Michael's on the Hill Restaurant in Waterbury Center prepares an incredible lamb stew made with fresh local ingredients. It's worth the watch.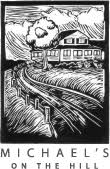 Recipe download: Navarin of Lamb with Creamy Polenta & House Preserved Ramp Gremolata 
Vermont's working landscape supports varied types of agriculture, but one of the oldest agricultural occupations in our state is sheep farming.  While cow dairies dominate the landscape today, over a century ago sheep flocked in our valleys and on our hills.  In Underhill, Vermont, Settlement Farm honors the past and looks toward the future of agriculture in the Green Mountain State.  You can find sheep and lamb lazily grazing there this summer, while farmer Dave Martin tends to them.  In this video, Dave relates his experiences and encourages anyone who may want to get in to lamb and goat farming to reach out for assistance, and we have those phone numbers and links at the end.  Get ready for cute!
Visit the Vermont Sheep and Goat Association at www.vtsheepandgoat.org for more information.