https://dorsetequinerescue.org/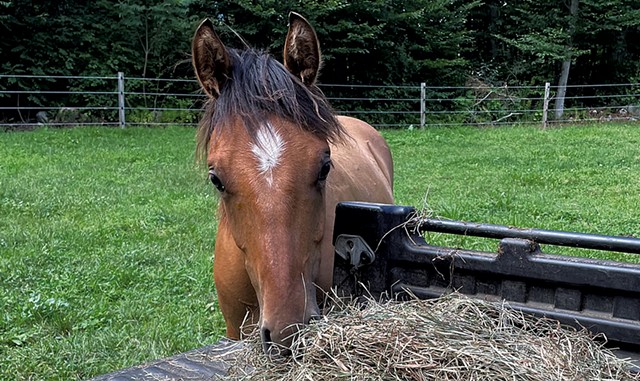 PRESS RELEASE: Introducing the Vermont Hay Bank!
By The Dorset Equine Rescue | Jen Straub and Lilli Biedermann
November 1, 2021 - Dorset, VT - The Dorset Equine Rescue (DER) is very excited to announce the launch of our new program, the Vermont Hay Bank. After working on this project behind the scenes for almost a year, we are thrilled to open on October 5th! The Vermont Hay Bank is designed to function as a temporary safety net for Vermont horse owners who are facing financial hardship and cannot afford adequate feed for their horses. Applicants will submit a Vermont Hay Bank Application online through the Dorset Equine Rescue's website and if approved, will receive hay vouchers to help them through their time of need. If further assistance is needed, DER will assist Vermont Hay Bank Applicants in making thoughtful horse care plans for the future.
The Vermont Hay Bank is the brainchild of Jen Straub (DER founder) and Lilli Biedermann (DER supporter) who noticed the need for support in our state and were moved to do something about it. As Jen says, "The point is to keep horses in good homes. Sometimes we all need a little help; that's why we created the Vermont Hay Bank. We want to help horse owners keep their beloved horses whenever we can. It is a lot more efficient and often less stressful to keep horses, especially older ones, in their homes when possible. We can afford to help more horses this way." By expanding Dorset Equine Rescue's services, we can help horses before they end up neglected, or ending up at auction which puts them at high risk of shipping to slaughter.
DER is a 501(c)(3) nonprofit organization and was founded in 2012. Our mission is to rescue, rehabilitate and rehome abused, neglected and slaughter bound horses. Since our founding, we have helped well over 200 horses out of various unfortunate situations. Most have found wonderful new homes through our adoption program and some are still waiting to find their special person. DER is rated at the gold star level on Guidestar and is a proud Guardian of the EQUUS Foundation. We are blessed to have a wonderful team of volunteers, staff and an awesome Board of Directors who help out in various ways behind the scenes. It truly takes a village and we are so excited to introduce the Vermont Hay Bank to all corners of Vermont!
Horses arrive at DER through a variety of situations including many from owner surrenders. In some cases, there has been a loss of job, serious illness, or divorce. It is difficult to turn any horse away, but due to lack of space and funding, we are forced to be selective on which horses we can take in and focus on the ones in the most dire need. It is DER's dream to eventually own its own forever farm in our beloved community with more land to accommodate more horses who need us.  With our new program, the Vermont Hay Bank, we will be able to expand our reach and touch more horses lives who need help.
The Dorset Equine Rescue, P.O. Box 92, East Dorset, VT 05253
For more information, please visit our website: https://dorsetequinerescue.org/ 
**Image courtesy Jen Straub.