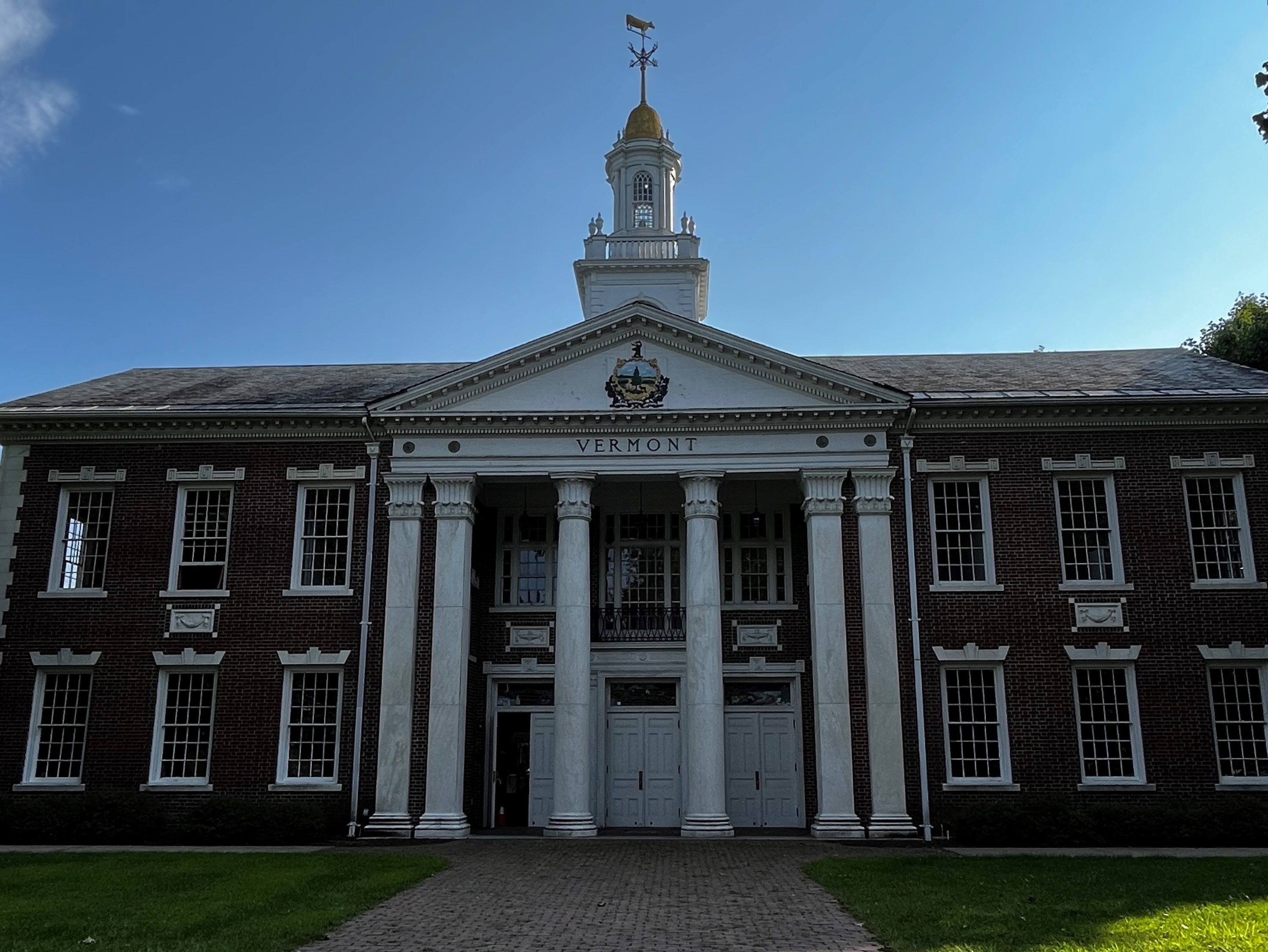 The Vermont Building at The Big E showcases the authenticity, quality, and spirit of Vermont. Each year, companies from across the state head down to West Springfield, MA to share their products with fair-goers who appreciate the high-quality products crafted by Vermont purveyors. For 17 days each September, the building is a feast for the senses.
2023 Vermont Building Vendors
Adult & Teen Challenge Vermont - Hand-crafted hardwood cutting boards, butcher blocks, rolling pins
ANM/KIS Kombucha (9/15-9/23) - Kombucha, canned cold-brew nitro coffee, other canned NA beverages
Bear's Den Carving - Wooden chainsaw carvings and demonstrations
Ben & Jerry's - Ice cream, frozen yogurt, sorbet, sundaes, shakes, smoothies
Bergamot +Amor - Thoughtfully handcrafted leather goods
Better Wheel Workshops - Woodzies, laser cut luminaries, memory games, laser cut earrings, bottle openers
Champlain Valley Apiaries (9/24-10/1) – Raw crystallized honey, liquid honey, VT beekeeping books, bees wax
Danforth Pewter – Handmade pewter ornaments, key rings, jewelry, and other small charms and tokens
Eden Specialty Ciders – Vermont wines, ice ciders, aperitif ciders, and harvest ciders crafted from locally-sourced, sustainably grown apples and cold hardy Vermont Grapes
Featherflies and Humble Bee Botanicals (9/24-10/1) - Nature-inspired wearable art created with pressed and dried handpicked botanicals and herbal, plant based, facial and body care products
FinAllie Ferments – Sauerkraut, kimchi, fermented products, pickle on a stick
Green Mountain Concessions - Cider slushies, cotton candy, cider donuts
Halladay's Harvest Barn - Dried herb dips and cooking blends, beer bread, soup mixes, dessert blends
Hilaryannlove Studio – Vermont artist selling cards and card packs, art prints at various sizes, notebooks, wall calendars, tote bags, holiday ornaments, small wood poster frames, and more
Kingdom Fleece & Fiberworks (9/15-9/20) - Vermont-made hand-dyed yarns, pin drafted roving, batts for fiber artists, kits, handwoven blankets, knitted hats, scarves, etc.
Long Trail Brewing Company - Vermont craft beer and cider
Maudite Poutine – Food truck serving locally sourced, classic and creative styles of poutine
Mother Myrick's Confectionary - Award-winning buttercrunch, Lemon Lulu Cakes, fresh fudge cups
Nomadic Kitchen – Small-batch, handcrafted marshmallows. S'macarons, s'mores, yippie pies, marshmallow bags, cocoa kits, s'mores kits
So-Full Sisters – Food truck serving waffle and cornbread bowls, lattes and specialty coffee drinks, snow cones
Skinny Pancake - Sweet & savory crepes
Sugar Bob's Finest Kind - Smoked maple syrup, maple sriracha, barbecue sauce, coated nuts
The Village Peddler - Chocolate confections, fudge, caramel apples, popcorn bar
Treeline Terrains (9/15-9/23) - 3D topographic map art
Vermont Cheese - Cheddar, goat, and curd cheese products made in Vermont
Vermont Department of Tourism and Marketing – Information on visiting and moving to Vermont
Vermont Clothing Company - Eco-friendly, Vermont-themed apparel and merchandise
Vermont Maple Sugar Makers' Association - Maple products
Vermont Sensory Store (9/21-9/25) - Organic 6-layer weighted blankets in various sizes, sensory swings (adult and child size), and weighted, warming, and cooling "friendly monster's," puppets, and huggable stuffies
Willow Bend Publishing (9/26-10/1)- Morgan horse children's books and stuffed horses
The Vermont Building provides companies with the unique opportunity to share their products with an audience of more than 1.6 million people eager to experience the quality of Vermont. Companies and organizations interested in participating in the Vermont Building must submit a proposal to the Agency of Agriculture, Food, & Markets, to be reviewed by the selection committee. Click here for information on vending inside the Vermont Building.