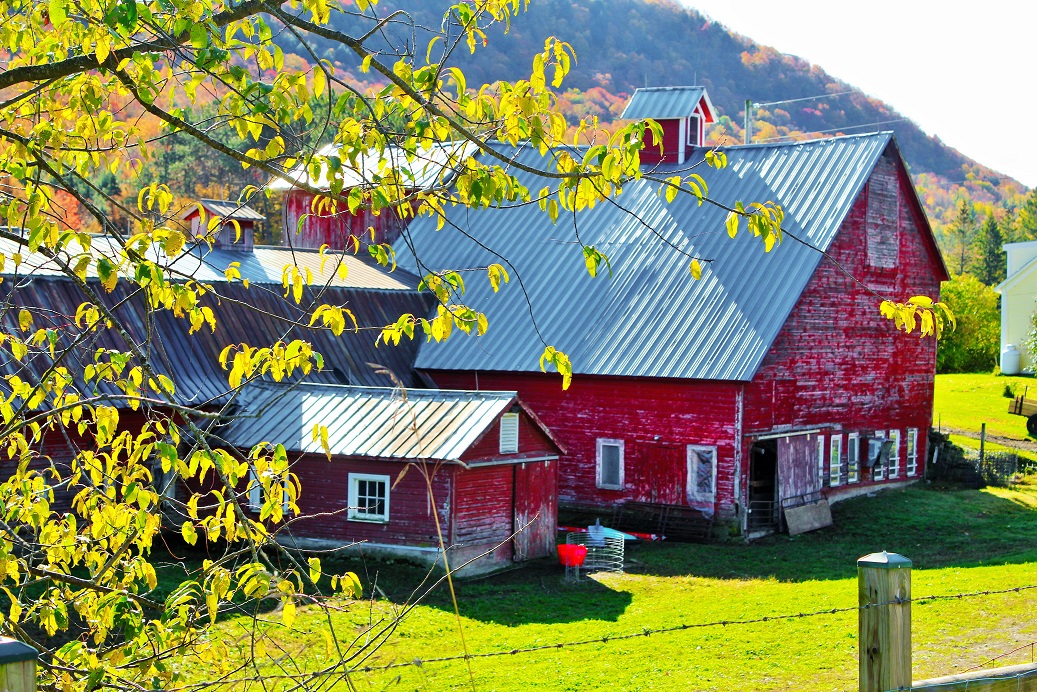 **January 2022 UPDATE**   Applications are currently CLOSED to allow the involved state agencies and partners to address a backlog of barns on our waiting list.  Currently, we anticipate the applications to reopen on September 1, 2023 for a period of one month, and close again on October 1, 2023.  Please contact Scott Waterman at the Vermont Agency of Agriculture, Food and Markets with any questions: Scott.Waterman@vermont.gov .
As you drive the back roads and hidden junctions of Vermont, keep your eyes open for the barns that dot our landscape.  Not only are they representative of our working lands, cultural heritage and a symbol of our people, they are also a beautiful sight to behold and often a marvel of architecture and construction.  Unfortunately, many of our barns have seen better days.  Some are slowly falling back to the earth that they helped till, still others have simply lost their beautiful red glow of paint to time.
Enter Angelo Pizzagalli and the Pizzagalli Family Farm Fund.  For many years now this family has been committed to restoring these barns to their former glory, through minor repairs and a fresh coat of red paint.  Mr. Pizzagalli recognized that many of our generational farm families who care for these historic barns may not be able to keep up with the care these large structures often need.  In collaboration with the Northeast Correctional Complex (NECC), VT Agency of Agriculture and Sherwin Williams, a number of barns have been restored since 2010 with a fresh coat of paint and other repairs.  Correctional teams have utilized their time and skills to benefit Vermonters and our landscape, while learning new skills to apply when they return to the public workplace.
In 2018, Governor Phil Scott visited a barn in West Danville with an eye towards expanding the program beyond Caledonia County:
In 2020, the Barn Painting Project expanded to cover the entire state and support adult learning through the Vermont Department of Labor (VDOL):
With that expansion has come new partners including the Vermont Youth Conservation Corp, ReSource and YouthBuild.  Additionally, VDOL would welcome any new partner that wishes to join the efforts at a future barn painting.
The Mooreland Farm Barn in Peacham and the Valley Dream Farm in Cambridge are the latest examples of this program's positive impact on our landscape, while working to preserve our heritage and cultural identity.  We encourage you to travel our dirt roads and rural communities to view some of Vermont's architectural wonders and cultural icons, while we endeavor to preserve it for future generations. 
Organizations or individuals who would like to explore volunteering with a barn painting, please contact Tracy Verge at the Vermont Department of Labor: Tracy.Verge@vermont.gov