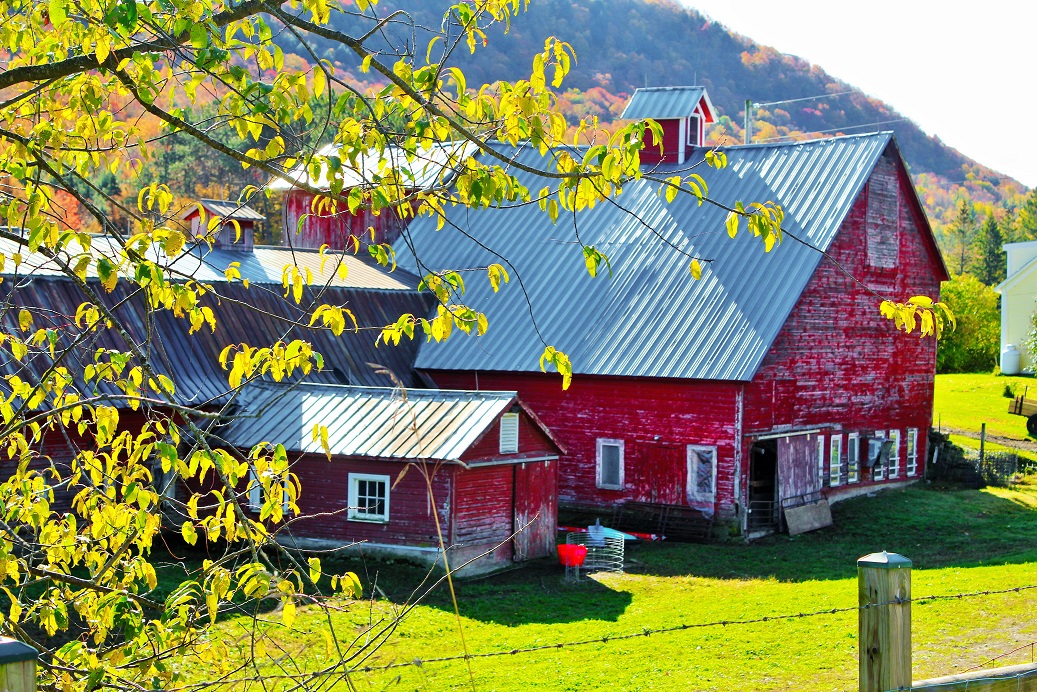 **2023 Update** The Vermont Barn Painting Program is changing for the 2023 painting season.  Pandemic issues have forced a re-envisioning of the program that is currently underway.  Stay tuned here for updates to the Vermont Barn Painting Program.  Please contact Scott Waterman with any questions.  Scott.Waterman@vermont.gov  
As you drive the back roads and hidden junctions of Vermont, keep your eyes open for the barns that dot our landscape.  Not only are they representative of our working lands, cultural heritage and a symbol of our people, they are also a beautiful sight to behold and often a marvel of architecture and construction.  Unfortunately, many of our barns have seen better days.  Some are slowly falling back to the earth that they helped till, still others have simply lost their beautiful red glow of paint to time.
Enter Angelo Pizzagalli and the Pizzagalli Family Farm Fund.  For many years now this family has been committed to restoring these barns to their former glory, through minor repairs and a fresh coat of red paint.  Mr. Pizzagalli recognized that many of our generational farm families who care for these historic barns may not be able to keep up with the care these large structures often need.  In collaboration with the Northeast Correctional Complex (NECC), VT Agency of Agriculture and Sherwin Williams, a number of barns have been restored since 2010 with a fresh coat of paint and other repairs.  Correctional teams have utilized their time and skills to benefit Vermonters and our landscape, while learning new skills to apply when they return to the public workplace.
In 2018, Governor Phil Scott visited a barn in West Danville with an eye towards expanding the program beyond Caledonia County:
In 2020, the Barn Painting Project expanded to cover the entire state and support adult learning through the Vermont Department of Labor (VDOL):