The produce safety inspection team is responsible for ensuring that produce safety standards are followed to minimize the risk of unsafe products entering the marketplace. The inspection team works directly with fruit and vegetable farms subject to the federal Food Safety Modernization Act (FSMA) Produce Safety Rule (PSR) (21 CFR § 112) adopted in Vermont statutes under 6 VSA Chapter 66. Produce safety specialists are committed to an educational approach to regulating by helping explain the Rule requirements, the supporting produce safety science, and the regulatory process. Learn more about the Produce Safety Rule here.
Inspection Schedule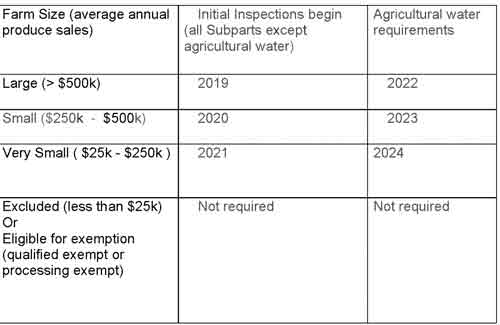 What to Expect During an Inspection
The inspection team will reach out to schedule the inspection during the growing season, and will ask to observe growing, harvesting, packing, and holding activities for produce subject to the Produce Safety Rule. Inspections involve a review of all applicable Subparts of the Rule except for Subpart E, agricultural water, which is delayed until 2022 for large farms, 2023 for small farms, and 2024 for very small farms. The inspection team will provide the farm with a copy of the inspection form at the conclusion of each inspection. This form lists potential violations of the Produce Safety Rule, but is not a final determination of compliance. This form is intended to assist the farm with identifying and implementing corrective actions and preventative measures that address produce safety concerns in a timely manner.
Resources to Prepare for Inspection
Farms are encouraged to prepare for inspections by reviewing the following resources:
Qualified Exemption
Produce farms with average annual produce sales greater than $25,000 and food sales below $500,000 with a majority of food sales sold to Qualified End Users may be eligible for the Qualified Exemption from the Produce Safety Rule. Produce farms seeking a Qualified Exemption must perform an annual review to determine whether they meet the eligibility requirements. Farms may use the Qualified Exemption Annual Review Worksheet to determine their eligibility. The Quick Guide to the Qualified Exemption provides details about the exemption criteria, modified requirements, and how to confirm your farm's eligibility. Farms are encouraged to confirm their eligibility with the Produce Program annually by June 1st. Confirmation is voluntary, but farms that don't confirm eligibility may be asked to provide proof of eligibility to avoid a routine produce safety inspection.
Contact the Inspection Team
AGR.FSMA@vermont.gov (802) 622-4412