Classic cultural techniques employed by the National Mastitis Council are performed to enumerate and characterize mastitis causing organisms and assess bulk milk quality.
Test Parameters:
Ruminant Quarter/Half Culture
Bulk tank culture
Somatic cell (leukocyte) count
Please note:
Culture samples must be received at the lab by 2pm on Wednesdays. Samples received later than 2pm on Wednesday will be frozen and tested the following week

Somatic Cell Count samples must be received by by 4pm on Wednesdays.
Mastitis Culture
Ruminant Quarter/Half Sampling & Submission:
Note: Composite samples are not recommended.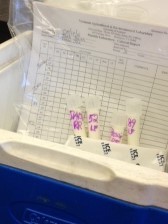 Using permanent marker, label sterile tubes/vials (Animal ID and quarter - e.g. Bessie RF)  
Prelabel tubes for all animals to be sampled
Do thorough udder preparation
Dry Udder with paper towels or individual clean cloths
Wash hands
Scrub each teat end with a cotton ball soaked in rubbing alcohol (for each teat use a fresh cotton ball)
Dry teat end with dry cotton ball (for each teat use a fresh cotton ball)
Discard first squirt of milk
Deposit 2nd squirt of milk in sample tube (do not touch inside of cap or sample tube)
Tightly recap tube before sampling next quarter, place tube in a clean place
Place all tubes/vials in a rack or styrofoam floater for transport, keep cold
Freeze samples, if it is not possible to deliver them to the lab the day of sampling
Samples should be accompanied by completed submission forms (below), please include your email address and phone number
Results will be distributed via email                               
SUBMISSION FORM - Mastitis Quarter Culture
Bulk Tank Culture
Bulk Tank Sampling & Submission:
Using permanent marker, label sterile vials
Aseptically sample bulk tank, if possible have a licensed sampler take the sample
Place vials in styrofoam floater for transport, keep cold
Freeze samples, if it is not possible to deliver them to the lab the day of sampling
Samples should be accompanied by completed submission forms (below), please include your email address and phone number
Results will be distributed via email
SUBMISSION FORM - Bulk Tank Culture
Questions? Contact: Sam Beck 802-522-3303 sam.beck@vermont.gov