July 15, 2021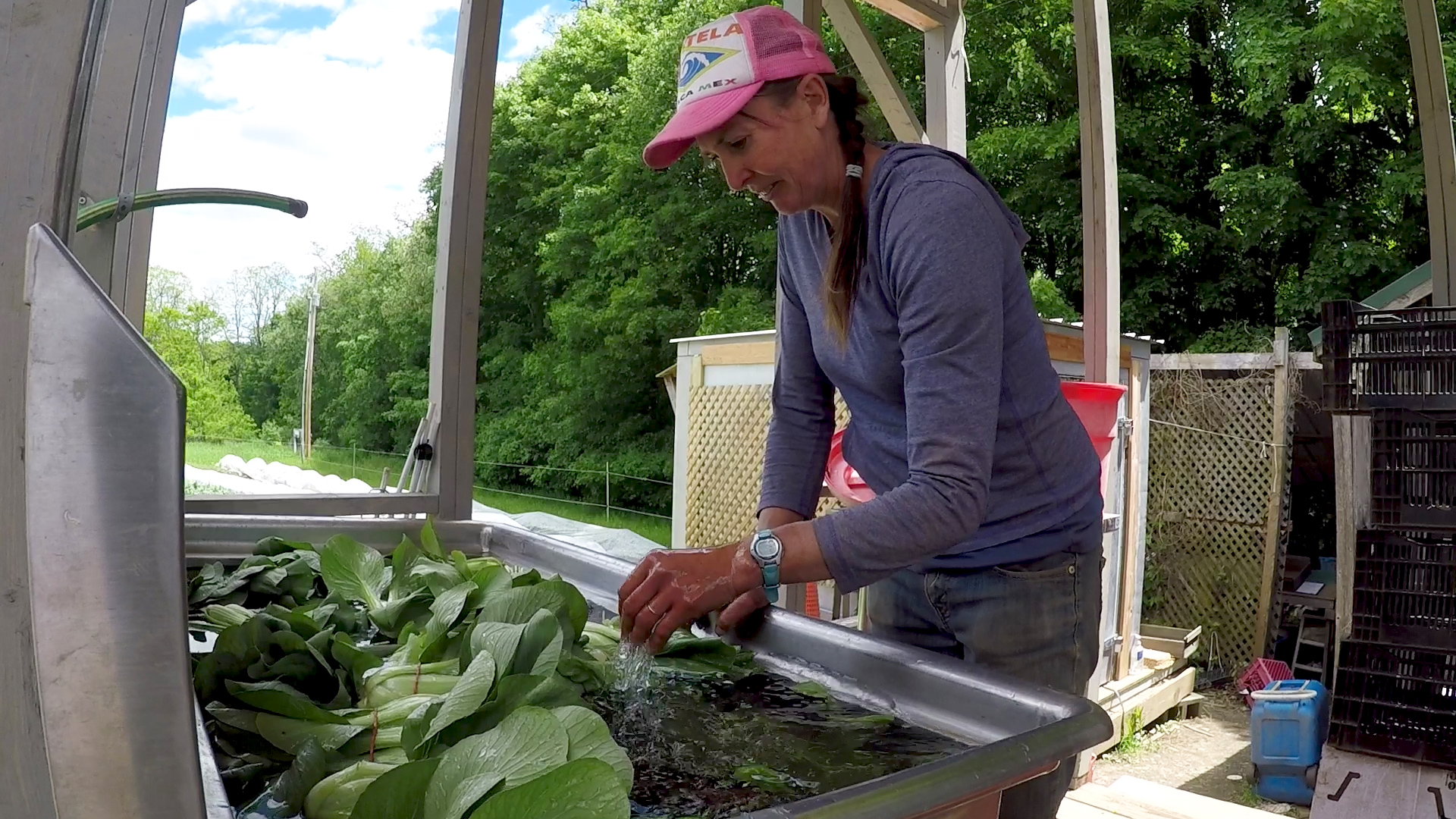 Elizabeth Wood of New Leaf CSA in Dummerston, VT washes baby bok choy.
On-farm food safety tips for fruit & vegetable growers 
By Ollie Cultrara, VT Agency of Agriculture, Food & Markets 
Produce safety means protecting fruits and vegetables from becoming contaminated with pathogens that can get people sick. Pathogens can spread easily through water, so it's important to understand the risks associated with postharvest water and to manage it safely. Postharvest water includes water used for rinsing, cooling, packing, or icing harvested produce. It also includes water used for handwashing and cleaning food contact surfaces. 
Start with clean water
Use a lower-risk source, like a well or municipal system, for postharvest water. Never use surface water (like a pond or river). Test the water during the growing season for generic E. coli bacteria, which can indicate possible fecal contamination. Postharvest water should contain no detectable E. coli.
Understand cross-contamination risks
Sources of contamination could include pathogens on produce or debris from the field. Cross-contamination can happen when these pathogens transfer to other produce by spreading through water. Single-pass water is less likely to cause cross-contamination than recirculated or batch water, like in a dunk tank. 
Consider sanitizers 
Consider using an antimicrobial sanitizer registered for use in produce wash water. Sanitizers are not meant to "wash" or "sanitize" the produce itself. Rather, they help prevent cross-contamination by reducing the concentration of active microbes in the water. A variety of sanitizers are available, including organic options. Each product's label outlines the legal and effective treatments for the intended use. Many growers find that sanitizers also improve quality and shelf-life by reducing microbes that cause spoilage and decay. 
Manage water quality
Whether or not you use a sanitizer, it's important to manage the quality of postharvest water throughout its use. Minimize build-up of organic material and microbes in wash water. Monitor variables like turbidity (cloudiness) and sanitizer concentration. Maintain safe water quality by changing out water on a schedule or adjusting sanitizer concentration. 
---
Next steps 
The Food Safety Modernization Act (FSMA) Produce Safety Rule (PSR) sets a standard for preventing contamination from agricultural water. Whether or not your farm is subject to the PSR requirements, the Vermont Produce Program and UVM Extension can provide assistance with postharvest systems, water testing, and sanitizers. Contact the Vermont Produce Program at AGR.FSMA@vermont.gov, (802) 461-5128 or the UVM Extension Produce Safety Team at producesafety@uvm.edu. For more information, visit our Produce Safety Resources page.