August 23, 2021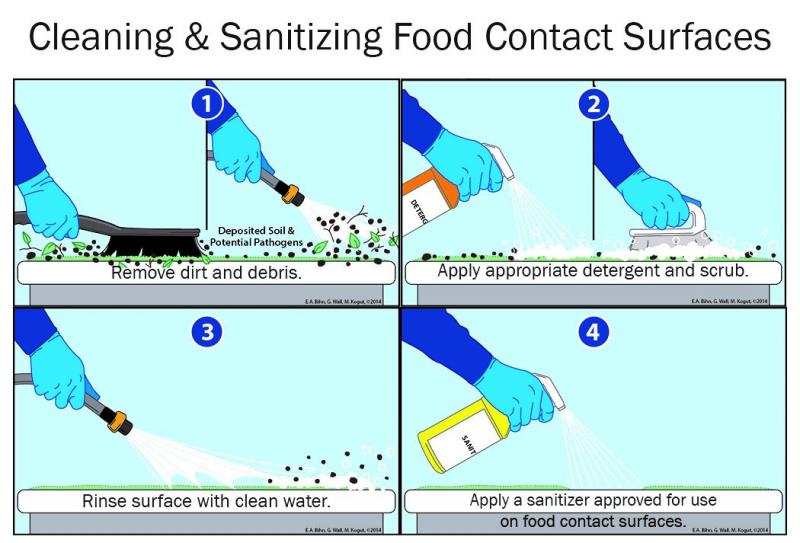 On-farm food safety tips for fruit & vegetable growers 
By Ollie Cultrara, VT Agency of Agriculture, Food & Markets 
Do you know the three steps of cleaning? When to use a sanitizer? Why drying is so important after cleaning?Effective cleaning and sanitizing of food contact surfaces is critical to preventing contamination of produce with pathogens that can cause serious illness. Read on for a quick and dirty—er, clean—overview of proper cleaning and sanitizing for food contact surfaces. 
Identify food contact surfaces 
Food contact surfaces are surfaces that directly contact produce and surfaces that contact water that directly contacts produce either during or after harvest. This includes harvest equipment, containers, dunk tanks, ice bins, washing equipment, grading belts, and packing tables.  
Clean effectively 
To clean food contact surfaces properly, follow these steps: (1) remove dirt and debris, (2) scrub with a detergent, and (3) rinse with clean water. You can think of proper cleaning like washing dishes: scrape or rinse off leftovers, scrub with a brush or sponge and soap, and rinse.  
Sanitize when appropriate 
Applying a sanitizer after cleaning can reduce the presence and buildup of microbes. Consider using a sanitizer for surfaces that are used frequently or for surfaces that process large volumes or different types of produce. Be sure to clean first – you cannot effectively sanitize a dirty surface because sanitizers don't break down dirt and debris. Sanitizers must be approved for use on food contact surfaces and used according to their label requirements.  
Dry thoroughly 
Microbes love wet places, so the final step is to allow the surface to dry completely. This is especially important for porous surfaces, like wood, which cannot be adequately sanitized. 
Make it routine 
The most critical times to clean a food contact surface are before and after use. How often you clean may depend on how often the food contact surface is used, how dirty it gets, and whether it's used for one or more crops. A standard operating procedure (SOP) can help you set expectations for how often surfaces are cleaned, and a cleaning log can help you keep track of cleaning tasks. 
---
Next steps 
The Food Safety Modernization Act (FSMA) Produce Safety Rule (PSR) sets a standard for preventing contamination from food contact surfaces. Whether or not your farm is subject to the PSR requirements, the Vermont Agency of Agriculture's Produce Program can help you take the next step in developing a culture of food safety on your farm. Contact the Vermont Produce Program at AGR.FSMA@vermont.gov, (802) 461-5128. For more information, visit our Produce Safety Resources page. 
---
Illustrations developed by E.A. Bihn, G. Wall, and M. Kogut and published in Bihn, E, Wall, G, Fisk, C, Humiston, M, Pahl, D, Stoeckel, D, Way, R, and Woods, K. 2017. Produce Safety Alliance National Curriculum. Version 1.1 Produce Safety Alliance, Cornell University.