By Dominique Giroux, VT Agency of Agriculture, Food and Markets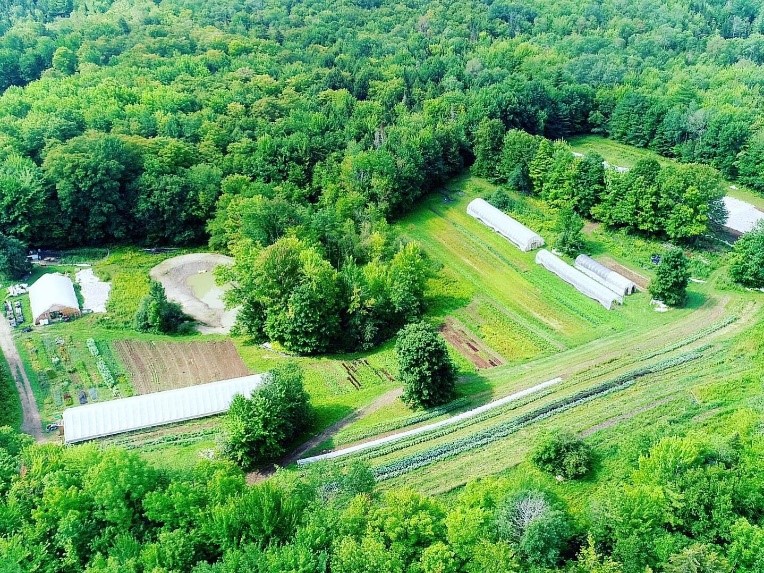 Driving down the road to Naked Acre Farm, you become immersed in a thick green forest which makes you wonder for a second, is there really a farm nestled back here? Sure enough, as you come down the long gravel driveway you are welcomed with lush fields, beautiful flowers, and numerous greenhouses full of trellised tomatoes. One of the most fascinating things about this location is that it hosts not just one farm, but two. Ryan Demarest, owner of Naked Acre Farm and Genica Breitenbeck, owner of Home Front Gardens work collaboratively as a husband and wife team to operate the two farms on shared land.
In April of 2018, Naked Acre Farm was awarded a Produce Safety Improvement Grant in the amount of $6,179 to build a wash/pack shed on their newly purchased land. Produce Program staff Trevor Audet, Gina Clithero and Dominique Giroux took a trip to the farm located in Hyde Park, VT to learn more about the farm's history and see the new structure.  
Tell us a bit about your farm's history.
Ryan: My farm is called Naked Acre Farm. This is my sixth growing season on three [different] locations. We bought this piece of property in July of 2017. We do about three and a half acres, sell to restaurants, and have a small CSA. Now that we're here, we are considering getting into more winter growing, [but] for the most part we are seasonal.
Tell us about your farming experience.
Ryan: I was living in Oregon and was part time living on a farm. I made a choice to come back to Vermont and enrolled in the [University of Vermont] Farmer Training program in 2013. That was a six-month apprenticeship which was a great experience. The next year I leased some land and started on about a half-acre. I probably learned as much or more that first year because I was by myself living in a pop-up camper on leased land and just kind of learned as I went and scaled up over the years to where we are now.
Tell us a bit about your Produce Safety Improvement Grant project.
Ryan: This was raw land and we've been here for about 19 months, so we are trying to develop this into a farm from scratch. Part of the issue with that is having the proper space to wash and pack vegetables. What we wanted to do is make sure we had a concrete slab, a roof and all the equipment we needed to do that. The goal was to be able to clean everything easily and we decided that we needed to build a multipurpose building. The idea is that it will be a [propagation] room early on and then transition into a wash/pack shed later.
What produce safety risks did you want to address with this project?
Ryan: I think the main thing was the feeling of having an enclosed space and impermeable floors and things that are easily cleanable. We are starting to [add] some stainless-steel tables and tubs that you can clean easier. Off the back we are going to have a cooler, so having that flow where you can immediately move stuff right into cold storage and into the truck so there's not much lag time for things in the heat.
Beyond food safety, what other benefits resulted from your project?
Ryan: A couple of things. Having the multipurpose structure [will allow us to] utilize it for different purposes – we're going to be able to utilize that space in the winter and heat it for cleaning as we get into winter greens, and then in the early spring we'll be able to use the radiant floor for germinating as a propagation house. And because there were no structures here on the property, we were able to create a loft for some farm and personal storage which is really ideal because we didn't have a lot of space for that.
From your perspective what are consumers looking for when it comes to purchasing produce?
Ryan: When we were doing the farmer's market, I think folks are really interested in supporting local farms and having that organic label is incredibly helpful and people desire that. I think from a chef perspective, whether it's organic or not, they are invested in supporting local products, but I think for chefs, quality is the most important thing.
What can the State of Vermont do to support your business?
Ryan: We talk a lot about this and feel very fortunate to grow in the state that we do. Whether it's the [University of Vermont] Extension specialists we've had this year, or working with you and this grant, we feel incredibly supported by the state of Vermont.
What does produce safety mean to you?
Ryan: I think produce safety is directly related to quality. If you have a good quality product and you're bringing it to customers it's obviously going to be clean, and as a result sanitary, healthy, and safe to eat. I think in order to provide quality and that food safety perspective it's about having the proper infrastructure. That's why this grant has been so incredibly helpful to provide some of the infrastructure we need in order to accomplish that goal.
Ryan and Genica have plans to finish up a few outstanding projects throughout the fall and winter and plan to focus on building up the soil fertility on their land. "The lifetime goal is really making sure that we listen to the soil and treat it in a certain way that's going to be beneficial to everything here, including us and everything that lives here," says Ryan.
The Vermont Produce Safety Improvement Grant program has awarded three rounds of funding to date. The application period for the fourth round of funding will open Friday, November 1, 2019 and will close Monday, December 9, 2019. Visit agriculture.vermont.gov/ProduceSafetyGrants for eligibility requirements and more information.