April 25, 2022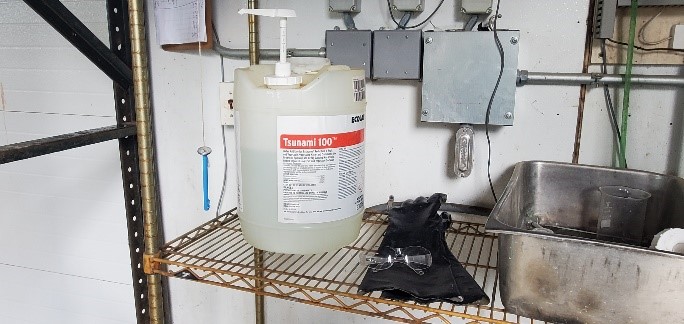 By Ollie Cultrara, VT Agency of Agriculture, Food & Markets
Farmers tailor their operations to meet their unique management styles. In this series, the Produce Program at the Vermont Agency of Agriculture, Food & Markets features practices that Vermont fruit and vegetable growers use to enhance food safety, increase efficiency, protect product quality, and improve employee satisfaction. This month, we're featuring Jericho Settlers Farm, a certified organic CSA and wholesale farm specializing in year-round vegetable production in Jericho, Vermont. 
Standard Operating Procedures at JSF 
Jericho Settlers Farm puts a strong emphasis on Standard Operating Procedures (SOPs) as a management tool. They have SOPs for several elements of their wash/pack operation, including setting up and operating their wash lines and equipment for greens and roots.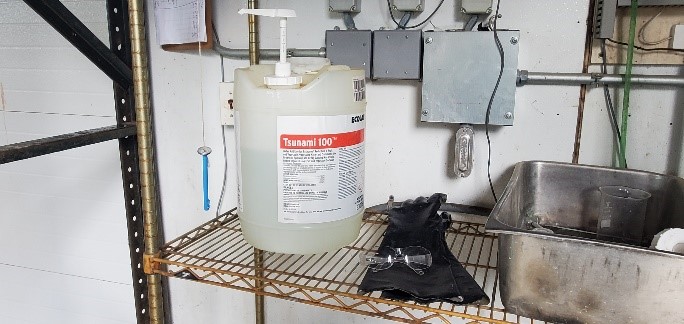 Caption: Jericho Settlers Farm's sanitizer station has all materials in one place, including PPE and measuring tools. The sanitizer container is fitted with a pump for controlled and safe dispensing.
For example, the farm's Sanitizer SOP describes how to dispense and monitor sanitizer in wash water, emphasizing worker safety as well as food safety. Adding a small amount of sanitizer approved for use in wash water is a good agricultural practice that helps prevent potential cross-contamination of food-borne pathogens that may occur between crops. Sanitizers are typically dispensed in concentrated form, so workers should wear personal protective equipment (PPE) and follow safe handling practices. The farm's Sanitizer SOP includes clear step-by-step instructions and the locations of tools and supplies needed for each step. The procedure begins with a reminder of required safety measures, such as wearing closed-toed shoes and PPE (gloves and safety glasses) provided by the farm. The SOP describes corrective actions to take in various situations, such as if the sanitizer concentration is too low or when the water temperature is too high. The final section instructs the worker to record the date, time, volume of sanitizer, water temperature, and sanitizer concentration to document and verify that the procedure was completed.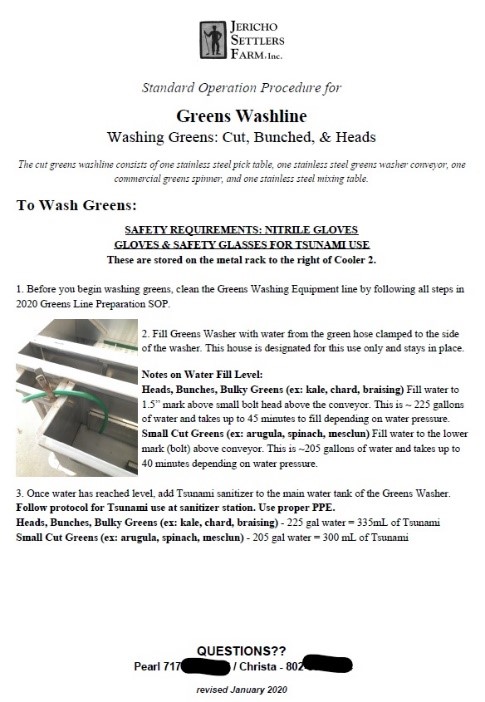 Caption: Jericho Settlers Farm's standard operating procedures have photos, numbered steps to make them easy to follow. 
Why it works 
According to farmer Christa Alexander, the biggest benefit of SOPs is clarity. She says their SOPs help get the whole crew on the same page and promote worker satisfaction, because expectations and effective performance are clearly defined. SOPs make it easier to build food safety practices into the routine of the farm. They are also helpful for consistent and effective training. Since their SOPs document the most efficient way to complete key tasks, the steps are easy to explain the same way every time a new employee comes on board. Numbered steps, photos of equipment, and contact information for questions all help round out the documents. 
Next Steps 
Standard Operating Procedures can help your crew consistently perform a variety of farm tasks, from seeding to sanitizing food contact surfaces. For more information about on-farm food safety and resources for developing excellent SOPs, visit agriculture.vermont.gov/produceprogram or get in touch with the Vermont Produce Program at AGR.FSMA@vermon.gov.