January 7, 2021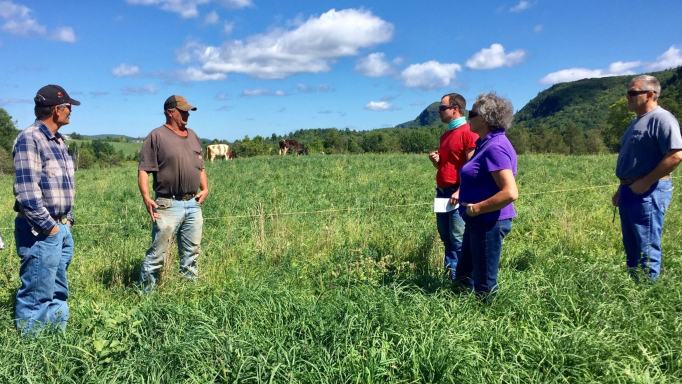 By Cheryl Cesario, UVM Extension Grazing Specialist
As part of the Northeast Dairy Business Innovation Center (NE-DBIC) grant activities, in 2019 the University of Vermont Extension secured a bid to develop a pilot program to provide technical assistance for dairy farmers seeking to transition to rotational grazing.
In 2019, the Vermont Agency of Agriculture, Food and Markets was selected to lead one of three national USDA Dairy Business Innovation Centers. A total of $6.59 million was awarded to the Agency to fund a variety of projects in several priority areas. One identified area included assistance for farmers who would like to develop grazing as a production strategy.
Through this funding, an opportunity arose for me to work closely with a small group of farmers as part of the grazing initiative. The idea of this project was that farmers would receive direct one-on-one support as well as the opportunity for networking as a group to sharpen their grazing knowledge and skills. The participating farmers are all considering or actively transitioning to managed grazing as a new production practice.
One of the big motivators for me in applying for this program, was that each farmer, by participating in this 2-year project, would be eligible for a grant to implement additional grazing projects on their farm. Besides, any time there is funding to allow for more follow up, it develops a closer working relationship with the farmer.
Thankfully in early June, we were able to get back into the full swing of farm visits and I was able to start getting this program off the ground. It is certainly a pretty strange year to launch a program that is built entirely on face-to-face in-person meetings. So far, we have been able to stay on track.
We have an amazing group of dairy producers in this group! Our group includes Scott Cleveland, Wells; Cindy and Brian Kayhart, New Haven; Dave Seward, East Wallingford; Caleb Smith, Danby; and Brad Thomas, Orwell. These farmers are all taking risks to try something new and really thinking creatively.
Our first meeting as a group occurred at the Cleveland Farm at the end of August. This is Scott's first full season grazing his milking herd and he has done an amazing job meeting his herd's forage needs on pasture. Even during the dry summer conditions in July, he was able to adjust recovery times between grazing periods while also adjusting stored feeds in the barn to compensate for slower growth. Scott's success this year demonstrates what is possible when we put grazing as the centerpiece of the operation, not just the supplement to it.
Our second meeting took place at the end of October at Dorset Peak Jerseys in Danby. Invited guest Sarah Flack joined us on a tour of Caleb Smith's farm as we considered how to implement a grazing plan on this farm. Caleb has a new NRCS contract to begin installing the necessary infrastructure he needs to make this transition. However, while grazing seems to be a great fit for the land base here, it is still a big leap and there are a lot of logistics to consider. This is one of the benefits of a small group cohort – the ability to brainstorm and bounce ideas back and forth among trusted peers.
During our first group meeting, I gave each farmer a short article called 'The Hardest Part of Change is Changing' written by Dave Pratt. In it he cites Jim Hightower, a former Texas agriculture commissioner, who stated that the only things in the middle of the road are yellow stripes and dead armadillos. Dave follows up by stating, "When it comes to building a sustainable business, you will achieve more success faster by determining the right strategy, committing to it, and making the transition as short as possible. The alternative may make you a flattened armadillo."
I try and keep this statement in mind as I work with farmers who are making big changes. Transition is the toughest part of implementing change. How can we work together to make the transition go as smoothly as possible? As this project proceeds throughout 2021, we will be sharing these farmers' experiences and stories as they develop new strategies.
For more information about this project, contact:
Cheryl Cesario, Grazing Specialist
University of Vermont Extension cheryl.cesario@uvm.edu
802-388-4969 ext. 346