June 16, 2022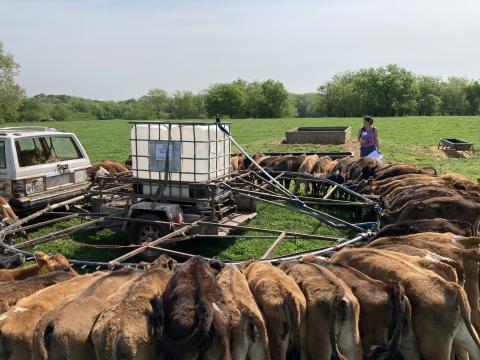 The NE-DBIC, supported by University of Missouri Extension and Dairy Farmers of America (DFA), hosted an opportunity for northeastern farmers to learn from New Zealand and Irish dairy farmers in Missouri. The group of 20 was comprised of farmers, technical assistance providers, and Agency staff from four states. Farmers who attended represented the diversity of dairy production including organic, conventional, 100% grass fed, seasonal, and current Dairy Grazing Apprentices. 
Missouri is home to a group of New Zealand and Irish owned farms who practice dairy as is common in their home countries - seasonal milking, intensive rotational grazing, and limiting the addition of supplemental feeds. While these farms tend to be larger than the average northeastern dairy and do not experience winter in the same way we do, there were many important lessons learned during the trip. 
All of the farms raise their calves in group housing from the day of birth, and the group was interested to learn about these labor and time efficient management strategies. The first farm demonstrated feeding a group of 80 calves, who were between 2.5 and 3 months old, so that we could see the use of a 100-calf portable feeder. On other farms the group learned about forage and animal management in a rotational system, where cows are expected to walk upwards of ¾ of a mile each way. Farms generally divide their herd into groups based on body score, a practice that is done weekly and allows them to support first calf heifers and those cows who need to add more condition. 
Of note, the group met farmers who have entered dairy via a variety of paths that are unconventional for US dairy, including contract milkers, sharemilkers, and farm managers. These different strategies allow young and beginning farmers to gain experience and equity with a clear pathway from being a farm hand to being a farm owner or partner without the cash outlay or loan typical of farm transfers. 
In all, the group deemed this a successful trip. The NE-DBIC is planning a similar opportunity to a different location in 2023 for those who may be interested in attending. 
To learn more, contact Kathryn.Donovan@vermont.gov.