By Dominique Giroux, VT Agency of Agriculture, Food & Markets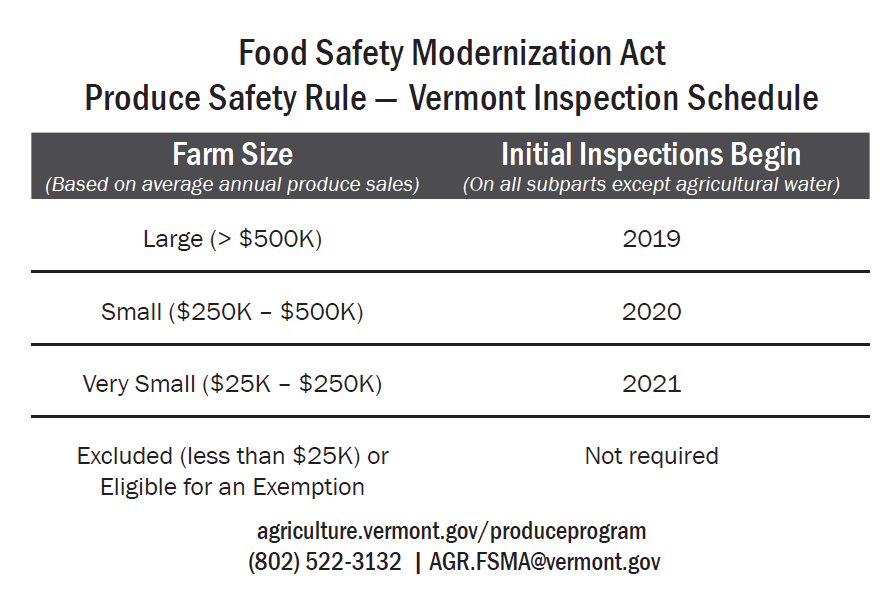 This article originally appeared in the 2018 June Agriview issue. Changes and updates have been made for this issue. Citations in this article refer to specific sections in the Food Safety Modernization Act (FSMA) Produce Safety Rule (PSR). These citations and additional subparts of the FSMA Produce Safety Rule can be accessed via the Electronic Code of Federal Regulations at go.usa.gov/xQjSt. (All URLs provided in this article are case-sensitive.)
Perhaps you've heard the terms FSMA or Produce Safety Rule and wondered – How does this apply to my farm? This article provides an overview of the general categories a farm may fall into under the Food Safety Modernization Act (FSMA) Produce Safety Rule (PSR) to help growers determine whether their farms are covered, eligible for an exemption, or excluded from the rule.
Background and Key Definitions
The FSMA Produce Safety Rule establishes minimum food safety standards for farms that grow, harvest, pack, or hold fruits and vegetables in an effort to reduce foodborne illness. Vermont farms that are covered under this regulation will undergo routine inspections conducted by the Vermont Agency of Agriculture, Food & Market (VAAFM) Produce Program staff. See figure 1 for a breakdown of the inspection schedule in Vermont.
Before we continue, it's important to understand a few key definitions that will aid in determining whether your farm is covered, exempt, or excluded under the Produce Safety Rule.
Tip: FDA provides a visual flowchart of the exemptions and exclusions discussed in this article, and it may be helpful to refer to it as you continue reading. Find this flowchart at go.usa.gov/xQjJm.
Farm
The Produce Safety Rule applies to farms only.
Produce
Produce is defined as "any fruit or vegetable (including mixes of intact fruits and vegetables) and includes mushrooms, sprouts (irrespective of seed source), peanuts, tree nuts, and herbs ..." (112.3).
Food
The definition of food is important for determining eligibility for a qualified exemption. (See below.) Food is defined as (1) articles used for food or drink for man or other animals, (2) chewing gum, and (3) articles used for components of any such article.
Exclusions
The term not covered or excluded refers to farms that will not need to comply with the FSMA Produce Safety Rule regulation. The following are various ways a farm or its produce could be excluded from the PSR:
Minimum Produce Sales Threshold 
Farms with annual produce sales of less than $25,000, averaged over the previous three years, are not covered by the PSR (112.4(a)). 
Produce That is "Rarely Consumed Raw"  
Certain produce that is typically cooked before being eaten is considered "rarely consumed raw" and is not covered by the PSR. The FDA has published the following exhaustive list of rarely consumed raw produce: asparagus; beans, black; beans, great Northern; beans, kidney; beans, lima; beans, navy; beans, pinto; beets, garden (roots and tops); beets, sugar; cashews; cherries, sour; chickpeas; cocoa beans; coffee beans; collards; corn, sweet; cranberries; dates; dill (seeds and weed); eggplants; figs; ginger; hazelnuts; horseradish; lentils; okra; peanuts; pecans; peppermint; potatoes; pumpkins; squash, winter; sweet potatoes; and water chestnuts (112.2(a)(1)).  
Produce That is Not a Raw Agricultural Commodity  
The PSR only applies to produce in its raw, unprocessed state. Produce that undergoes manufacturing or processing, such as slicing, freezing, or canning, is not covered by the PSR.
Produce for Personal/On-Farm Consumption  
Produce that is for personal consumption or for on-farm consumption is not covered by the PSR.  
Exemptions
Exempt farms are not required to undergo routine inspections but must meet specific modified requirements under the PSR. If you think your farm meets one of the exemptions described in this article, contact the VAAFM Produce Program to confirm your eligibility and receive further guidance.
Qualified Exemption  
This is the most common exemption and may apply to many small and medium sized farms. A farm that is eligible for a qualified exemption from the PSR must comply with certain modified requirements and keep documentation. To be eligible for a qualified exemption a farm must:
have annual total food sales of less than $500,0001, averaged over the previous three years; AND
the majority of all food sales are to qualified end-users, defined as
the consumer of the food
OR
a restaurant or retail food establishment located in the same state or within 275 miles from the farm. 
Examples of qualified end-users may include farm stand, farmers market, or community supported agriculture (CSA) customers as well as restaurants, grocery stores, and food cooperatives. The term qualified end-user does not include distributors and does not include restaurants or retail food establishments located more than 275 miles from the farm (unless within the same state).
Note: This exemption refers to total food sales which includes all human and animal food products sold. Examples include processed foods and animal feed such as hay, silage, or grain. 
Commercial Processing Exemption  
Produce sold to a buyer who will conduct further commercial processing with a "kill step" is eligible for an exemption from the PSR. Examples of commercial processing include distilling, refining, or processing produce into products such as oil, wine, beer or similar products. Farms that are eligible for a commercial processing exemption must disclose in documents accompanying the produce, that the food is "not processed to adequately reduce the presence of microorganisms of public health significance". For more information about this exemption refer to section 112.2(b) or contact the Vermont Produce Program.
Vermont Produce Program
The VAAFM Produce Program supports produce farms of all sizes and stages of development to meet food safety requirements, access markets, and promote public health as sustainable agricultural businesses. The program offers grant opportunities, hosts trainings and on-farm education, and has resources to help you grow produce safety on your farm.
Enroll in the Vermont Produce Portal to begin your farm's engagement with the Produce Program.
The Portal contains a list of questions that will help determine whether your farm is excluded, exempt, or covered under the Produce Safety Rule. After enrolling, a staff member will reach out to provide information and resources for your farm. Enroll in the Produce Portal by visiting agriculture.vermont.gov/produceprogram/produce_portal.
Questions? Contact the Vermont Produce Program at AGR.FSMA@vermont.gov or (802) 461-5128.
1All sales figures should be adjusted for inflation using 2011 as a baseline. Current inflation adjusted cut-offs can be accessed at go.usa.gov/xQDqZ.
Caption for PDF inspection schedule:
The FSMA Produce Safety Rule includes tiered inspection dates based on a farms average annual produce sales. This chart outlines when inspections begin on various sized farms in Vermont.