October 24, 2022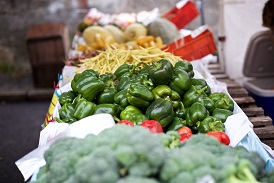 USDA Local Food Purchase Assistance connects local farmers to underserved communities  
October 24, 2022 | Montpelier, VT – Vermont Agency of Agriculture, Food and Markets (VAAFM) announces the release of a request for applications (RFA) for farmers, producers, and organizations to apply for Local Food Purchase Assistance (LFPA) funding. Approximately $200,000 will be awarded to farms and organizations that demonstrate an ability to purchase and distribute local food from socially disadvantaged producers to underserved community members across Vermont. Funds must be used to start new programs or expand existing offerings to purchase local food and move to neighbors in need. Farmers and producers who fall under USDA's definition of socially disadvantaged will receive priority for funding. 
Applications can be submitted between November 7, 2022 and December 12, 2022 for projects starting in early spring 2023.
This funding is part of a larger LFPA program that is administered by USDA Agricultural Marketing Service and is part of the "Build Back Better" initiative authorized by the American Rescue Plan. VAAFM is administering the $500,000, two-year cooperative agreement awarded in July 2022.  
VAAFM recently announced five projects that have been awarded with LFPA funding. These organizations will expand procurement relationships with local and underserved farmers and producers and distribute the food purchased to underserved communities. These projects are underway and will run for 18 months. They vary in size and scope but aim to increase access to local, culturally appropriate food products and support diverse farmers and food producers. 
For questions about Vermont's LFPA program or the RFA, contact: 
Julia Scheier | julia.scheier@vermont.gov | 802-522-7042