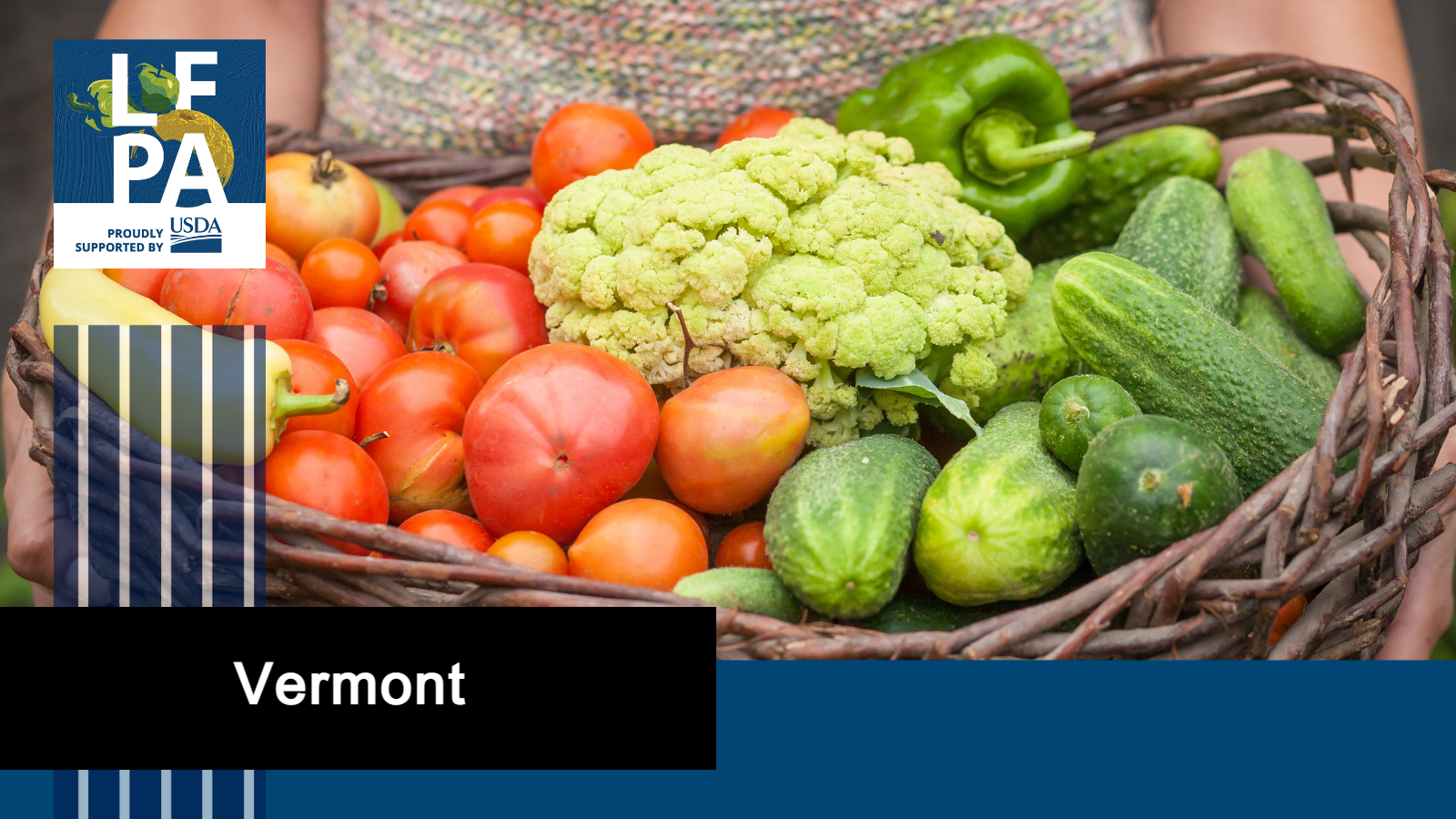 Overview
The purpose of the Local Food Purchase Assistance (LFPA) program is to maintain and improve food and agricultural supply chain resiliency by supporting local, regional, and underserved producers through the purchase of domestic local foods.  
The LFPA program is administered by USDA Agricultural Marketing Service and is part of the "Build Back Better" initiative authorized by the American Rescue Plan. The Vermont Agency of Agriculture, Food & Markets (VAAFM) will administer the program in Vermont through a $500,000, two-year cooperative agreement awarded in July 2022. With this cooperative agreement, VAAFM will maintain and improve food and agricultural supply chain resiliency by partnering with organizations to purchase food from local and socially disadvantaged farmers and producers and distribute this food to underserved communities.  
Targeted Projects
Five projects with nonprofit partners will begin in fall 2022: 
In addition, the Vermont Land Trust and Feeding Chittenden are partnering to expand the purchase and distribution of goat meat to the refugee and New American communities. 
Are you a farmer/producer interested in selling products for the projects above? Please fill out this interest form by November 1st to be connected to this work. 
Competitive Grant Round
This competitive grant program seeks applications from farms, food producers, and organizations that will utilize funding to procure Vermont food and distribute to the community. Funds must be used to start new programs or expand existing offerings. Funding cannot be used to supplant current programs. 
Approximately $200,000 will be available through this program. There is no minimum or maximum award. Grant requests must be commensurate with the proposed project.
Eligibility
Vermont farmers and food producers are eligible to apply. Socially disadvantaged farmers and producers will receive priority for funding. 
Organizations with the capability to purchase food from socially disadvantaged Vermont farmers and producers and distribute food to underserved communities are eligible to apply.  
Definitions are provided by United States Department of Agriculture for the use in this program and will be outlined in the RFA.
How to Apply
Review the full Local Food Purchase Assistance Grant Request For Applications for the complete details on eligible projects/applicants and the full application process.
Register in WebGrants (may take up to two business days).
Applicants who do not already have a Unique Entity Identifier (UEI) through SAM.gov are strongly encouraged to start this process during the application period to ensure a timely start to their grant, if awarded. There are currently significant delays.
Complete your application in WebGrants using our Application Guide. Application period: November 7, 2022 – December 12, 2022 at 2:00pm ET.
Informational Webinar
A recording of the informational webinar on November 7, 2022 is available below:
Have a Question about this Grant?
Contact Julia Scheier at Julia.Scheier@vermont.gov or 802-522-7042