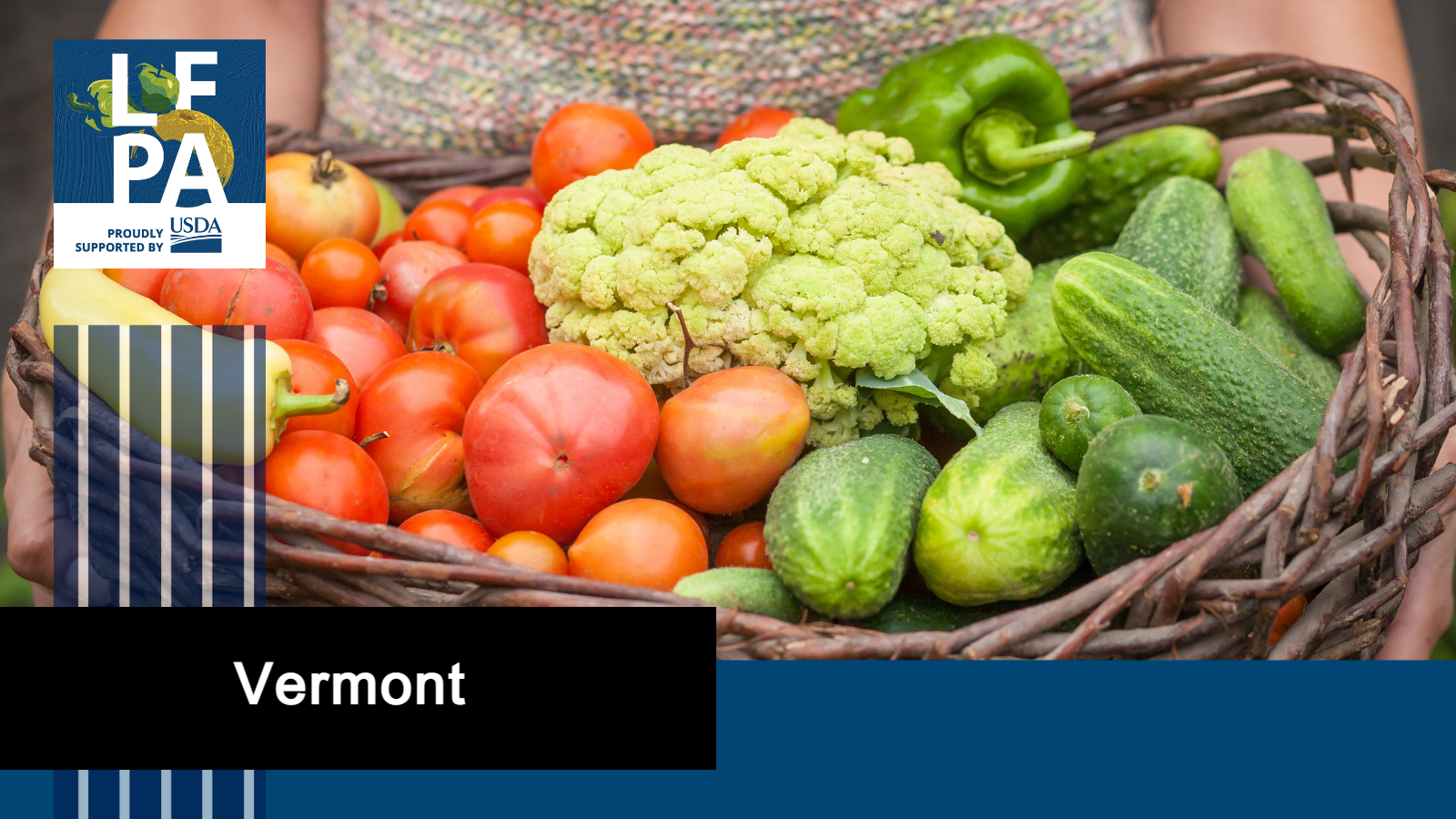 Overview
The purpose of the federal Local Food Purchase Assistance (LFPA) Program is to maintain and improve food and agricultural supply chain resiliency by supporting local, regional, and underserved producers through the purchase of domestic local foods. 
In Vermont, the program focus is to purchase Vermont grown and produced food to feed local communities. 
The Vermont Agency of Agriculture, Food & Markets (VAAFM) administers this program in Vermont through a $1,017,953 cooperative agreement with the USDA Agricultural Marketing Service, made up of two separate funding sources. Projects completed between March 2023 and March 2024 are funded through Investing in America's American Rescue Plan (ARPA). 
In the Fall of 2023, VAAFM will award the remaining $500,000 funding from the Commodity Credit Corporation (CCC). This portion of the program is referred to as "LFPA Plus". While similarly structured, these two funding sources have different parameters. 
---
---
2023 LFPA Plus Grant Application 
How to Apply - Now OPEN for Applications!
Review the full Request for Applications (RFA) for complete details on eligible projects/applicants. 
Register in WebGrants (this may take up to two business days).
WATCH Webinar: 


 

Complete your application in WebGrants using our Application Guide. Application Period: October 30, 2023 to December 12, 2023 at 2PM.
Previous LFPA Awardees
Targeted Projects
Five projects with nonprofit partners began in fall 2022: 
Fiscal Year 2023 Projects (ARPA-Funds)
The Agency administered a competitive grant program in late 2022 to solicit project ideas from farms, food producers, and organizations that will utilize funding to procure Vermont food and distribute to the community.
9 projects received grant funding, with projects starting in spring 2023:
$50,000 to SUSU commUNITY Farm to launch an expanded free CSA program to provide locally grown, culturally relevant vegetables for BIPOC families and new refugees.  
$37,319 to Conscious Homestead, through fiscal agent Community Resilience Organizations, to expand their Community Care Share Program to distribute locally grown and produced food from BIPOC-operated enterprises to members of the Black and Brown communities. 
$25,500 to support Healthy Roots Collaborative, a program of the Northwest Regional Planning Commission, to purchase and distribute local food to 20 Northwest Farmacy CSA recipients and 8 NOTCH Clinic mini-fridges.  
$19,700 to Community Food Project, through fiscal agent Retreat Farm, to provide 25 free CSA shares to families in need through their Farm Share and other food distribution efforts. 
$10,800 to The People's Farmstand, through fiscal agent Peace and Justice Center, to connect underserved community members with expanded local, organic, and culturally appropriate produce at a weekly farmstand. 
$10,288 to Vermont Farmer's Food Center to expand their Farmacy's geographic service area to increase food shares to rural Community Health Clinics. 
$9,850 to Orange Southwest Unified Union to increase fresh farm products in their 'Food for Thought' grocery bag distribution for families during school breaks. 
Emergency Relief Projects (CCC-Funds)
In August 2023, VAAFM awarded eight projects for a total of $94,200. These projects will utilize procurement funds to support meeting emergent and exacerbated food security needs directly impacted by the flooding and severe weather in Vermont in 2023. 
Get Involved!
Are you a Vermont farmer/producer interested in selling products for the projects above? Please fill out this interest form to be connected to this work. This list will be updated periodically.
If you are a current grantee, please contact Kiera at kiera.ebeling@vermont.gov for an updated list of potential farmers to partner with.
Program Contact
Sarah McIlvennie
802-261-5866