August 5, 2019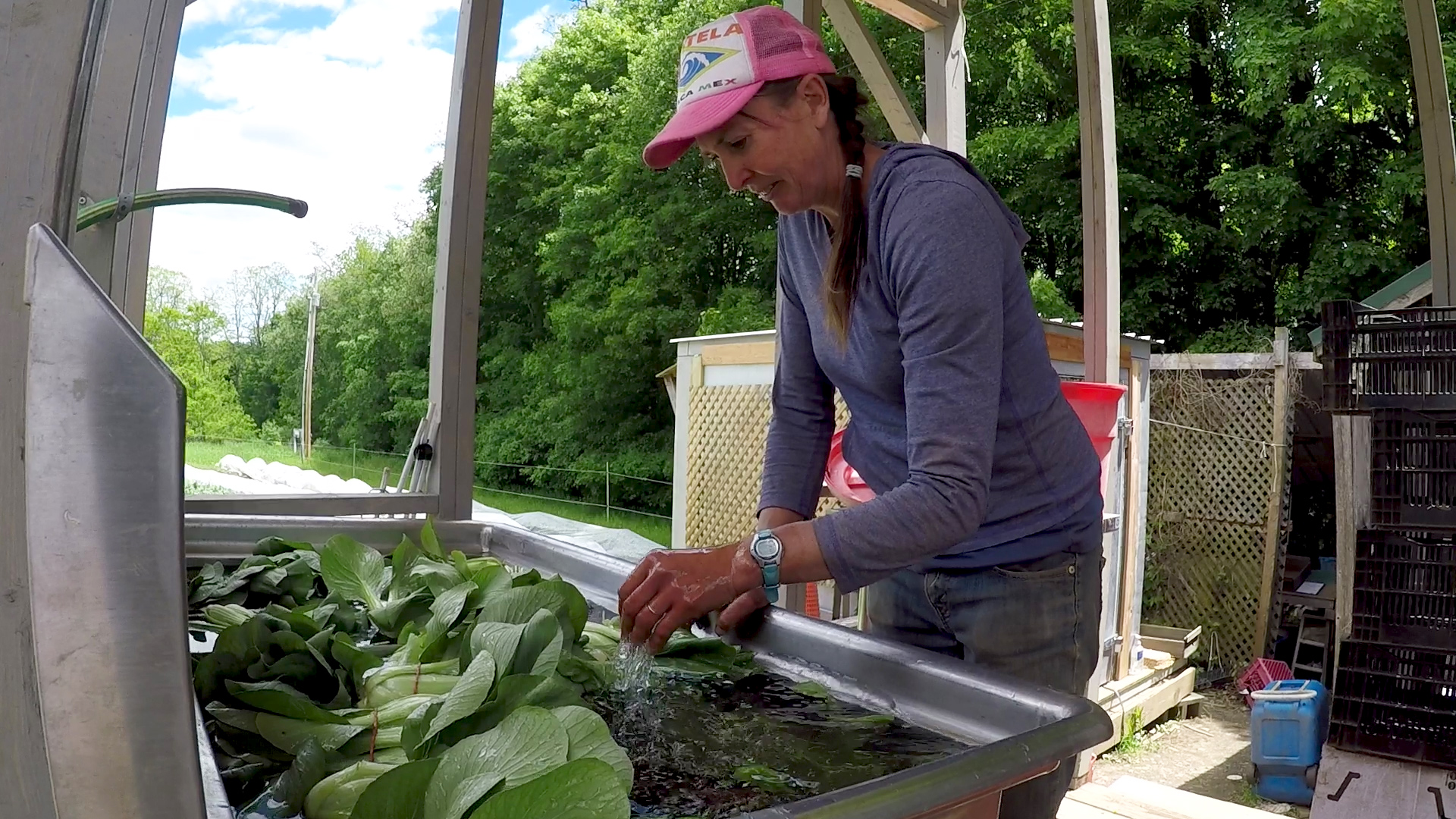 By Dominique Giroux, Vermont Agency of Agriculture, Food and Markets
Nestled in the hills of Dummerston, Vermont, New Leaf CSA offers the community a wide array of fresh vegetables, herbs and flowers. And of course, you cannot miss the personable Nigerian Dwarf goats who pleasantly greet you with their eyes and bleats upon arrival. Now growing over six acres of crops, Elizabeth Wood, owner and farmer, sought to make on-farm improvements to address produce safety, efficiency, and product quality all in one. In April of 2018, New Leaf CSA was awarded a Produce Safety Improvement Grant in the amount of $9,502 to upgrade their wash/pack shed to a covered facility, add a cold storage unit, and install stainless steel counters and a sink for produce washing and handling.
Vermont Agency of Agriculture Produce Program staff Trevor Audet and Dominique Giroux met with Wood to learn more about the farm and see their project in action.
Q: Tell us a bit about your farm's history.
A: I started my farm in 2002 and was interested in having a vegetable CSA, [and] a farm that's accessible for families and individuals in the community. That still is our main focus of the farm, the Community Supported Agriculture (CSA) program. Most people pick up here; we do deliver some shares and do some veggies for restaurants, [the] winter farmers market, and some winter and spring CSA programs now. It's on a field that I have a long-term lease on, [which] is relevant to some of the choices we made for a wash station and cooler.
Q: Talk about the steps you take to keep produce safe.
A: It's something I have definitely learned a lot about in the past few years. It's so intertwined with keeping good quality too. We try to keep things that are going to get washed and things that should be kept cold into cold water as quickly as we can after harvesting them out of the field. We are also using SaniDate, a sanitizer, in the water, to keep anything that might get in there from getting mixed around with everything else. And just making sure that everybody is aware of things like washing their hands, and if you've been handling the animals to wash them again.
Q:  Tell us about your Produce Safety Improvement Grant project.
A: It's pretty exciting for us. I think most farms start out with some kind of cold storage, but I didn't for many years, and was putting things in picnic coolers for distribution later the same day. This [grant] has made it a lot more flexible now that we have a cooler, so if something makes sense to be harvested ahead of time we'll do that. What we had before was a dunk tank outdoors and now we have, on a platform with a roof over it, a two-bay stainless sink and cooler right next to the wash station, so as soon as things are out of the water they can go in the bins and cooler.
Q: What produce safety risks did you hope to address?
A: There are times when we have to harvest ahead, like when it's hot and squash has to be harvested and we may not have anybody picking up their shares that day. So really having a place to store things that's cold is making a big difference. Getting it out of the sun is great too, things aren't likely to end up sitting in the sun while they're waiting to be washed or in the process of being washed and bagged. And it just helps us keep everything clean having it up on that platform.
Q: Why do you care about produce safety?
A: I think the biggest reason we care about produce safety is because it's the concern of our customers. I remember years ago there was an outbreak of E.coli on spinach and a women says to me at the CSA pickup, "Is the spinach safe to eat?" I explained that it's all grown and washed right here and if it weren't safe to eat none of this would be safe to eat. I think the more awareness we can demonstrate the more comfortable the customers will feel and hopefully the safer the produce will be.
Q: From your perspective what are customers looking for when it comes to purchasing produce?
A: I think they want it to be fresh and they want it to taste good. They also want to feel good about it. If they are going to support a local CSA they want to know something about the farm and know what our production methods are like. And I think especially for the folks who are picking up their veggies here that's sort of an extra reassurance being able to come here and see it.
Q: What are some of the challenges you face on your farm?
A: Every day there is something. I guess the weather is the thing that is getting stranger and stranger lately [with] heavy rains and weird springs and weather events. And for us with poorly drained soil, it's harder to actually get into the field and grow things when we have these heavy rain events. So, more and more drainage is a big issue for us here. Beyond that, I'm just educating people about why they should keep supporting local farms and buy more and more of their food locally.
Q: What can the State of Vermont do to support your business?
A: Well, the grants are great. I think one thing of course is to continue educating people about buy local. That's really important. It's still only a small percentage of the food that people eat that's grown in Vermont, it's bigger than a lot of other states I know, but it's still not nearly as much as it could be. So, working to get Vermont to feed itself is important.
Q: What is your hope for the future of the farm?
A: I would like it to work out that I could sell the business or transfer it to another farmer when it comes time for me to retire. And that's something to discuss with the nonprofit that I lease from. I do have a long-term lease, but what happens when I retire is not something we've really gotten into yet. I certainly hope that it will always remain a farm and continue to produce food for the community.
New Leaf CSA plans to continue growing their winter CSA to expand the option of purchasing local food year-round. The CoolBot-powered cold storage unit maintains produce at appropriate temperatures and will allow the farm to extend their season and window of opportunity for harvesting. "This greatly increases the amount we can produce for winter sales and will hopefully increase the overall production and profitability of the farm," Wood notes.
To learn more about the Produce Safety Improvement Grant program visit agriculture.vermont.gov/produceprogram.
If you would like to share your story with the Vermont Produce Program, email AGR.FSMA@vermont.gov or call (802) 585-6225.