September 12, 2019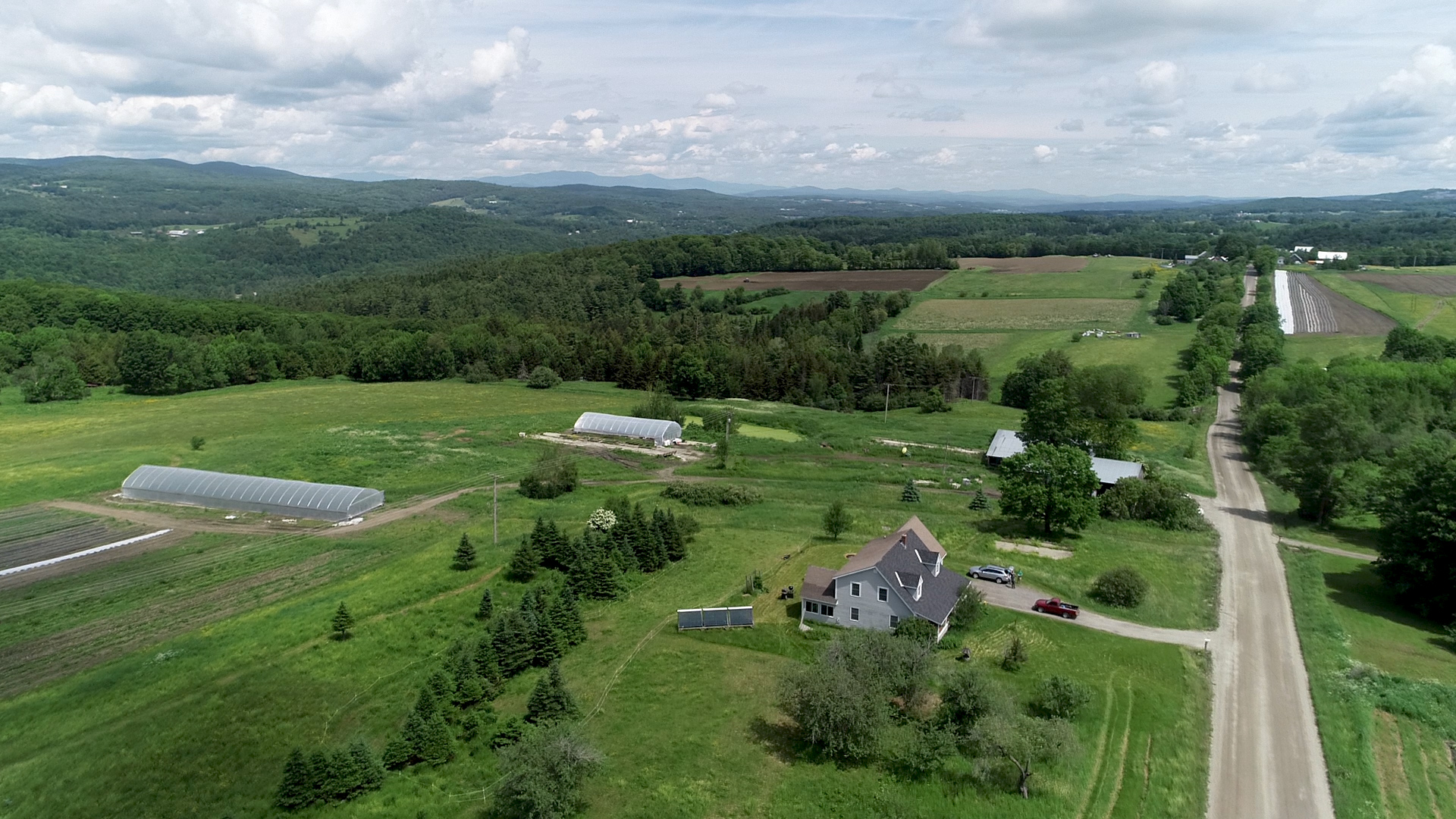 By Dominique Giroux, Vermont Agency of Agriculture, Food and Markets
Karin Bellemare and Jon Wagner, owners of Bear Roots Farm in Barre, Vermont, began their farming venture with a few backyard chickens and ducks, some tomato plants, and a drive to own a business and provide healthy, high-quality food for the community. With little experience in vegetable production, they began volunteering at a local community-supported agriculture (CSA) farm and decided to start a farm with the CSA model themselves. "We made a lot of mistakes, but we stuck with it," says Wagner. Fast forward to today, and Bear Roots Farm is a year-round diverse farm with over 100 tillable acres, pasture, and a robust 100-member CSA. As the farm continues to grow and fine-tune operations, Bellemare and Wagner sought to make on-farm improvements to an old dairy barn that would address food safety, efficiency, storage capacity, and atmosphere all in one.
In April of 2018, Bear Roots Farm was awarded a Produce Safety Improvement Grant in the amount of $10,000 to upgrade their old dairy barn to a year-round produce washroom and add a walk-in cooler and stainless-steel washing equipment.
Vermont Agency of Agriculture Produce Program staff Trevor Audet and Dominique Giroux met with Wagner to learn more about the farm and see the finished project in use.   
Q: Tell us a bit about your farm's history.
We started out in eastern Long Island where we had one acre in my folks' backyard with a push rototiller and a couple of hand tools. We did that for about three years. We started looking around and came up to Vermont to visit a friend from college–Karen and I went to Green Mountain College so there was a Vermont connection. We applied for a farm in Barre, to purchase it through the Farmland Access Program, and we got it.[1] We started Bear Roots Farm six years ago now and we've been gradually building it. The last two years have been huge growth for us. We went from having the Barre farm to adding on this additional place in Williamstown which has over 100 tillable acres; we had about 25 [acres] in Barre.
Q: Tell us about your Produce Safety Improvement Grant project.
[The building] is a big space, and rather than just pouring a little area of concrete and trying to build a small washroom, we decided to do the whole thing. We poured a slab with drains, we framed out new walls, we put washable surfaces over everything, we plumbed it, we put a lot of electrical outlets all the way around. Now it's a comfortable space where we can work efficiently and fit multiple people in there. And right now, it doesn't feel like we're going to outgrow it.  
Q: What produce safety risks did you want to address with this project?
We wanted to create a safe, comfortable space for everyone and with that comes food safety. You want areas that are easy to clean, washable floors, and washable walls. You don't want any kind of animals coming in and out, [and] just by building a fairly sealed area that can block all of those things out, you create that on its own.
Q: What other benefits, beyond food safety, resulted from your project?
Having a comfortable space for our employees is really important. Just being able to streamline systems so that things are on wheels and can move around so that everyone has what they need and they're not having to walk across the whole space.
Q: Why do you care about produce safety?
You hear these horror stories of contamination and people getting sick, and if something like that happened this would be over very quickly; there's no point in taking those risks. You don't want to risk making someone sick, [and] it also keeps us organized to have these systems in place, so I don't understand why you wouldn't. It doesn't seem over the top to me.
Q: From your perspective, what are consumers looking for when it comes to purchasing produce?
They want a clean, healthy product. They want stuff that is fresh. Every market I get the question ten times "Has this been triple washed?" or "Is this clean?" It's a safety factor as well as a convenience factor for people.
Q: Any advice for someone wanting to start a farm?
You know, it's hard work. But if you stick with it, it can work out. It's not the romantic concept that we originally thought, but we were stubborn and kept pushing, and I wouldn't even say we're there yet, but it certainly has turned a corner for us.
Q: What can the State of Vermont do for farms?
When you are trying to compete in this marketplace it's almost impossible to take the next step with infrastructure and making investments. Whether it's high tunnels or washrooms or farm equipment, those are all things that are so hard to acquire because you're kind of just spinning your wheels. So, having grant opportunities that can help propel those farms to the next stage of production. We've relied on a lot of these things to get us to where we are. I feel like our business has reached a turning point where we have enough people working for us and we've gotten our efficiency down to where our price points are working better, we're paying people decent wages, and the quality of our food has increased. It feels like we're in a good place. 
Bear Roots Farm continues to diversify and expand their operations, their most recent venture being opening a farm stand in Middlesex, VT. They are working towards being open six to seven days a week and are now in year-round production at their farm. The grant has allowed them to address produce safety and simultaneously expand their markets by having an insulated, heated area where vegetables can be stored and washed all winter long, even on those negative ten degree winter days.
[1] The Vermont Land Trust's Farmland Access Program helps entrepreneurial farmers find affordable farmland. https://www.vlt.org/affordable-farmland