GOVERNOR PHIL SCOTT ANNOUNCES VERMONT PHOSPHORUS INNOVATION CHALLENGE FINALISTS
Montpelier, Vt. - Governor Phil Scott today announced over $1 million in state funding awarded to five groups for innovative technologies to separate and extract phosphorus from various waste streams as part of Stage Three of the Vermont Phosphorus Innovation Challenge (VPIC).
"These innovative projects not only enhance our efforts to restore Vermont's waterways but also promote economic growth and environmental sustainability," said Governor Scott. "Congratulations to the groups who are moving on, I look forward to seeing your creative solutions develop in the coming months."
VPIC was announced in February 2018 as an X-Prize style competition to harness creative solutions to address phosphorus pollution in Vermont. VPIC complements ongoing, essential work to install conservation measures and best management practices to reduce phosphorus losses from farms and in stormwater runoff from developed lands. These new technologies aim to make existing protections even more effective.
Of the 27 initial VPIC applicants, six groups were selected for initial funding awards. Beginning in September 2018, awardees engaged in technology prototyping and business case development, honing their technologies for phosphorus recovery and researching the market potential for the extracted nutrients. Over the summer, field visits were made to each group to monitor progress on implementation and to further understand the respective technologies. The final component of Stage Two for VPIC was the submission of a final business report earlier this fall.
These reports included a detailed business plan describing the method, process and costs for full implementation; the proven ability of the technologies to recover phosphorus; the potential revenue streams associated with recovered phosphorus; and an explanation of the suitability of technology or practice to address Vermont's existing phosphorus challenge. The business plan also described additional available funding and investments outside of state resources to help fully scale implementation of each proposal. Submission of this report qualified participants to move on to Stage Three of the VPIC.
Following a thorough review of the reports, five projects were selected for further development. Each awarded project is unique and proposes an effective and innovative solution to address the phosphorus pollution that impacts water quality statewide.
Vermont Phosphorus Innovation Challenge Finalists
DVO, Inc. and University of Vermont (UVM) – Chilton, WI - $500,000
Anaerobic digesters at dairy farms statewide that will be enhanced for advanced solids control using Dissolved Air Floatation (DAF) processes. These vessels will develop a 'P-Cake' product that is high in phosphorus and other nutrients. This product will be handled by a newly formed Vermont company (NEWCO) which will operate a newly opened facility in Vermont that will process, bag and/or bottle this material as a marketable retail product, as well as producing, selling and distributing bulk fertilizer and soil amendment materials.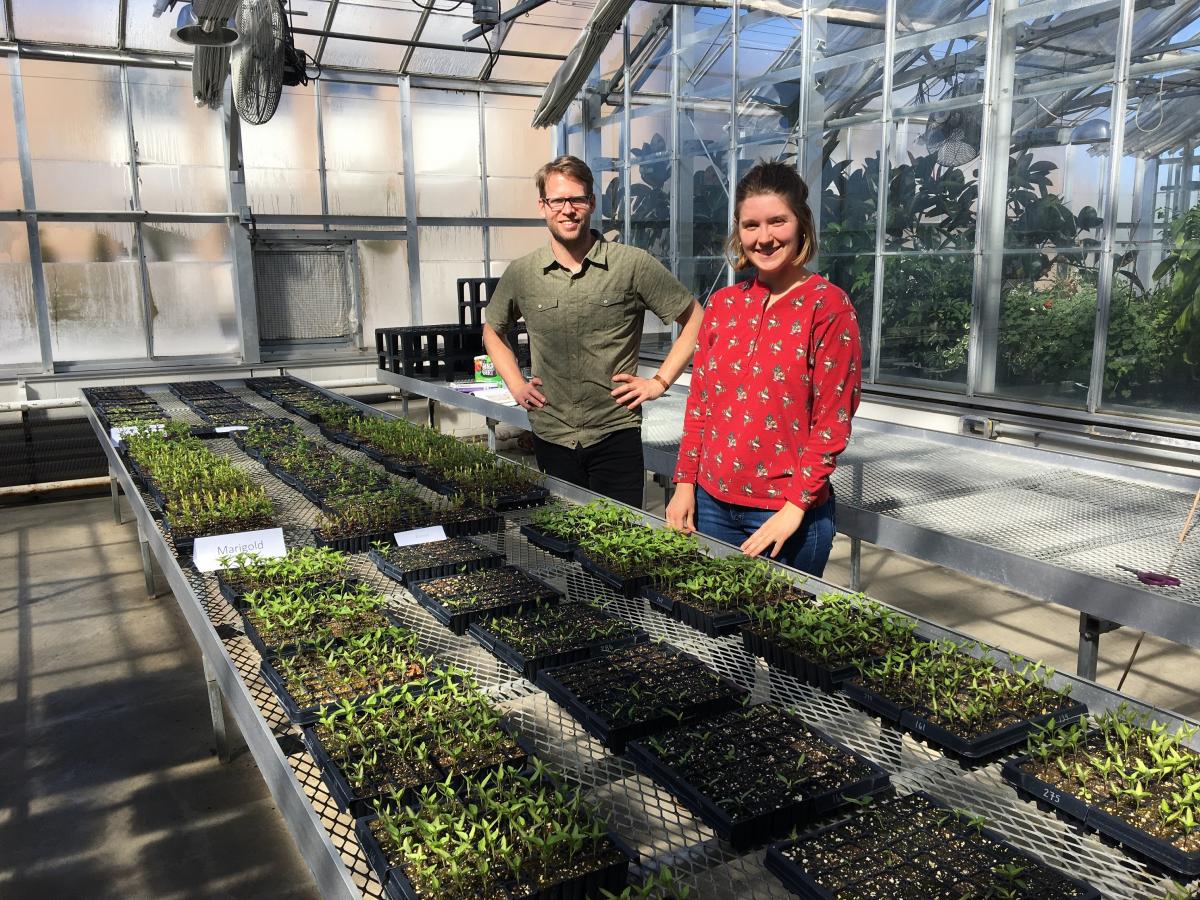 Eric Roy and Kate Porterfield of UVM with VPIC Stage Two Grow Tests. (VAAFM Photo)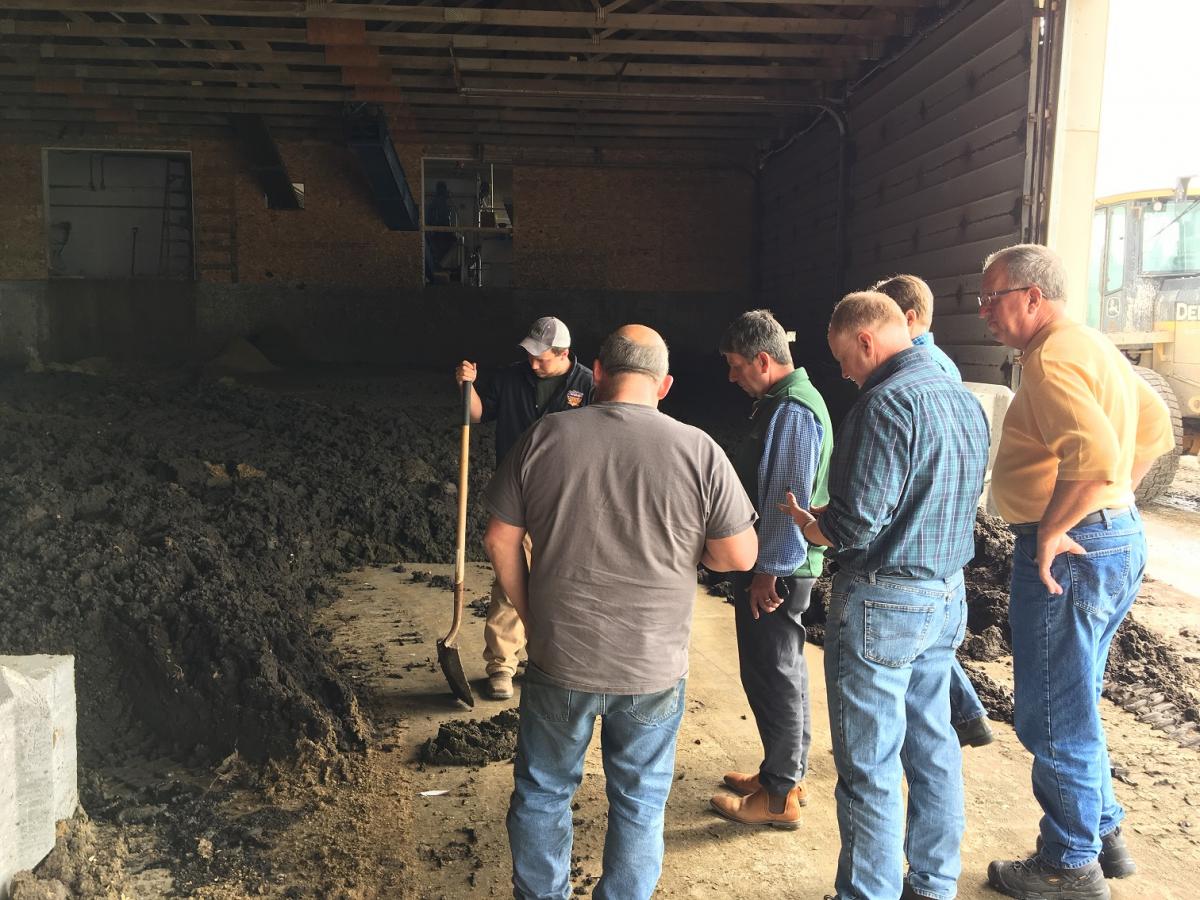 VPIC Stage Two site visit with DVO, UVM, and affiliates to Blue Spruce Farm, located in Bridport, VT. (VAAFM Photo)
Green State Biochar – Barton, VT - $135,000
Use of local renewable organic wood waste materials that are processed in an innovative pyrolysis machine developed in Vermont to produce a sequestered carbon product called Biochar. The awarded funds will help construct a larger kiln for the increased capacity to produce biochar. This biochar will be used in several Phosphorus Capture Systems, acting as a filter to efficiently capture the majority of the phosphorus from various types of agricultural runoff and producing valuable soil amendment/fertilizer products called p-enriched biochar for local reuse. Market research and business planning will help to determine the demand for p-enriched biochar.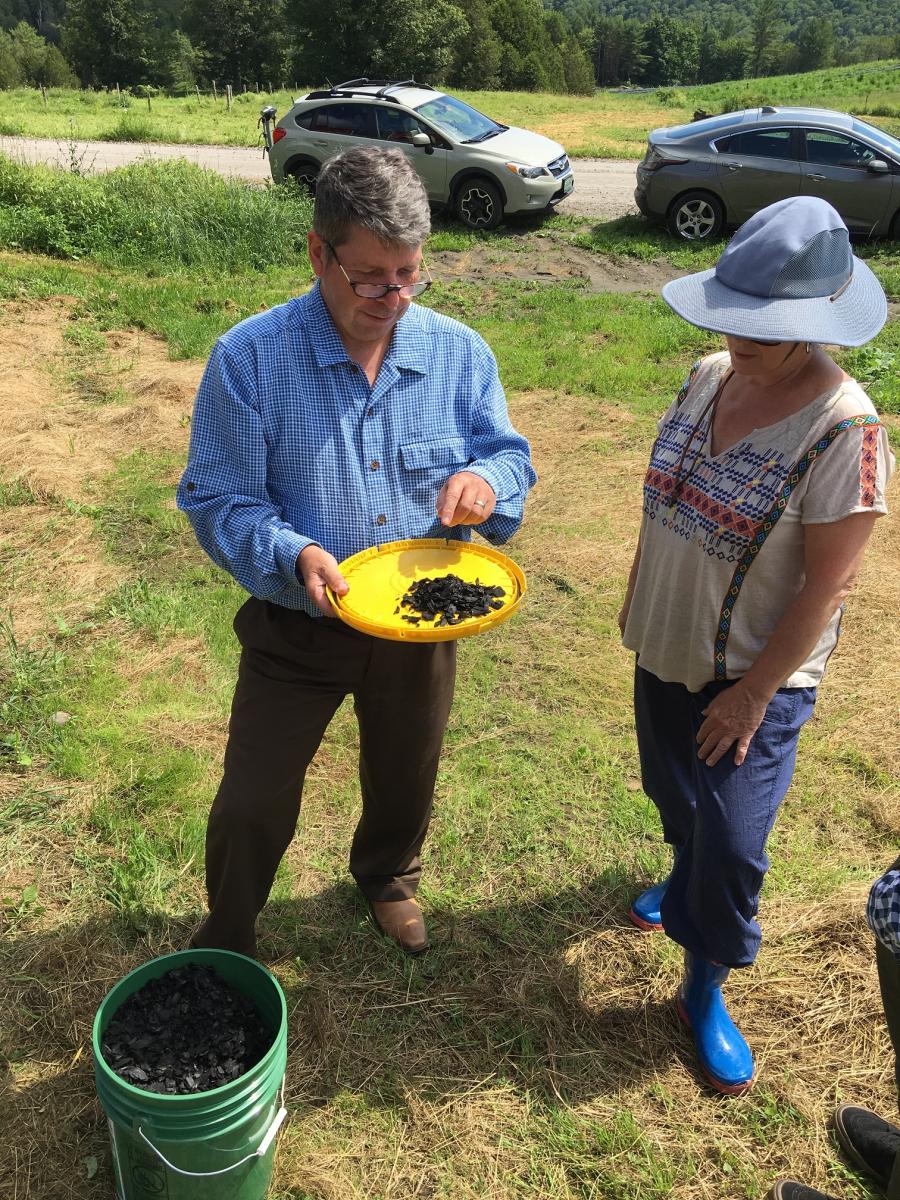 Secretary of the Vermont Agency of Agriculture, Food & Markets, Anson Tebbetts and Donna Pion of Green State Biochar examine biochar on a VPIC Stage Two Site visit to Wonder Why Farm located in Cabot, VT. (VAAFM Photo)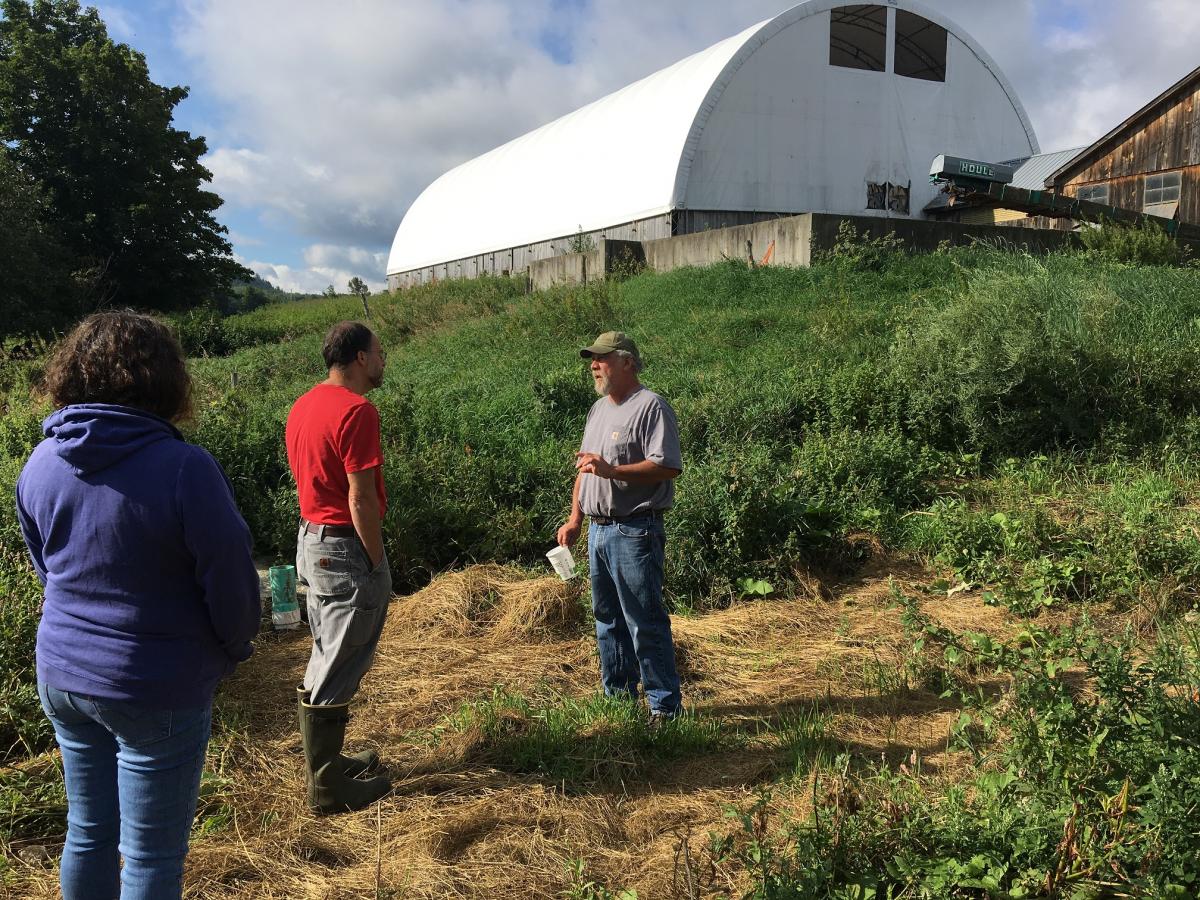 Roger Pion of Green State Biochar explains to Chief Agricultural Engineer of the Vermont Agency of Agriculture, Food & Markets, Rob Achilles, about the biochar filter setup on Butterworks Farm located in Westfield, VT. (VAAFM Photo)
Agrilab Technologies Inc. – Enosburg Falls, VT - $320,200
Use of a combination of existing phosphorus (P) recovery technologies, composting and drying equipment to establish a series of hub and spoke sites for P processing infrastructure in Franklin, Addison, Lamoille and Caledonia counties. The first model will set up a composting 'hub' in Franklin County and begin with items such as physical working pads, electric and data service, storage and related infrastructure work on several 'spoke' farms in Franklin, Lamoille and Caledonia counties. Additionally, Agrilab Technologies will build and utilize a Hot Box 8A-250R, a 20-foot containerized compost aeration and heat recovery (CAHR) unit. The unit may be moved between two or more farms in the initial years of operation and adds to positive aeration and drying capacity of the materials. The infrastructure and pieces of equipment address needs of P separation and concentration, pathogen destruction and volume reduction via composting of manure-based P products, and further stabilization through aerated drying. Market research and business planning will occur to determine the demand for the composted end products.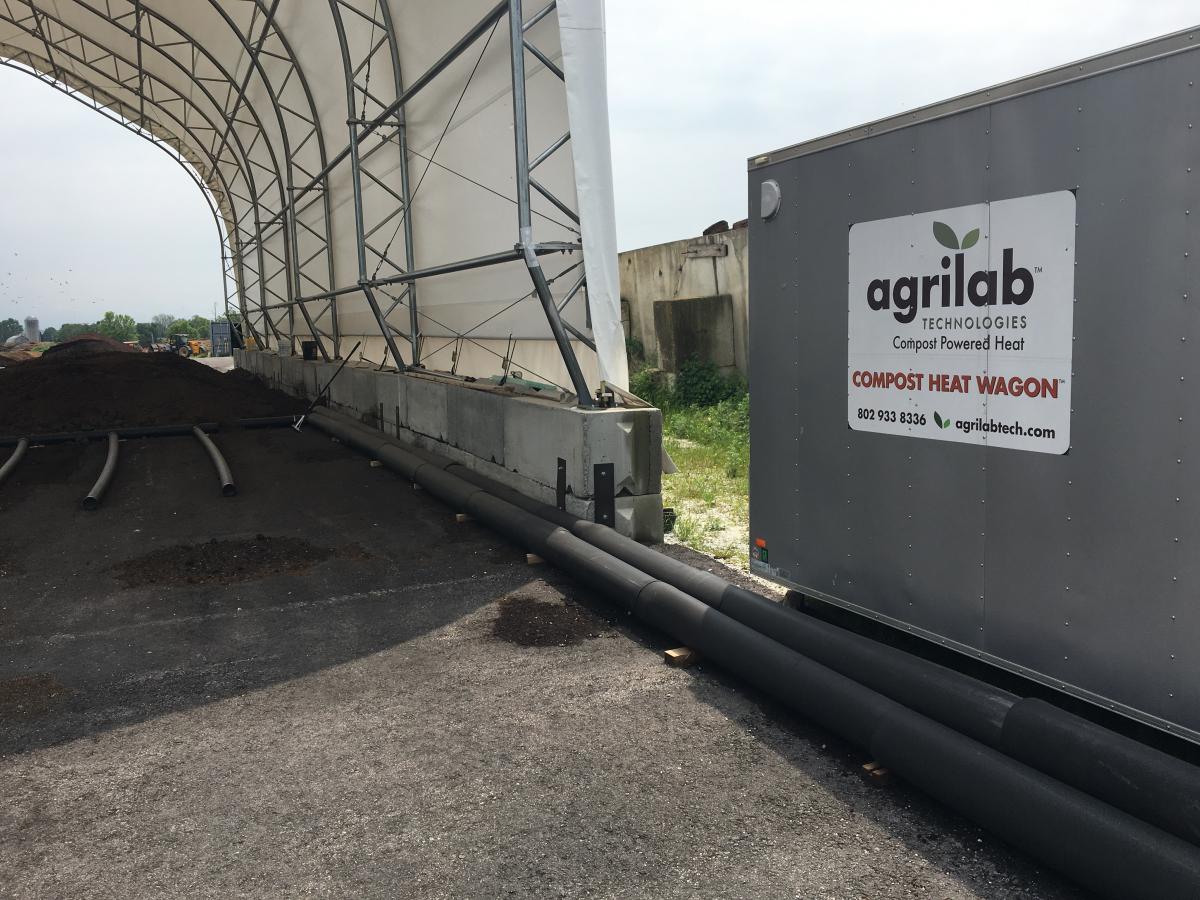 Agrilab Technologies' Compost Heat Wagon, located at VT Natural Ag Products located in Middlebury, VT. (VAAFM Photo)
Steam rising from batches of composted manure solids, wood chips and P concentrate indicates moisture being driven off by heated aeration during prototyping at VT Natural Ag Products located in Middlebury, VT. (Agrilab Technologies Photo)
Digested Organics – Ann Arbor, MI - $137,500
Awarded funding for the construction of a mobile ultrafiltration (UF) system to process manure and/or digested manure from about 100 dairy cows. The unit will include a fiber-removal process and small commercial-scale stainless steel UF system to create permeate (also known as tea-water) and concentrate. UF permeate contains very little phosphorus and will remain on the farm for land application while the concentrate rich in phosphorus will be a slurry available to nearby farms and composting operations where it can be converted into higher value products. By being mobile, the unit can move from farm to farm as needed, providing flexibility to use the unit where it is most beneficial, adjust to changing seasonal conditions, and expose more farmers to the technology throughout the state. 
Click here to view Digested Organics' Stage Three Submission
A model size ultrafiltration (UF) System built by Digested Organics for VPIC Stage Two trials located at VT Natural Ag Products located in Middlebury, VT. (VAAFM Photo)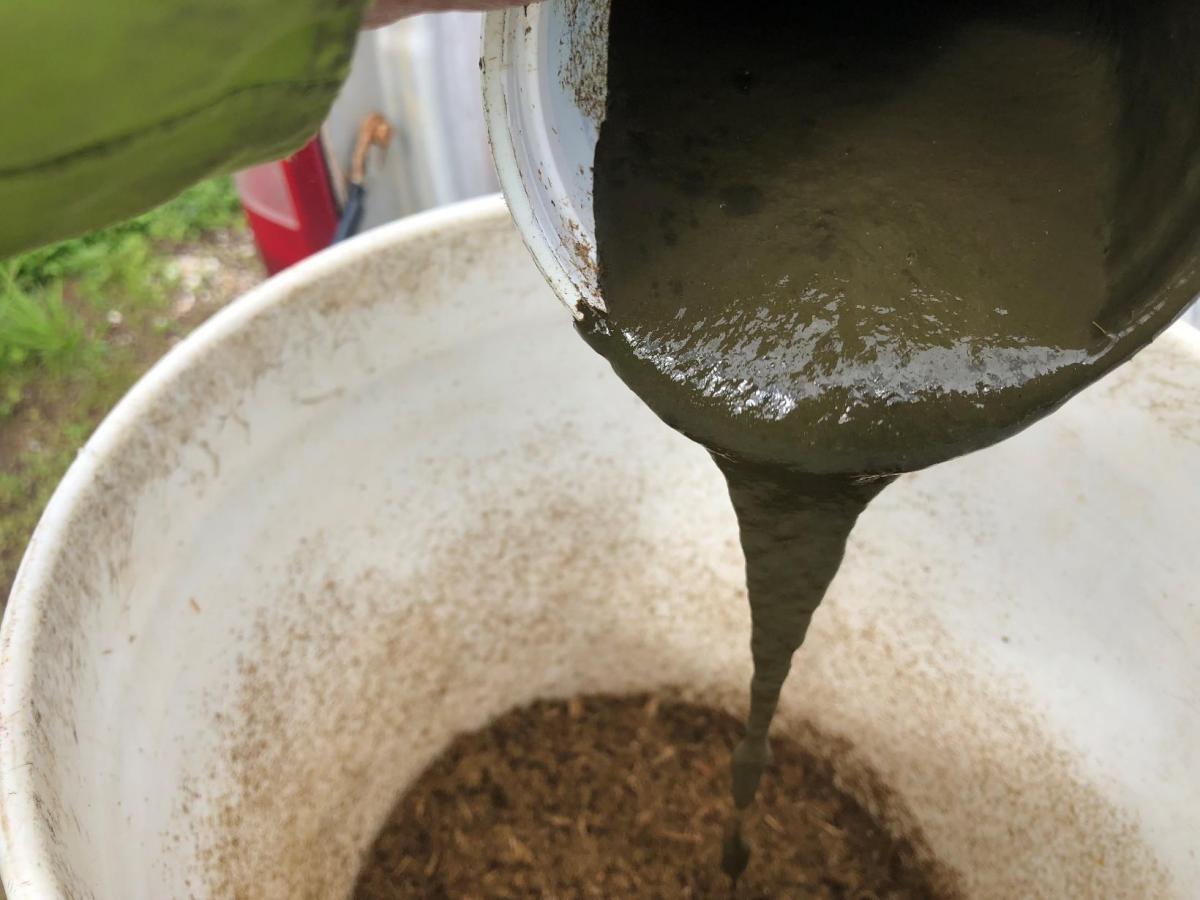 Phosphorus Concentration created through Digested Organics' UF System located at VT Natural Ag Products located in Middlebury, VT. (Agrilab Technologies Photo)
UVM, Village of Essex Junction, Chittenden County Solid Waste District and Efficiency VT – Essex Junction, VT - $58,907
Struvite generation systems are employed to remove Phosphorus from waste streams originating from water resource recovery facilities.  The new Pe−Phlo System allows for controlled formation and removal of Struvite and Vivianite outside of the treatment process.  The collected Struvite can be processed as a fertilizer resource outside of the wastewater facility. Pe−Phlo is viable on a small-scale application because it uses an innovative application of pipeline descaling technology as a means of enhancing crystalline Struvite generation and Phosphorus removal. It also uses a proprietary electrical field on the filter that allows for efficient capture of the Struvite crystals generated.  Pe−Phlo enhanced Struvite generation and capture improves the scalability to Vermont-sized water resource recovery facilities and Vermont sized farms.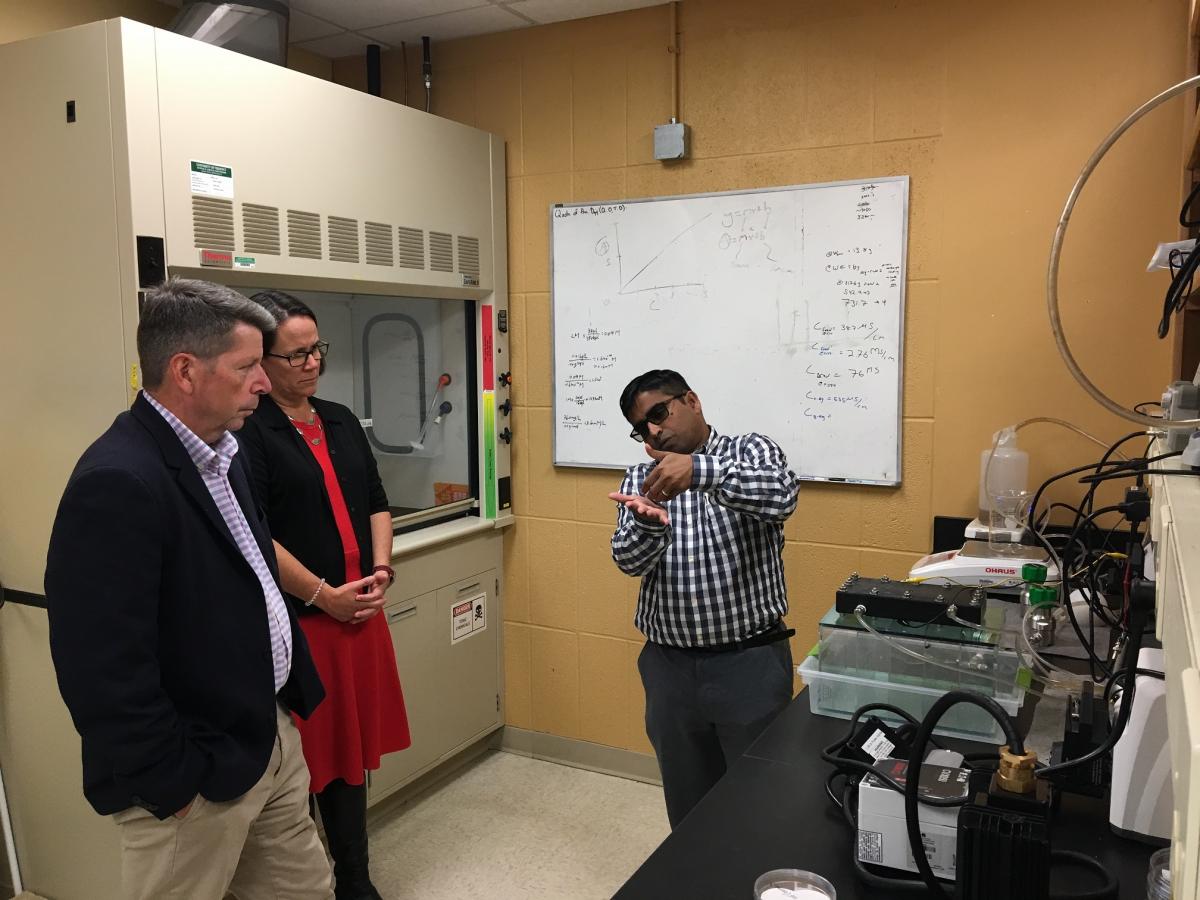 Professor Raju Badireddy of UVM explains the process of Struvite collection to ANR Secretary Julie Moore and AAFM Secretary Anson Tebbetts in his lab located on the UVM campus in Burlington, VT. (VAAFM Photo)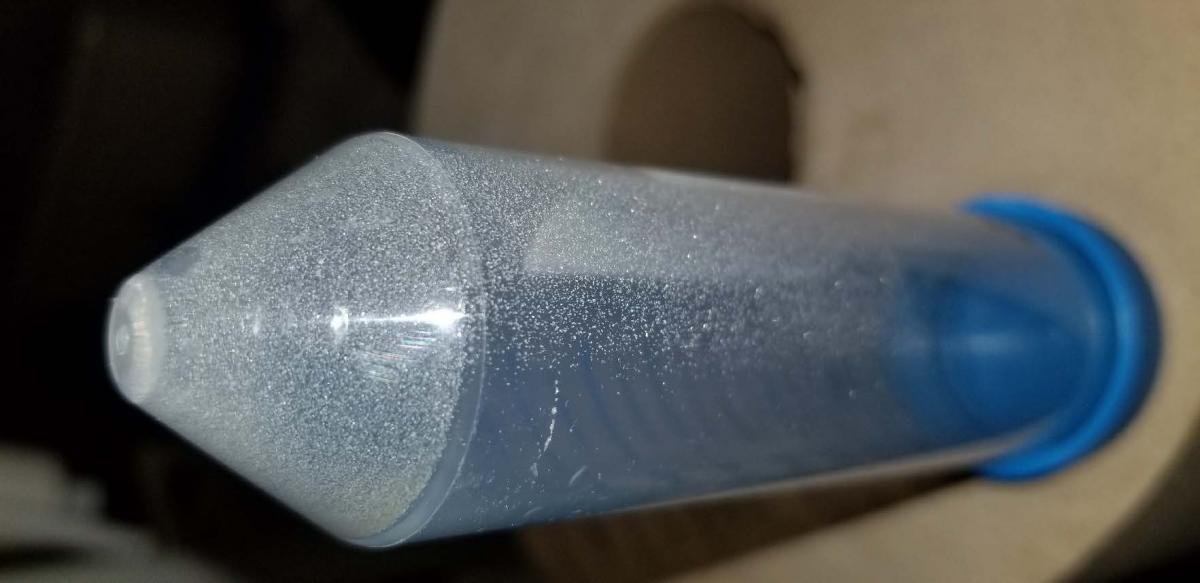 Struvite formations can be seen on the walls of a vial during trials conducted by Professor Raju Badireddy at his lab located at UVM in Burlington, VT. (Prof. Badireddy Photo)
VPIC Stage Three Evaluation Team:
Jeanette Brown, Manhattan College
Jed Davis, Agri-Mark/Cabot Creamery Co-operative
Eric Howe, Lake Champlain Basin Program & New England Interstate Water Pollution Control Commission
Tim Kenney, AI Certain
Guy Roberts, University of Vermont
Greg Huysman, Vermont State Employee Credit Union
Ela Chapin, Vermont Housing and Conservation Board
Ken Jones, Vermont Agency of Commerce & Community Development
Brett Long, Vermont Department of Economic Development
Anson Tebbetts, Vermont Agency of Agriculture, Food & Markets
Julie Moore, P.E., Vermont Agency of Natural Resources
Marli Rupe, Vermont Department of Environmental Conservation