by Alison Kosakowski Conant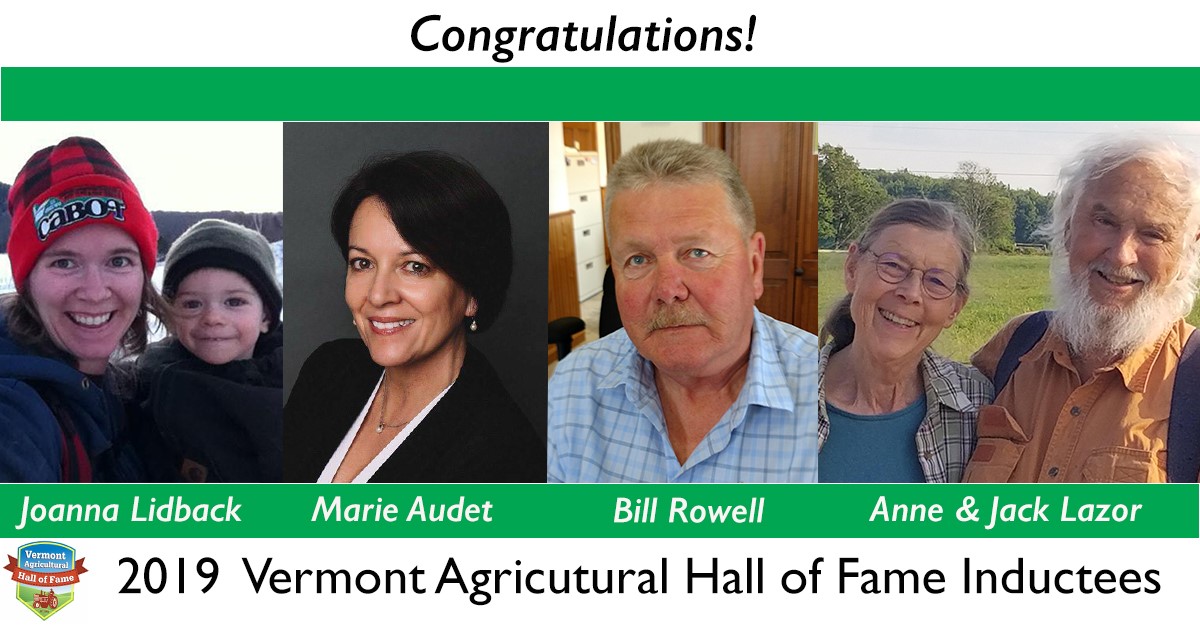 The Vermont Agricultural Hall of Fame is pleased to announce the 2019 inductees. Now in its 17th year, the Hall has inducted 80 Vermonters to date.
2019 Inductees
Emerging Leader: Joanna Samuelson Lidback, The Farm at Wheeler Mountain, Westmore
Ag Innovator: Marie Audet, Blue Spruce Farm, Bridport
Lifetime Achievement: Bill Rowell, Green Mountain Dairy, Sheldon
Lifetime Achievement: Jack and Anne Lazor, Butterworks Farm, Westfield
About the Inductees
Emerging Leader: Stepping Up to Become the Next Generation of Leaders (age 40 and under)
Joanna Samuelson Lidback, Westmore
Joanna is a farmer, agricultural business consultant, 4-H volunteer, and family farm advocate. Together with her husband Adam, she owns The Farm at Wheeler Mountain, a family dairy farm located in Westmore.
Joanna earned a BS in Applied Economics and Business Management from Cornell, and an MBA from Babson F.W. Olin Graduate School of Business. She is currently employed as Business Consultant for Yankee Farm Credit. In this role, she helps dairy farmers with the challenges of developing business, estate, and succession plans.
She and Adam are raising three young children together on the family farm.
Ag Innovator: Bringing New Energy, Ideas, and Opportunity to Vermont's Working Landscape
Marie Audet, Bridport
Marie is a farmer, agricultural advocate, and sustainability leader from Bridport. Marie, her husband Eugene, and their multi-generational family operate Blue Spruce Farm, an Agrimark dairy encompassing more than 3500 acres.
Marie believes farmers are integral to tackling climate change and has worked tirelessly to raise awareness for on-farm conservation and sustainability here in Vermont.
The Innovation Center for US Dairy awarded Marie and her family the first-ever National Award for Outstanding Dairy Farm Sustainability. Renewable Energy Vermont also honored Marie with the prestigious Jim Grundy award.
Marie and Eugene raised their two children on the farm, and today enjoy sharing family time on the farm with their grandchildren.
Lifetime Achievement: 30+ Years of Outstanding Service to Vermont Agriculture
Bill Rowell, Sheldon
Bill is a dairy farmer and agricultural advocate from Franklin County who farms together with his brother's family, Brian, Tammy, Matthew, and Megan at Green Mountain Dairy Farm in Sheldon.
Bill has played a leadership role in Vermont agriculture for many years. He was raised on a dairy farm in Albany Vermont during the 1950's and 60's, served in the U.S. Navy as an air traffic controller, Vietnam era, and was honorably discharged. He received his undergraduate degree in History and Political Science from Johnson State College, and attended graduate school at Old Dominion University in Norfolk Virginia, where he studied urban and environmental planning.
Bill has spent countless hours advocating on behalf of farmers and agriculture, from Montpelier to Washington, D.C. He and his wife Nancy are proud parents and grandparents.
Lifetime Achievement: 30+ Years of Outstanding Service to Vermont Agriculture
Jack and Anne Lazor, Westfield
Jack and Anne Lazor began farming in 1976. For more than forty years, they have built a reputation for producing outstanding organic yogurt, stewarding the land, and advocating for organic agriculture.
Anne and Jack have been a steadfast team in farming, family, and life. Jack is a teacher and a member of the "Agrarian Elders," a group of twenty-four pioneers considered to be the founders of organic agriculture in the U.S. Over the years, both he and Anne have devoted themselves to teaching the next generation of farmers how to raise animals, steward the land, and produce products ethically and sustainably.
Farming is a family affair for the Lazors, who raised their daughter, Christine, together at Butterworks. Today, the Lazors enjoy sharing their love of agriculture, and Butterworks Farm, with their grandchildren.