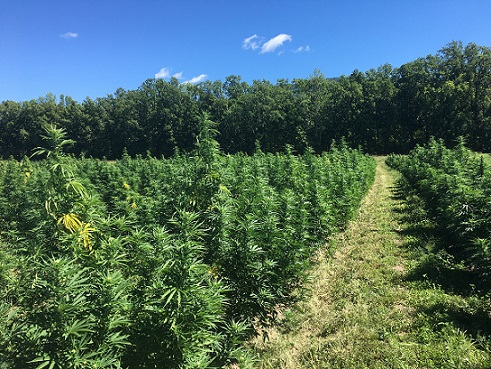 From the Vermont Agency of Agriculture, Food & Markets
This is the final year that the Vermont Agency of Agriculture, Food & Markets (Agency) will administer the Vermont Hemp Program, including the Vermont Hemp Rules and under its USDA approved Domestic Hemp Production Plan.  The Agency approved its first registration to cultivate hemp in 2013.  That first year the Agency registered 174 acres.
In 2014 the Farm Bill passed allowing states to enact pilot programs to "study the growth, cultivation, or marketing" of hemp. The Agency operated a pilot program through December of 2021 to a 1% total THC standard, participated in the federal rulemaking process, and advocated for federal policy changes in support of sensible regulation that allows, and even encourages, states to foster and help grow a sustainable U.S. hemp industry.
By 2019 Vermont saw an explosion of hemp cultivated for the production, development and marketing of hemp products containing cannabinoids.  The Hemp Program, in 2020, enacted regulations to protect consumers that included requirements to test for contaminants and labeling of products. These rules set the stage for compliance with the federal final rule for a U. S. Domestic Hemp Production Program that became effective in March of 2021.  As the sunset on the pilot program, Vermont prepared and submitted a state plan for USDA approval to employ federal requirements for the 0.3% total THC standard, federal reporting, and incorporating performance based sampling protocols that exempted fiber and grain growers and research institutions. In its final year of administering a hemp program, the Agency registered just over 161 acres with most crops being grown for cannabinoid production on small acreages. Vermont is also beginning to see potential in hemp fiber cultivation and processing. Many of Vermont's hemp businesses employ Vermonters to support their operations, and market hemp products across the country.
What's Next?
Growers that register to cultivate hemp in 2023 will do so with the United States Department of Agriculture (USDA).  Many of the same requirements in place in 2022 will remain applicable in 2023 for Vermont growers despite licensure with the federal government.  These include requirements for criminal history reports, reporting crops to the Farm Service Agency, using certified samplers, and meeting the total THC standard of 0.3%. Additionally, hemp cultivation will continue to be regulated under applicable state laws, including the Required Agricultural Practices, and Pesticide Rules.  If you operate a nursery, you still need to get a nursery license; or if you manufacture animal dosage form animal health products containing CBD, you will need to register those products.   The Agency does not expect there to be any changes to access to banking and insurance for hemp industry participants.
Hemp growers and processors will still be able to apply for relevant state funds to support their businesses. These include Working Lands Enterprise Funds, and federal funds from the Agricultural Management Assistance Program offered by the Natural Resources Conservation Service, or those offered through USDA, Rural Development.  Lands and buildings used in the production of hemp may be enrolled in the Current Use program when the operation meets eligibility requirements. There are no changes in access to these programs based on the transition to USDA administration of hemp production in Vermont.  Opportunities will continue to exist for businesses that grew up under Vermont's Hemp Program and new businesses that seek for find their place.
Nationally, 2023 is the year Congress will revise or renew agricultural and food policy in what is commonly known as the farm bill.  The hemp industry may see changes in federal policies affecting their businesses, so stay tuned. 
The best place for information on becoming registered with USDA is to go to https://www.ams.usda.gov/rules-regulations/hemp. 
Growers in 2023 will need to create accounts in the Hemp eManagement Platform, https://www.ams.usda.gov/rules-regulations/hemp/hemp-emanagement-platform. 
There is a user guide for producers, USDA Producer HeMP User Guide (pdf), to help you navigate the federal registration system. If producers have questions about hemp production in 2023, contact USDA at, FarmBill.Hemp@usda.gov.