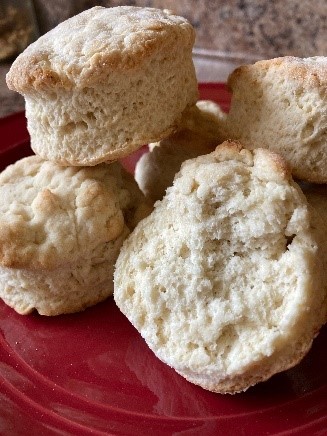 This versatile and easy recipe can be used as a base for meals and desserts.  We love topped with berries and whipped cream, as a main course smothered in turkey and gravy, or just eat them solo.  Makes about 12 – 2-inch biscuits.
Ingredients
1/3 cup butter

2 cups flour

2 TBSP sugar

1 TBSP baking powder

1 tsp salt

3/4 cup milk
Directions
Heat oven to 450.

Using a stand mixer (or by hand with a pastry cutter), cut shortening into dry ingredients until the mixture resembles fine crumbs. 

Stir in milk just until blended (if using the stand mixer, stop mixing once the ball is formed). Gently smooth dough into a ball on a lightly floured surface. 

Knead the dough about twenty times if mixed by hand, about 7 times if using the stand mixer. 

Roll dough to ½-inch thickness, cut with 2-inch cutter and place about one inch apart on an ungreased cookie sheet. Repeat until all dough is used.
Bake until golden brown, 10 – 12 minutes.  Enjoy!