By Trevor Audet, VT Agency of Agriculture, Food & Markets
Farmer Scott Greene is keeping things green in the Champlain Valley.
"We're a diversified organic vegetable farm, primarily, and we've sort of moved into growing under cover and growing in greenhouses," said Greene. "Pretty much trying to keep the houses full at all times."
Singing Cedars Farmstead sits on a beautiful piece of land along Lake Champlain in Orwell, Vermont. Greene focuses on tomatoes but also grows peppers, eggplants, spinach, salad greens, winter greens and occasionally cucumbers. He sells his products right on the farm, at various farmers markets and many local fine food establishments.
By working with CAPS (Community Accreditation for Produce Safety), a voluntary program of the Vermont Vegetable and Berry Growers Association run by farmers and service providers to help maintain market integrity for small to medium-scale produce farms, Greene was able to identify improvements he could make to help reduce food safety risks.
"Our previous shed had a floor with about 10 years of life left in it, it was a plywood floor and right around that time I started seeing that the Produce Safety Improvement Grant [PSIG] was coming up." said Greene.
Singing Cedars was awarded a $10,000 grant by the Vermont Produce Program to improve their primary packing shed. Once completed, the new work area will have tight screening to keep critters out. Laying down a concrete slab floor and adding drains will reduce the likelihood of standing water and allow surfaces to be easily cleaned.
"I worked in a creamery before, so I had a little sense of the kind of wash-ability of work surfaces and everything that people are looking for in that environment."
While Greene's small operation may not be as highly regulated as other farms, having the ability to make on-farm improvements and reduce produce safety risks is encouraging.
"It solidifies our business," said Greene. "I feel comfortable having the reassurance that we meet the standards and the marketability is important to us as well."
Greene was able to pour a slab for his new shed by the end of May, and four weeks later his first tomatoes came in. While the tomatoes were a little ahead of the project, Greene says he'll be able to finish the project by the next growing season.
The Vermont Produce Program at the Vermont Agency of Agriculture, Food, & Markets will begin accepting applications for Round Three of the Produce Safety Improvement Grant program on Monday, January 7, 2019. To learn more and to receive direct funding announcements, enroll your farm in the Vermont Produce Portal at agriculture.vermont.gov/produceprogram.
If you would like to share your story with the Vermont Produce Program, please email AGR.FSMA@vermont.gov or call (802) 585-6225.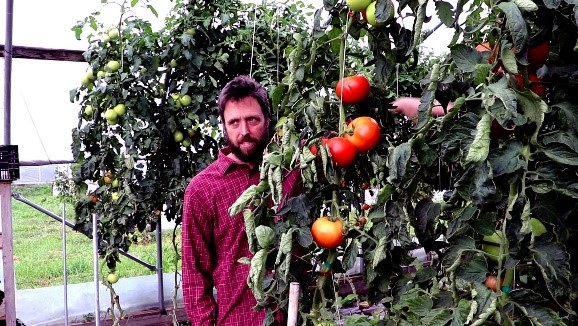 Scott Greene managing his tomato crop at Singing Cedars Farm in Orwell.