By Dominique Giroux, Vermont Agency of Agriculture, Food and Markets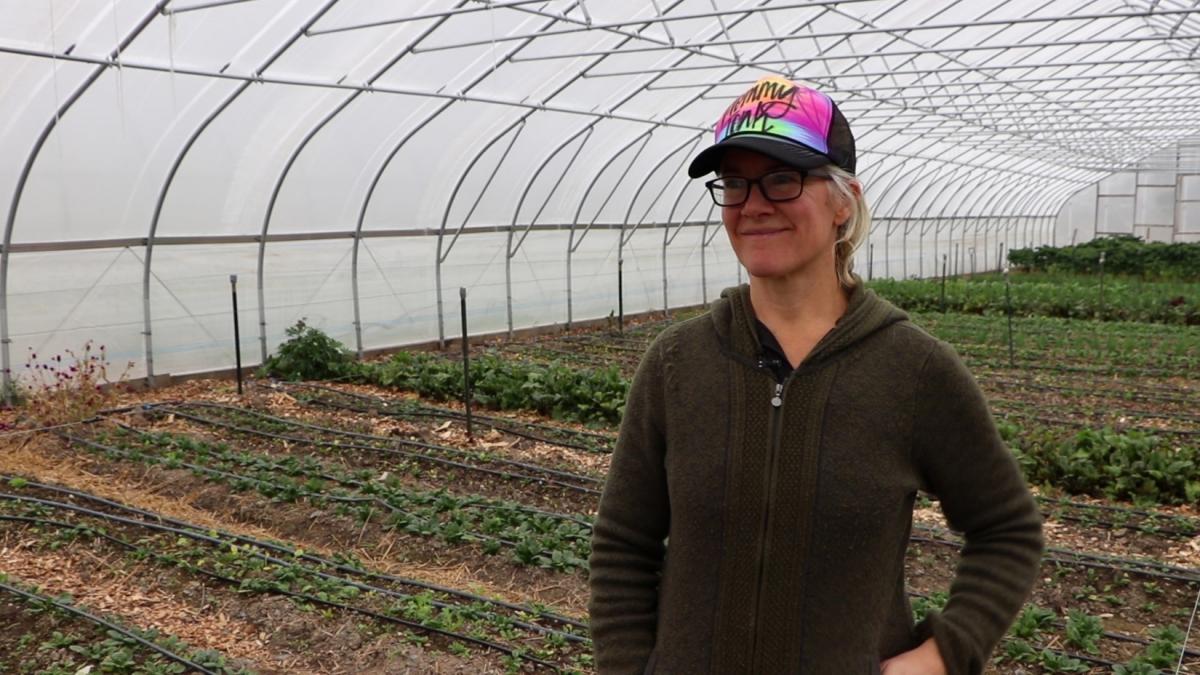 Situated in Shelburne, Vermont, Bread and Butter Farm is hard to miss. However, what you might not see passing by is the collaborative atmosphere that the farm exudes. Bread and Butter farm is integrating farming, experiential learning, land stewardship, and community to create, in their words, 'a truly sustainable, long term collective for generations to come.'
Part of this collaborative system is to provide healthy, safe, high quality food through their farm store, vegetable and meat shares, and CSA. Corie Pierce, owner and farmer at Bread and Butter Farm, sought to make improvements that would address some food safety concerns. In January 2018, Bread and Butter Farm received a $8,664 Vermont Produce Safety Improvement Grant (PSIG) to enclose their wash/pack area and add sinks and hygiene signage around the farm.
Vermont Agency of Agriculture, Food & Markets Produce Program staff Trevor Audet and Dominique Giroux met with Pierce to chat about their project improvements, farm history and outlook for the future.
Q: Where did you learn to farm and what make you come to Vermont?
Pierce: I grew up in New Hampshire. My grandparents both lived in Vermont, so I got to know Vermont just as a kid. I grew up working on a big vegetable farm in New Hampshire, and that's where I learned and really dove into farming. Farming education-wise, I did a UC Santa Cruz organic farming program. I was wanting to learn more of the details and ins and outs of organic farming. I actually got a job at Michigan State University and taught there and helped manage their ten-acre organic farm. It was a job, but it was also great education because they actually had a lot of these unheated high tunnels. So, that's where I learned winter growing in a pretty similar climate.
Q: Tell us a bit about your Produce Safety Improvement Grant project.
Pierce: We were really excited to find out about the grant and immediately knew that the best thing for us would be to upgrade our wash/pack area, which was open-sided previously. We really wanted to be able to have it closed in and upgrade our tables to be all stainless steel, and [upgrade] the organization within the wash/pack to make it easier to clean … and have a great and easy flow.
Q: What produce safety risks did you address?
Pierce: I think basic consistency in our systems. Everything from bringing the produce in from the field to the flow through washing to packing to storage, and making sure that flow is easy and consistent and easily trainable to employees. We did [add] a couple of hand-washing sinks, too … differentiating sinks that are wash/pack versus handwashing for both our employees and visitors to our farm. We also used some of the money to upgrade our harvest totes, storage totes, and compost totes—so those are all clear, different and easily identifiable by all of the employees.
Q: Beyond food safety, what other benefits resulted from your project.
Pierce: Efficiency, for us and workers, and [the] length of season [we are] using our wash/pack. By enclosing it, and having it snug up against a heated space, we are able to extend the timeframe that we can work out there—both comfort-wise for our employees, but also functionally for the flow of the water.
Q: Do you have any concerns about the Food Safety Modernization Act (FSMA) Produce Safety Rule?
Pierce: No, it all makes sense. Just having a mechanism to bring that attention to myself and everyone that works here is a good thing. I think it has an intimidation factor. So, trying to dismantle [the rule], and not make it feel confusing or worrisome, but straightforward, and taking the time to break it down.
Q: Where do you see this farm ten years down the road? Any big plans for the future?
Pierce: A lot is contingent on this new land if we actually can end up buying it. We have a lot of work to do to make it productive and make it come back to health. That is this huge potential opportunity both for us to mostly grow our animal base and for our employees to grow into enterprise managers [for] new enterprise or starting their own farms. We definitely envision keeping the work that we've done to create a brand. We would love to help other farms who maybe don't want to do that work, but are awesome farmers and could grow something else but feed into that brand. For example, if we could partner with someone who's an amazing grazer and wants to raise sheep but they don't want to do the marketing end of it, we could partner with them. I see collaborative marketing, collaborative managing – so not just one owner and a bunch of employees, but a farmer co-op where there is more ownership among the actual workers who can invest their life into that land and not feel like it's just a job for however many years.
Q: For someone new looking to start a new farm in Vermont, what advice would you give?
Pierce: Everyone's path is so unique and different. I think you just have to want it badly, and then you have to go for it when the time is right. We saw the value in this farm in terms of its location and in terms of the potential of what we could do here, [and] we just decided to go for it. Being ready yourself and pushing yourself outside your comfort zone when the opportunity arises.
Bread and Butter farm plans to continue working on their business scope will these facets in mind to build upon their already well-rounded farm enterprise.
To learn more about the Produce Safety Improvement Grant program visit agriculture.vermont.gov/produceprogram. 
If you would like to share your story with the Vermont Produce Program, please email AGR.FSMA@vermont.gov or call (802) 585-6225.