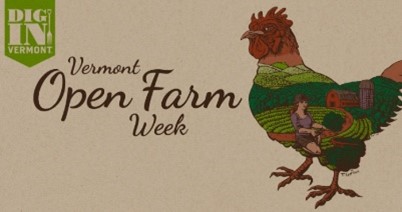 By Kristen Brassard, VT Agency of Agriculture, Food & Markets
It's that time of year again. Registration is now open for the 9th Annual Vermont Open Farm Week. This year's event is scheduled to take place August 6 - 13, 2023 so mark your calendars and get ready to show off your farm to the world.
Open Farm Week is a fantastic opportunity to connect with your community, engage with customers, and showcase what makes your farm special. And the best part? You get to do it on your terms. You can choose any day during the week to host an event or have events on multiple days – whatever works best for your schedule.
Before you get started, there are a few important details to keep in mind. First, Open Farm Week events need to have an activity (big or small) that is not a part of your regular farm schedule. This is to ensure that visitors have a unique experience and get to interact with farmers in a meaningful way. But don't worry, the possibilities are endless! You can offer tours of your fields or barns, host tastings or cooking demonstrations, or even sell your products directly to visitors. The sky's the limit!
There is a cost to participate in Open Farm Week, but this year there are a range of registration fees available in an effort to make the event accessible to all farms. The fees go towards coordination and planning of the week-long event, registration management and outreach, website promotion, advertising, marketing materials and promotional resources for each farm, technical assistance, and in-state marketing and promotion through the many communication channels of the DigInVT committee organizations. And if you're interested in being a Featured Open Farm Week Farm, there's an option to pay an additional $20 to have your event promoted to a targeted audience and have your farm prioritized in media outreach.
If you're new to hosting visitors on your farm, there are plenty of resources available to help you plan and execute a successful Open Farm Week event. The UVM Extension's Vermont Agritourism Collaborative has a wealth of information and resources on all things agritourism for farms. You can check out these resources by visiting uvm.edu/vtagritourism.
If you're feeling overwhelmed or just need some extra help getting started, the Open Farm Week team is available to provide resources and technical assistance to a limited number of farms.
Whether you need help developing ideas or preparing for visitors, they can help you develop a plan that's right for your farm and community.
Register for Open Farm Week today and get ready to showcase your farm to the world. We can't wait to visit you this summer.
Visit www.diginvt.com/blog/openfarmweekforfarmers to learn more and register by July 1st!