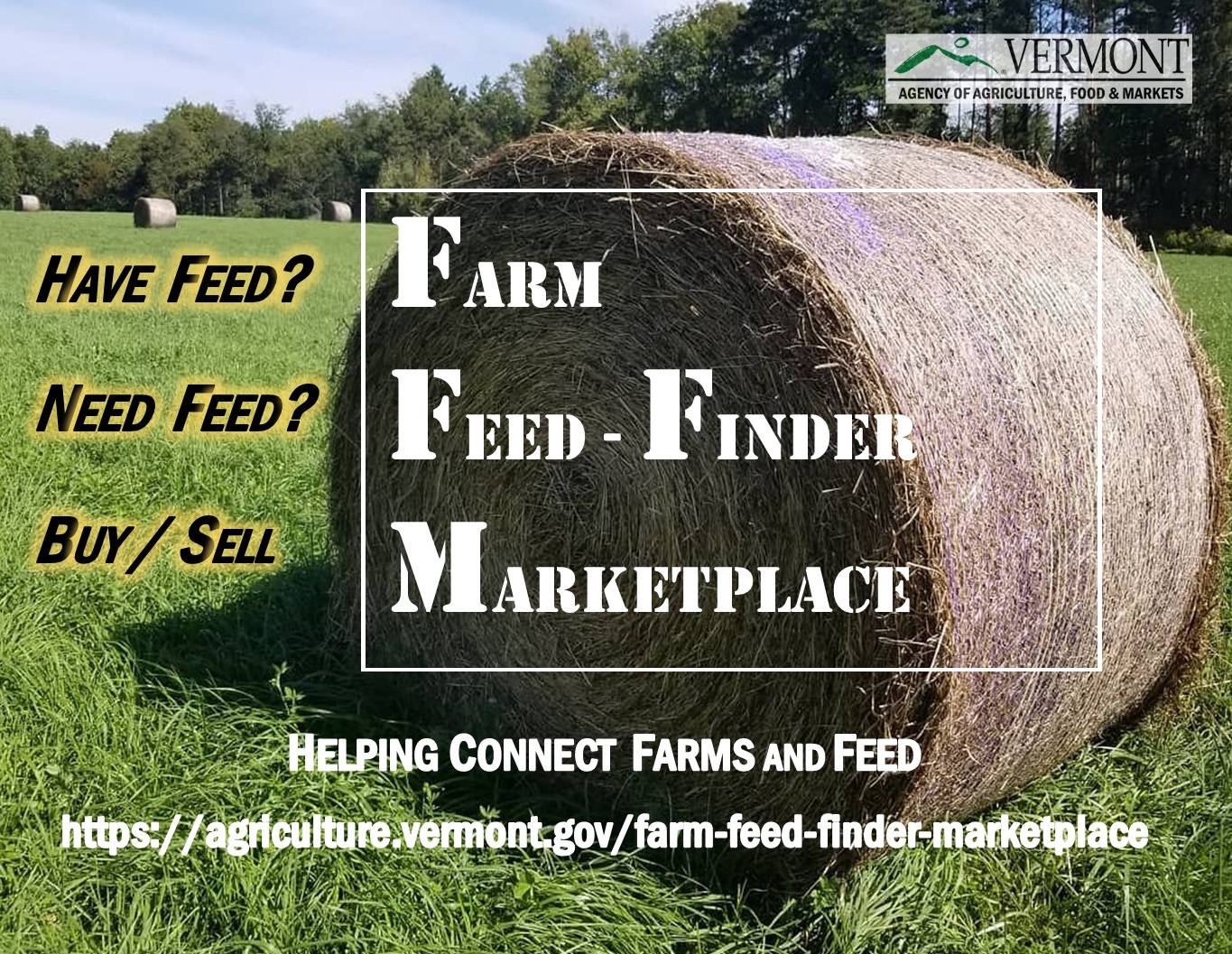 Wet summer has created need to connect feed buyers and sellers from across New England and Canada
By Scott Waterman, VT Agency of Agriculture, Food & Markets
The severe and soggy weather this summer has created feed issues for those raising livestock.  With a tremendous need to find feed for farmers and producers, the Vermont Agency of Agriculture, Food & Markets (Agency), and the Vermont Agency of Digital Services (ADS) have created a resource for those looking to buy and/or sell feed. 
"The constant rain this summer has created a feed shortage for many farmers. This new, free directory is an easy way for those looking for feed to connect with those with feed for sale," said Anson Tebbetts, Vermont's Secretary of Agriculture.
Those selling hay, alfalfa, corn, soy, silage, and haylage can easily advertise their feed on the directory and can include details like whether the feed is organic and if the seller can deliver. For farmers looking for feed, the directory provides an easy platform through which they can quickly view availability, location, and pricing for a variety of feed.
The Agency and ADS are encouraging feed sellers from across the region, including Canada, to utilize the site. "By creating this online directory, feed sellers from across the northeast can now advertise in this Vermont resource. We are glad we could offer this service to our hard-working farmers and feed dealers," said Denise Reilly-Hughes, Vermont's Secretary of Digital Services.
The site can be found at: https://cloud.agriculture.vermont.gov/FeedFinder/HaySell.aspx
The Agency is asking all those who have feed for sale to please advertise in this online system. Registration is free and takes just a few minutes and sellers will benefit from the wide-scale promotion of this resource.  The Agency will be promoting and maintaining the Marketplace through the winter and into the next growing season.