Makes 10 – 12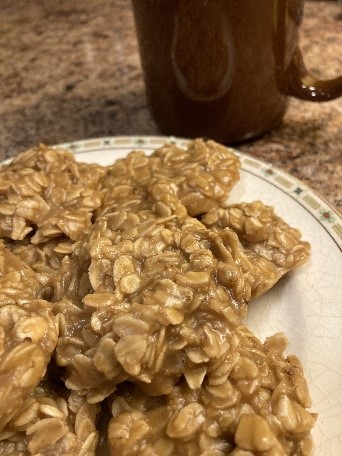 INGREDIENTS:
1/4 c. unsalted butter
1/2 c. pure maple syrup (preferably Vermont grade B)
2 T. milk
1/2 tsp. maple extract
pinch of salt
1/4 c. peanut butter
1 c. old-fashioned oats
INSTRUCTIONS:
Combine butter, maple syrup, and milk in a small saucepan. Bring to a boil over medium-high heat. Once at a full rolling boil, set timer and boil for a full 3 minutes, stirring constantly.
Remove from heat and let cool for 2 minutes. Stir in maple extract, salt, peanut butter and oats.
Drop by tablespoon onto wax paper and allow cookies to cool.
 Notes:
Boiling the maple syrup mixture for a full 3 minutes over medium-high heat is extremely important. 
Cookies don't look right?  Too thick after stirring in the oats?  Add milk one teaspoon at a time.  Too soupy? Add more oats at ¼ cup at a time. 
Try replacing almond butter for the peanut butter and vanilla extract rather than maple for a more subtly flavored cookie.