February 4, 2022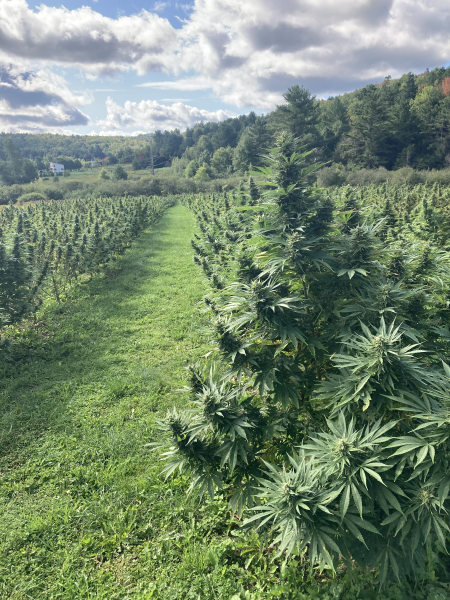 by the VAAFM Hemp Program
February 4, 2022 | Montpelier, VT - Managing land for hemp cultivation is crucial to the continued success of hemp crops and businesses over time. If land is not managed properly, problems can arise for future hemp crops, neighboring hemp growers, and can even lead to registration requirement violations. The Hemp Program takes this opportunity to share general land management best practices for hemp growers.
One of the most important aspects of managing land is making sure that fields are cleaned and effectively "put to bed" at the end of each season. After harvest has ended, all remaining hemp crops, stalks, cultivation materials, and plant debris should be plowed in and / or removed from the cultivation area. Hemp crops that are left standing in a field can create a host of issues for the grower, and for neighboring growers or residents.
Unharvested hemp crops should be plowed into the field, or removed from the registered grow area. If left unattended, unharvested plants can become hosts for hemp specific pathogens and pests that can accumulate over time. These pests can not only adversely affect a growers' hemp crops in subsequent years, but can also spread to neighboring fields. Leaving hemp crops standing after harvest can also increase the chance of feral hemp populations becoming established. A pollinated plant left unmanaged in a field can drop seeds that sprout in following seasons and can lead to Hemp Program violations including but not limited to failure to register cultivation areas, production hemp exceeding total THC concentration thresholds, and the unintended consequence of impacting neighboring hemp cannabinoid crops.
Growers should also take the time to remove all cultivation materials such as drip irrigation lines, agricultural plastic, and trellis wire from grow areas. Leaving these materials in the field after their useful life is harmful to the environment, ending up in waterways, animal habitats, and negatively impacting agricultural soils. These materials when left in place can become eyesores, or end up on neighboring properties.
To improve land management practices, growers can implement crop rotation plans, and can plant cover crops on previously cultivated areas. These practices can greatly improve and maintain soil health, reduce and manage pest / pathogen populations, keep noxious weeds to a minimum, and decrease the risk of feral hemp populations becoming established.
Growers that take the time to manage their fields post-harvest and act as good land stewards will minimize field risks while maximizing plant health and benefit to the soil.
Questions about land management as it relates to hemp production can be directed to Michael DiTomasso, michael.ditomasso@vermont.gov.