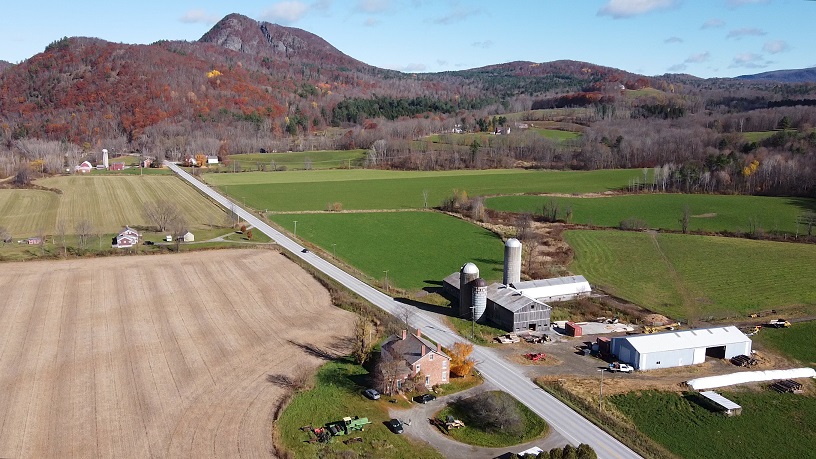 By Scott Waterman, VAAFM Communications Director
A seventh-generation dairy family in Pawlet has embraced the potential growth and adaptation possibilities that a Working Lands grant can enable. Brian and Breya Leach of Haystack Farmstead, a cattle grazing operation established in 2016, are working to tackle an ongoing challenge for many Vermont food producers, including their own: meat and poultry slaughter.
"We think there are many reasons why livestock farming is a valuable component of the Vermont working landscape," said Brian Leach of Haystack Farmstead. "We secured Working Lands Enterprise Initiative funding to fund the construction of an engineered on-farm processing system to be operated as a small cooperative with our farm and two other local farmers."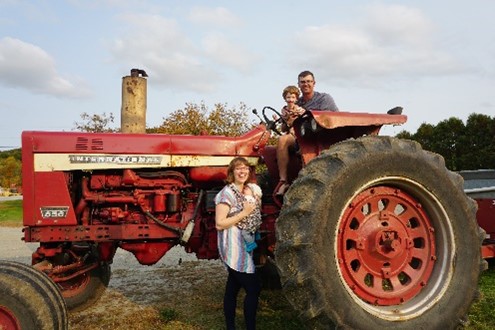 The Leach Family on their tractor at the Pawlet farm - Courtesy Haystack Farmstead
Leach believes entrepreneurial thinking with timely investments directed at this pressing need within the local food system will lead to success for their business, but also for their local farming community.
"With grant funding from Working Lands, we have an opportunity to build a viable processing system for our farm that secures our future here and takes meaningful steps to helping others do the same," Leach said.
While Pawlet has a long history of commercial farming and forestry activity, according to Leach it still struggles with its agricultural identity. "If we can address some of our systemic problems, our grazing enterprise could be one of several in Pawlet alone, one of hundreds throughout the state," said Leach. "We are working with other farmers in town to provide low-cost training and access to the grant-funded facility to address their shared viability concerns."
Working Lands Enterprise funding has been vital to many of our Vermont agricultural and forestry businesses as they explore expansion, diversification, or functional improvements to their businesses. As the Leach's at Haystack Farmstead recognize, Working Lands funding can address some of the missing economic components that will allow future business success.
Says Leach, "A livestock enterprise set-up on a single holding of a few hundred acres needs to realize the income from processing livestock to be viable. On our 350-acre farm, we can safely graze enough stock to generate 30 finished beef per year and carry a replacement herd through the winter. If everything is set up well the farm could net $60k if we do the processing ourselves and market the product effectively. This is very close to a livable income, with some time for a handful of other diversified earning activities."
Our Vermont agricultural communities and farmers have always dreamed of fulfilling work while feeding their families, friends, and communities. The heritage of a farming life in Vermont has always brought challenges, and the economic realities of the 21st century have only increased the pressures of maintaining and prospering working lands businesses. 
"There was a time when farmers sent their kids to school in hopes that they would make a better life for themselves off the farm. What I've realized is that it doesn't have to be that way," Leach reflected.  "Everything I grapple with on the farm can be improved. There is a good system hiding in there, it just takes time and money to build it. I want this farm to be a peaceful, productive, and fun place to live and work."