By University of Maine Extension
Fiddleheads, an early spring delicacy throughout the Northeast and Canadian Maritime Provinces, are the young, coiled fronds of the ostrich fern (Matteuccia struthiopteris). Nearly all ferns have fiddleheads, but not all fiddleheads are edible.
The Ostrich fern fiddleheads are edible, and can be identified by the brown, papery scale-like covering on the uncoiled fern. Fiddleheads are approximately 1 inch in diameter, have a smooth fern stem (not fuzzy), and also a deep "U"-shaped groove on the inside of the fern stem. Look for ostrich ferns emerging in clusters of about three to twelve fiddleheads per plant on the banks of rivers, streams, brooks, and in the woods in late April, May, and early June depending on your location. Make sure that you obtain landowner permission before harvesting fiddleheads.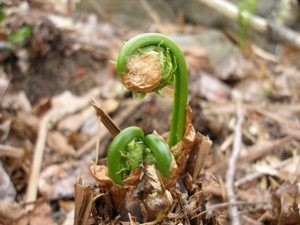 Ostrich Fern Fiddleheads - Photo: David Fuller (UMaine Extension)
For more information on fiddlehead harvesting this spring, check out the refresher on food safety and cooking recommendations from UMaine Extension. Review the fiddlehead food safety bulletin at https://extension.umaine.edu/publications/4198e/.
Watch the fiddlehead cooking and preserving video at https://youtu.be/JpxNlA3zyvw.