By Katie Spring, Northeast Dairy Business Innovation Center at VAAFM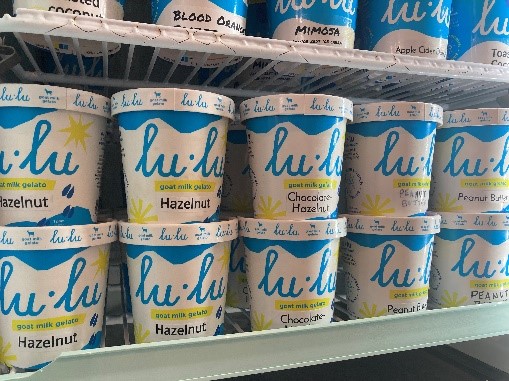 Drive down Main Street in Vergennes, and you'll come upon a brick building with blue-framed windows and a bright yellow door. Open the door, and you'll step into Lu-Lu's: a year-round local ice cream shop.  
"Lu-Lu is actually a word in the dictionary that means something outstanding and remarkable," says owner, Laura Mack. "Every day we produce small batch, from scratch ice cream and gelato using all local ingredients. We really capitalize on the flavors of Vermont from local farmers." In March, Lu-Lu's unveiled a new product made in partnership with Midnight Goat Farm: local goat gelato.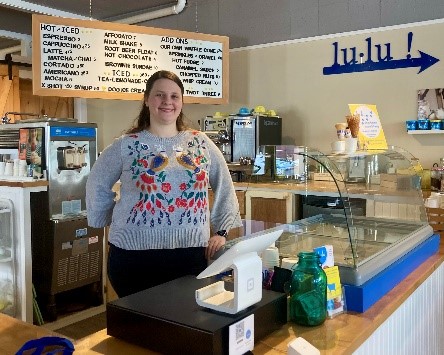 Created with support from the Northeast Dairy Business Innovation Center (NE-DBIC) Goat &  Sheep Supply Chain grant, this new product helps expand the use of local goat milk and highlights the ripple effects our grants have throughout communities.  The funding Lu-Lu's received helped bring what was once a "wouldn't it be cool if..." notion to fruition as a new product line that not only expands the ice cream business, but also offers a new sales outlet to Midnight Goat Farm, who previously focused solely on cheese production.   
"We've found that we're actually making more money on selling the fluid milk than we did processing the cheese," said Yves Gonnet, owner of Midnight Goat Farm. "It's a bit mind-blowing." 
Supply chain innovation and strengthening connections between dairy farmers and processors leads to a more a resilient—and delicious—dairy food system.  Building up producer-processor relationships is one result of NE-DBIC grants. 
"The Dairy Business Innovation Center encouraged me to really dive into [making goat gelato]. We now have a full line, we're advocating it for grocery stores, and it's allowing us to make it bigger than we could have ever done," said Mack. 
Gonnet also pointed out the impact of the Sheep & Goat Dairy Supply Chain Grant, saying, "It allows people to experiment. There's not a lot of margin in farming or in food service, so you don't typically take a lot of risk." Grant funding softened that risk and gave Mack the leeway to test and develop a new product. 
As Lu-Lu's heads into the summer production season, Mack is thinking of how to expand the goat gelato line. "We're really confident that we can go find another farmer and say, 'We know how to do this. We know what we need to do, what you need to do, let's build another partnership,'" said Mack.  
The NE-DBIC offers grants to support dairy farmers and processors across the region. Visit our website to learn more and see our funding calendar: https://agriculture.vermont.gov/dbic