Vermaple, LLC 
By: Noah Gilbert-Fuller, VT Agency of Agriculture, Food & Markets
Vermont's maple sugaring season has come to a close, marking another massive year for sugar makers as production and demand has continued to increase. For sugar makers, expanding and improving their enterprises is crucial in keeping up with a competitive marketplace. This includes the construction of pump houses, sugar houses, storage and processing structures that often need additional access to heat, plumbing and electricity. As a result, it can be daunting for new producers to work through different zoning bylaws as they plan out their sugaring operation.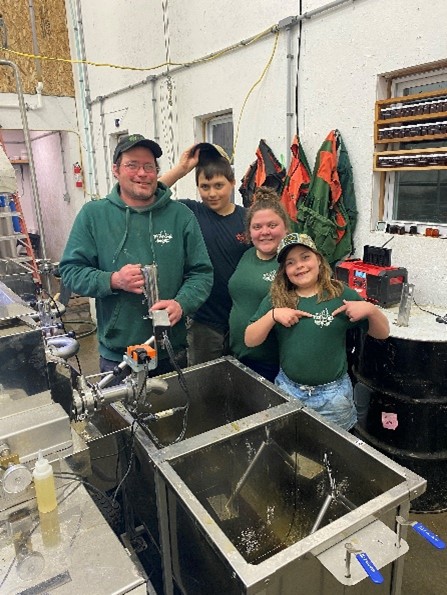 In the face of these upfront challenges, there are resources to support even the newest of maple producers. Vermaple, LLC is a family run and owned sugar house in Bakersfield built from the ground up by Jamie and Hollie Curtis and their two children James Jr. and Seanna. Jamie had sugared with his grandfather growing up, and wanted to turn that passion into something he could do with his family. Vermaple, LLC started in 2019 with around 1,750 taps, and is now tapping 9,600 trees across 20s0 acres, with plans of expanding into a 20-acre lease in 2024, adding another 1,000+ taps. This scale of production doesn't start over night, and installing equipment infrastructure took place over multiple seasons. That's why a timely Farm Determination, and a Farm Structure Determination, helped these farmers get the right equipment in at the right time. 
Farms that fall under the definition of farming in the Vermont Required Agricultural Practices (RAPs) are regulated by the Vermont Agency of Agriculture, Food and Markets, and provide towns with a way to navigate the regulation of farm development without impeding farm operations. Section 4413(d) of Title 24 (Municipal and County Government) of Vermont Statutes Annotated (V.S.A.) is the statute that describes this in more detail.  In summary, farms are required to notify their town of proposed construction of farm structures and be in compliance with town setback requirements unless otherwise approved by the Vermont Agency of Agriculture, but are not required to have a permit.  Often, towns will include this language in their bylaws to simplify the process for farmers. Others may add provisions to make accessory farmer dwelling structures or on-farm business structures.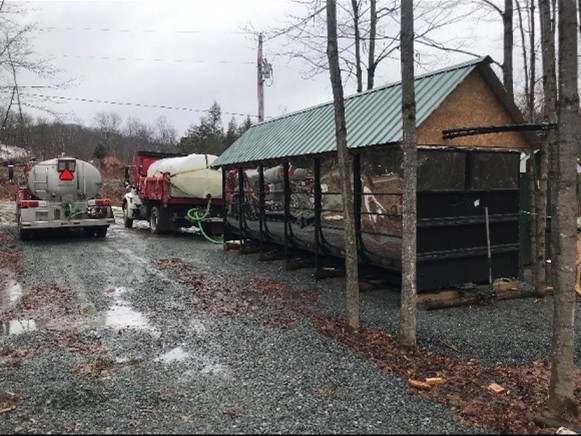 In the case of Vermaple, LLC, they applied for the Farm Operation and Structure Determination so they could put a pump house on their property that would help move sap from their sugarbush to their storage area. They needed to ensure the pump house had enough space for pumps and people alike, with heating utilities to keep the pumps from freezing. This business is based in the town of Bakersfield, which requires a notification and a letter of determination from the state in order to construct a farm structure but does not require a permit. The Curtis family worked closely with their town and the state to make sure that they were following all rules and regulations as they set up for longer-term expansion.  
Now, Vermaple, LLC operates with two pump houses that store their sap before it goes to their sugar house for boiling, with their average yields ranging from around 200-300 gallons per boil. In the first two seasons, their largest boil was only 90 gallons, so this has significantly increased their efficiency.  
If you're a small farm seeking ways to expand and construct new structures make sure to contact your local Zoning Administrator for guidance as early as possible in the process. Regardless of local zoning bylaws and guidance, all farms MUST notify their town of proposed construction of farm structures.  A Farm Determination from the Agency of Agriculture may not be required, but may be requested if your town needs it to determine construction requirements and zoning for proposed farming activities and proposed farm structures. 
For more information on Farm Determinations and the Required Agricultural Practices, visit https://agriculture.vermont.gov/water-quality/regulations/farm-definitions-and-determinations or contact Noah Gilbert-Fuller at Noah.Gilbert-Fuller@vermont.gov or (802) 505-3407.