Farm Connex at Center for an Agricultural Economy is Scaling Up to Serve VT Food and Farm Businesses 
By Laura Hardie, Red Barn Writer 
It's 4 p.m. on a Friday at the Farm Connex warehouse in Hardwick, Vermont. Two of their distribution vehicles are returning from delivering Vermont-made food products to stores and restaurants.  
While out, they picked up freshly-made products directly from producers – everything from milk to craft sodas and salumi. At Farm Connex, the items will be unloaded, prepped, and reloaded for deliveries to stores the next day. 
Farm Connex, the distribution arm of the Center for an Agricultural Economy's (CAE) Food Hub, delivers goods for Vermont producers whose operations are too small or rural to work with traditional distribution services. 
"If you think about Butterworks Organic or Strafford Organic and the volume of value-added dairy they need to move off the farm - that is not a task they can easily do themselves without having their own trucking fleet and employees," Jon Ramsay, executive director of CAE, said. "Rather than replicating that at every farm, we can do that for many different farmers."  
Yet, the space where an estimated 12 million dollars of food was moved from farm to shelf in 2022 is only 1,200 square feet. While one truck unloads products in the warehouse, the second is forced to wait in the parking lot because there's only one loading bay. 
"It's like a Tetris game with pallets and boxes," Corey Hennessey, Farm Connex general manager, said. "We handle things multiple times because of space limitations, which fundamentally increases our costs." 
Cramped in her makeshift office in the loft above the loading bay (which she shares with Dispatch and Logistics Coordinator Stella James and Ops Manager Don Maynard), Hennessey says the lack of space in this middle part of the supply chain is a bottleneck preventing Farm Connex from serving more farmers.  
Founded in 2009 by Maynard and transferred to CAE in 2020, Farm Connex has grown from serving about a dozen farms and food businesses when it began to nearly 100 today. Farms like Sweet Rowen Farmstead in West Glover have seen exponential growth because of the partnership.  
"Don was going to Sweet Rowen with a van to load up ten milk crates each week, and now we're picking up, on average, 250 to 300 a week," Ramsay said. 
Sweet Rowen's story is one of many similar producer stories. In 2021, Farm Connex distributed products valued at 8 million dollars for producers. In 2022, that number rose over 50 percent to an expected 12 million dollars. In 2023, they expect to surpass that. Hennessey, an original employee in the company, says demand for their services has exceeded their capacity for as long as she can remember.  
With a growing waitlist built on their reputation for scaling Vermont farm businesses to the next level, CAE received a nearly $250,000 grant in 2022 from the Working Lands Enterprise Initiative (WLEI) to scale their own business.  
The grant will support building out infrastructure in a new warehouse, a new freight truck with one new trucking route with out-of-state delivery points, CDL driver training, and staff time for a general manager and dispatch and logistics coordinator.  
Photo captions: Corey Hennessey, Farm Connex Manager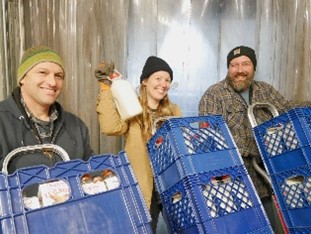 From right to left, Jon Ramsay, Corey Hennessey, and Zach Hoppe of CAE Farm Connex