By E.B. Flory, VT Agency of Agriculture, Food & Markets
Since the late 1980s, dairy products you purchase in stores have been antibiotic free due to a nationwide rigorous testing protocol.  The protocol begins with every load of milk shipped from a farm being tested for antibiotics before that milk is accepted into a dairy plant for processing.  As priorities change and new industry standards are introduced, the entire industry uses both education and enforcement to ensure success.  Within the dairy industry educational materials were made available to farmers and their peers while government regulations were put into place.  A structure of enforcement was developed for farms when their shipment of milk tested positive for antibiotics.  Enforcement consequences include not being allowed to ship milk until a milk sample is shown to be free from antibiotics, a fee structure if multiple loads of antibiotic milk is shipped from the same farm within 12 months, and a drug residue follow up inspection conducted by a farm inspector to verify where the adulterated milk was disposed of and what caused the milk to test positive for antibiotics.  Inspectors work with the producer to review how medicines for cattle are managed and best practices for preventing the issue from occurring again on their farm.   
Vermont dairy farms have progressed over the decades and have made management of medical treatment for cattle a top priority.  Efforts made by Dairy Section staff and other industry resources to work with dairy farmers have yielded impressive results in Vermont.  The most current data shows that in 2011 Vermont had 42 total positive loads of milk that had to be disposed of and not offered for sale to consumers. Compared to 2022, where only 6 positive loads of milk had to be disposed of and not offered for sale.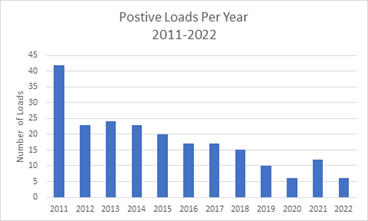 Vermont produces over 2 billion pounds of milk each year and to have a total of approximately 330,000lbs disposed of due to drug residues from six loads is progress that should be applauded.  Most of us can make more than six mistakes a year. 
 Enforcement of regulations is not usually an enjoyable topic for the person being regulated.  Vermont's dairy farming community has responded to these rules by learning, growing, adapting, and offering the safest and most wholesome products they can from of their farm.  The Dairy Section is grateful to work with Vermont's dairy farms as they continue to harvest milk each day under strict regulations that must meet federal and state standards. The Agency is pleased with the progress dairy farms have made in working with these regulations to minimize mistakes while becoming a national leader on responsible handling of cattle and their medical treatments.  Managing a dairy farm is complex and, on this topic, our farmers are working with regulations to be excellent producers of safe for consumption milk. 
For more information, contact Ian Wilson by email ian.wilson@vermont.gov or by phone 802-828-2433.