Vermont Agency of Agriculture, Food & Markets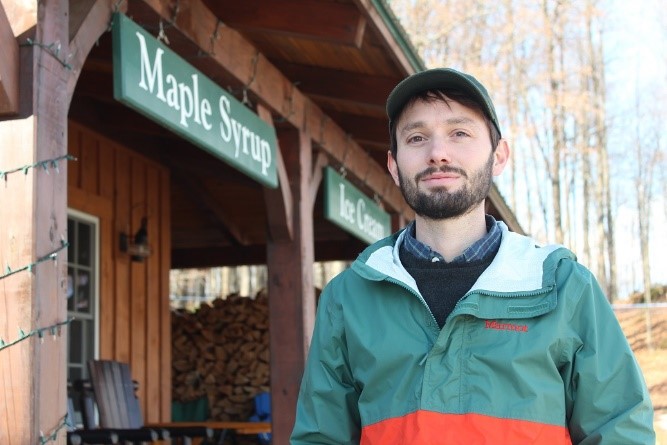 The Agency of Agriculture, Food and Markets is investing substantial resources from our Consumer Protection and Agricultural Development Teams to work on protecting and promoting the Maple Industry in the Green Mountains. To help the Agency develop this work, the Agency would like to introduce Tucker Diego to our maple friends, with a short question and answer session.
Q: What are your new responsibilities to support the Maple Sugar industry?
Tucker: Part of my role as an Agricultural Production Specialist with the Agency's Food Safety & Consumer Protection Division is to ensure the Vermont maple laws are being followed. The maple laws have been established in Vermont statutes for many years now and are focused on ensuring that consumers receive high quality maple syrup that meets grade A standards for color, favor, clarity, and density. The maple regulations also help ensure that maple products are produced in a safe way and that maple remains a healthy and safe choice for consumers.
Q: What kind of training have you done to get ready for this?
Tucker: I grew up on a farm, but not a sugarbush, so I've had to do a fair bit of research and training to prepare for this part of the job. I was fortunate to work alongside the Agency's previous maple expert, Henry Marckres, who many readers might know firsthand. With over 30 years of experience, Henry is a wealth of knowledge and helped train me on the techniques for grading maple syrup. I recently completed the two-day maple grading school held at the Proctor Maple Research Center in Jericho where I was able to practice grading a wide range of syrups with some of the best experts in the Northeast. The UVM Extension staff at the Proctor Center have been a great resource as I learn more about the world of maple.
Q: What will you be looking for when inspecting maple?
Tucker: My role primarily involves checking maple products at retail stores to ensure they meet grade A standards. This means opening and sampling a small selection of maple syrup in the store to check for color, favor, clarity, and density. Each characteristic is tested separately and requires special equipment, and in the case of flavor, trained taste buds. Density is measured by a refractometer or hydrometer, color is assessed using a color comparator device and by light transmittance, clarity is assessed visually, and flavor must be tasted to ensure it meets the correct grade and doesn't contain off-favors. I also check maple product labeling requirements.
Q: When will inspections begin?
Tucker: Periodic inspections of maple products in retail stores will begin in January 2020.
Q: What have you learned about the maple laws since taking on this new duty?
Tucker: The maple laws are designed to help ensure consumers receive a high quality and safe product. This in turn helps maintain the reputation of Vermont maple products that are such highly sought after.
Q: Will you be doing maple promotion?
Tucker: Along with new roles for staff in the Agency's Food Safety & Consumer Protection Division, several staff from the Agricultural Development Division are working to increase maple industry outreach and promotion. Several grants were recently awarded to the team to implement market research and a multi-tiered marketing campaign that will include social media, PR, and agritourism initiatives. The program is focused on highlighting the many ways maple can be consumed, the diverse range of innovative, value-added products that showcase maple as an ingredient, and broadening the target audiences for marketing of maple to include the food service professional and the conscious consumer.
Q: What's your favorite way to enjoy maple?
Tucker: I love maple in just about any form, whether on snow, in a creemee, or on waffles. I also love to substitute normal sugar with maple syrup in baking and cooking. It tastes great and is a good way to incorporate a local ingredient.
You can reach Tucker at the Agency by phone 802.622.4412 or by email,  Tucker.Diego@vermont.gov