USDA Secretary Sonny Perdue Helps Kickoff Vermont Maple Season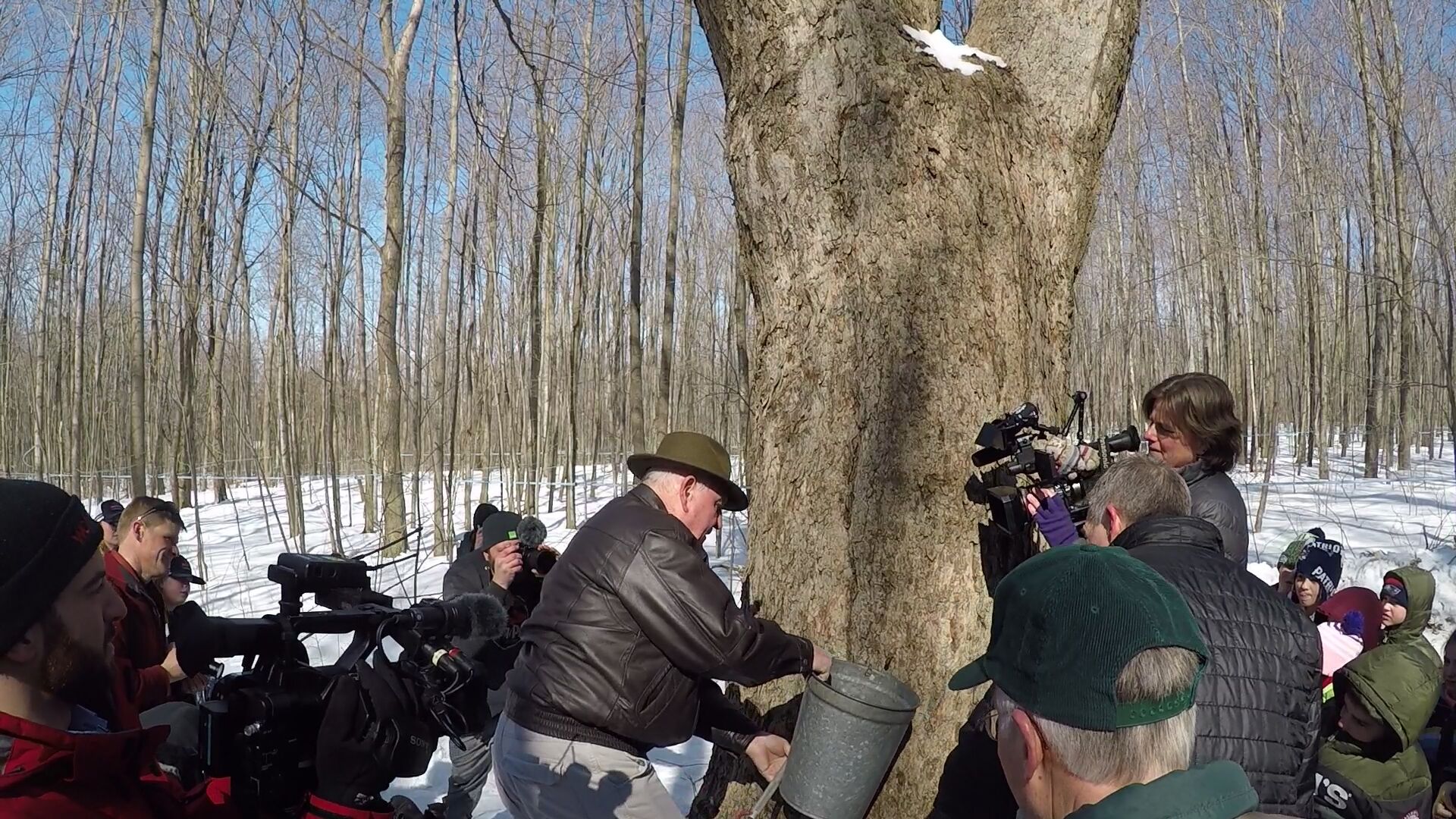 Milton, Vt. – The sweetest season is here. Vermont Governor Phil Scott and U.S. Secretary of Agriculture Sonny Perdue kicked off sugaring season in Vermont by tapping a maple tree in Milton. This annual tradition was hosted this year by Georgia Mountain Maples and the Harrison Family.
"Maple plays a critical role not just in Vermont's economy, but in our culture and way of life," said Governor Scott. "We are proud to lead the nation when it comes to making maple." 
Secretary Perdue traveled to Vermont to take part in this proud tradition. "Vermont maple syrup is a beautiful choice - great, sweet, and lovely. It's a cultural experience and it was good to come and see the Vermont heritage at a modern plant here in Milton. I was happy to join Governor Scott today for this annual tradition during maple tapping season," said Secretary Perdue.
"This industry is a vital element of our working landscape. Not only do businesses like Georgia Mountain Maples provide jobs to many Vermonters, they produce a high quality natural product," Secretary Anson Tebbetts explained.
Vermont's maple industry has led the nation in total syrup produced for decades, bringing more than $50 million dollars of revenue to the state in 2017 and 2018. The USDA census indicates that Vermont's maple industry employs over 4,000 Vermonters and nearly half the maple produced in the U.S. comes from Vermont. In 2018, Vermont once again led the nation in making maple syrup, producing nearly two million gallons of the sweet product. Other maple statistics include:
         2004 – 1 million taps / 2018 – over 5.6 million taps.
         In 2017, Vermont produced 1.98 million gallons of maple syrup, nearly 50 percent of the U.S. crop, second highest total on record.
         In 2017, Vermont maple syrup revenues were over $54 million, or $27/gallon.
After the tapping, the Harrisons gave Secretary Perdue a tour of the woods and production facility. The Harrisons also hosted a traditional pancake breakfast with students from Milton Elementary. Georgia Mountain Maples produces organic maple syrup from 160,000 taps, using reverse osmosis to remove much of the tree's water prior to boiling the sap. "We are committed to protecting our woods and environment as we operate our sugar bush," co-owner Kevin Harrison said.  "We want these woods to be benefitting Vermonters for centuries."
While maple was the highlight, Secretary Perdue and Vermont's officials also addressed questions about dairy, hemp, broadband and trade – all topics important to Vermont's economy. 
Click below for:
The Harrison Family with U.S. Secretary of Agriculture Sonny Perdue