March 6, 2019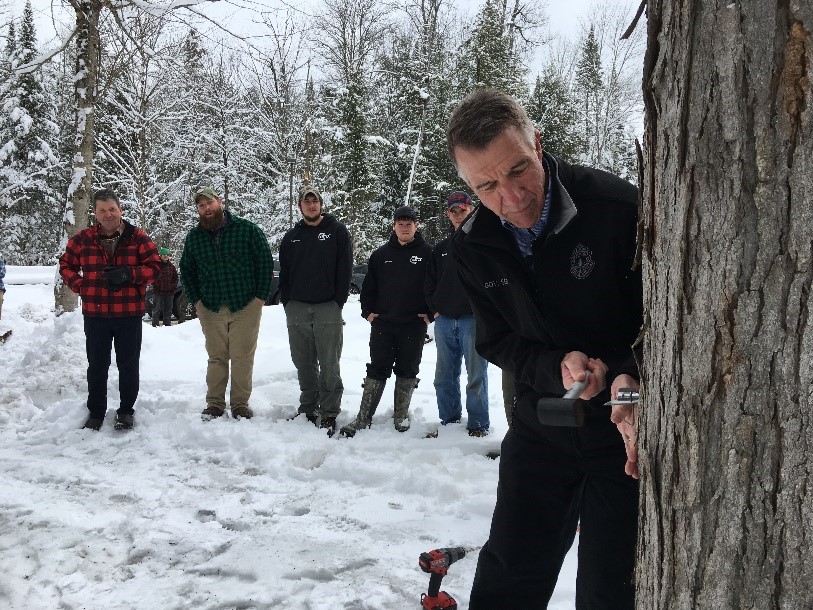 USDA Secretary Sonny Perdue Celebrates Vermont Maple With Governor Phil Scott
Georgia Mountain Maples Will Host the Annual First-Tapping Celebration
March 6, 2019 / Montpelier VT – Governor Phil Scott will welcome USDA Secretary Sonny Perdue to Vermont for the first time on Friday to help celebrate the official kickoff of Vermont's sweetest season.  They will each tap a maple tree to recognize this important industry to Vermont's economy and culture, and as an important contributor to the country's working lands products.  This year's tapping will take place at Georgia Mountain Maples in Milton, Vermont.  The maple operation produces maple syrup from 160,000 taps.
What:                  Governor's Annual Tree-Tapping
When:                 Friday, March 8th  | 10:30am – 1 pm
Where:               Georgia Mountain Maples  345 N Rd, Milton, VT 0546
                                *Parking available on site.
Who:                   USDA Secretary Sonny Perdue
Governor Phil Scott
Secretary Anson Tebbetts, Vermont Agency of Agriculture, Food & Markets
Students from Milton Elementary School will celebrate the at the Tapping event with Georgia Mountain Maple Syrup with pancakes and sugar-on-snow.  A press availability will occur from 11:45 to 12:15 for those wishing to speak with attending officials.  A tour of the facility will commence thereafter, led by the Harrison Family, the owners of Georgia Mountain Maples.
In 2018, Vermont once again Vermont led the nation in making maple syrup, producing nearly 2 million gallons of the sweet product. This means about half of the maple syrup produced in the United States is made in the Green Mountains. 
         2004 – 1 million taps / 2018 – over 5.6 million taps.
         In 2017, Vermont produced 1.98 million gallons of maple syrup, nearly 50% of the U.S. crop, second highest total on record.
         In 2017, Vermont maple syrup revenues were over $54 million, or $27/gallon.
         Approximately 4,000 jobs is created and supported by the Vermont maple industry.*
* "The Economic Contribution of the Vermont Maple Industry" prepared for: the Vermont Maple Sugar Makers Association By: Florence Becot, Jane Kolodinsky, PhD and David Conner, PhD / August 2015
Please join us for this important recognition of our Vermont maple industry.
* Photos are from the 2018 First-Tapping event at Hazen's Sugarhouse in Hardwick, VT.
For any questions please contact: 
Scott Waterman
Policy and Communications Director / Agency of Agriculture, Food & Markets
116 State Street, Montpelier, VT 05602 | www.agriculture.vermont.gov
Office 802-828-2179 | Cell 802-622-4662