July 31, 2023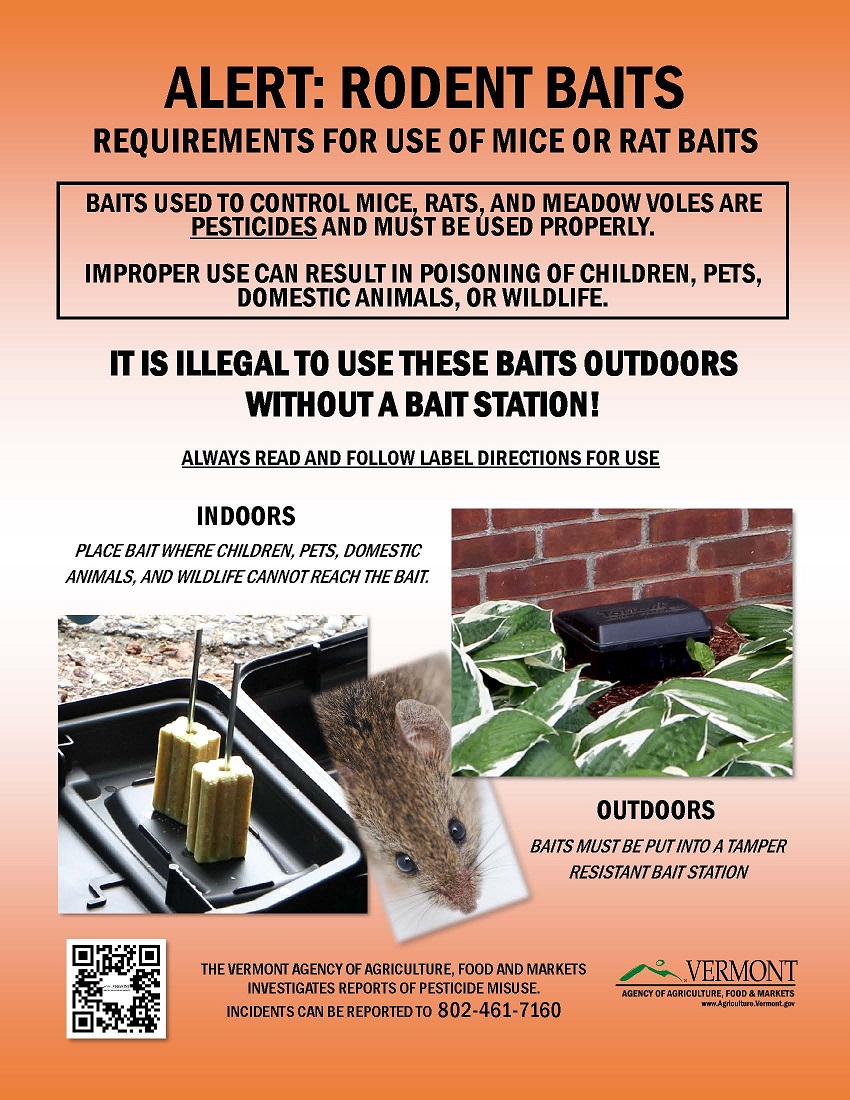 Agencies warn improper use of baits can result in poisoning of children, pets, domestic animals, and wildlife.
July 31, 2023 | Montpelier, VT – The Vermont Agency of Agriculture, Food & Markets (VAAFM) and Vermont Fish & Wildlife (VFW) are reminding consumers it is illegal to use baits to control mice, rats and meadow voles outdoors without a bait station. It's important to always read and follow label directions when using rodenticides. Failure to follow the label can result in a fine. When using indoors, place bait where children, pets, domestic animals, and wildlife cannot reach the bait.
Rodents, like mice and rats, can be a nuisance around homes and businesses. A rodent infestation can lead to serious problems, but specific requirements must be followed when using a pesticide for rodent control. Rodenticides are a type of pesticide that can be used to control these pests, but they must be used properly. It is important to know these materials can harm children, pets, and wildlife if not used correctly.
Officials are also reminding consumers rodent control can be accomplished using multiple strategies, including:
Sanitation

Rodent Resistant Compost Bins

Removal of Food and Water Sources

Traps (many types are available at most hardware or farm stores)

Glue boards

Routinely inspect your home for areas where rodents can access the interior and fix to

prevent entry

.
To learn more about properly using rodenticides watch our instructional video or visit the Pesticide Program web page. An informational poster to alert consumers is also attached and can be found for download here: https://rb.gy/zo2kf .  VAAFM investigates reports of pesticide misuse.
INCIDENTS CAN BE REPORTED TO 802-461-7160