August 2, 2022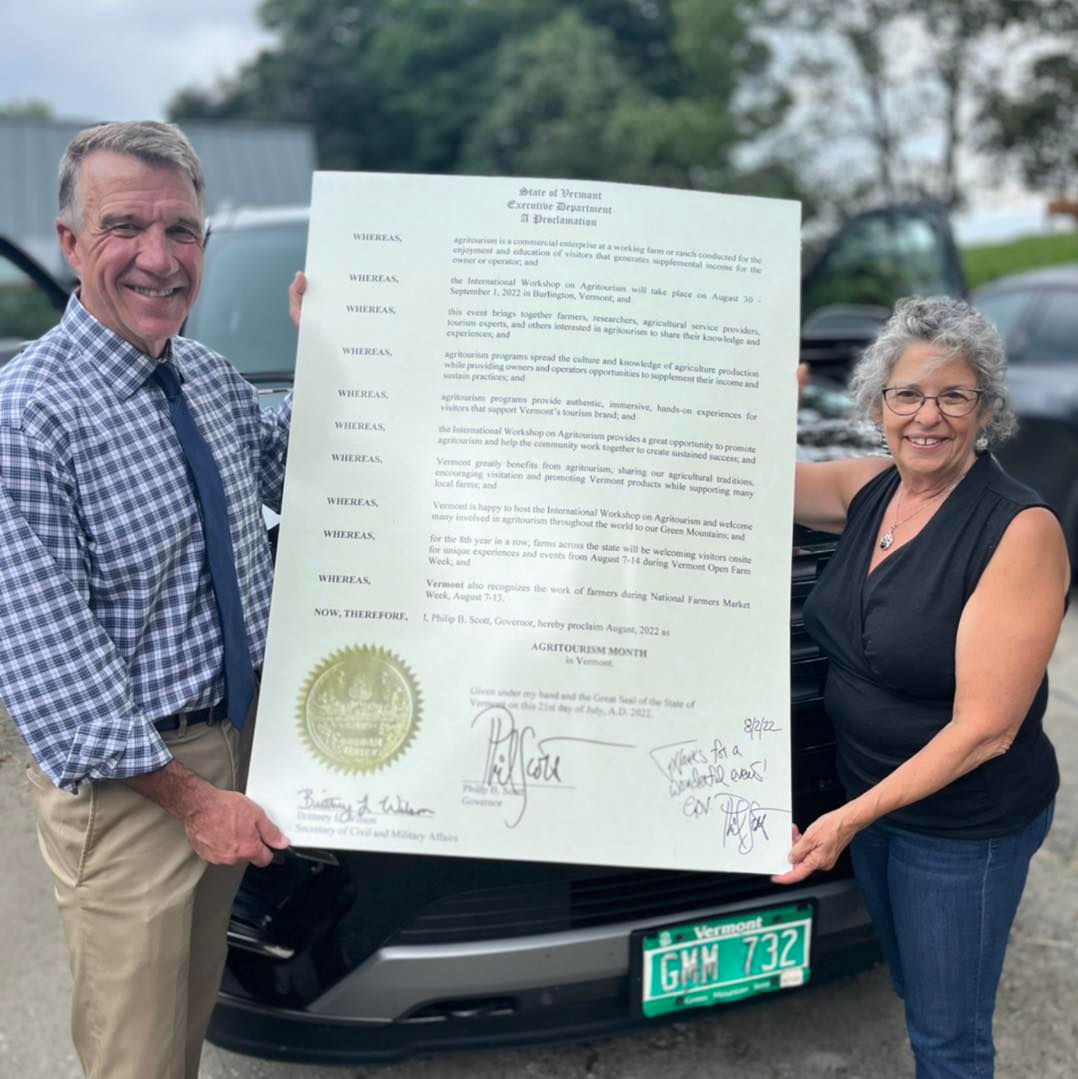 August 2, 2022 | Montpelier, VT  - Vermont is opening up its working farms and businesses to visitors this summer. This comes as Governor Phil Scott declares August as Agritourism Month in Vermont. The combination of these two industries is important to Vermont's working landscape and the state's economy. Dozens of on-farm activities in every corner of the Green Mountains gives the public authentic experiences on how Vermont's food is grown, raised and produced. Experiences from tasting award-winning food and drink to spending a night on the farm and waking up with the cows create memories for families while supporting Agriculture.
"Vermont's farmers are so important to our communities. Agriculture is part of our culture, our brand, and a critical part of our economy, especially in rural parts of our state," said Governor Scott. "That's why it's so important we find ways to continue supporting this sector, through strategic investments, and also by supporting creative new opportunities, like agritourism."
While agritourism in Vermont is not confined to the month of August, the proclamation recognizes the harvest activities that inherently come this time of year, from crops of sweet corn to Vermont's farm stands loaded with vegetables and berries. The proclamation also recognizes that agriculture officials from across the globe will meet here in Burlington this August to discuss how agritourism can contribute to a region's economy while continuing to feed the world, during the International Workshop on Agritourism.
"Vermonters keep it real. Opening our farms, fields, barns and businesses gives the public a behind the scenes look at farm life," Agriculture Secretary Anson Tebbetts said. "From maple to milk, and corn to cattle, there are countless agritourism spots in Vermont that showcase the hard work that goes on every day on our farms and working lands businesses. We are proud to welcome the world to Vermont at the upcoming International Conference. We will be telling our story and learning from others on how to support and grow Agritourism in the Green Mountains."
Many agritourism activities make up the tapestry of Vermont's on-farm experiences. From Vermont Open Farm Week starting August 7th to the Vermont Maple 100, to the recently held Breakfast on the Farm event and events like Burger Night, our state sets a high bar for others to learn from. That why state agritourism officials are excited to welcome the world to Vermont to share our expertise.
"Agritourism offers farmers and rural communities the possibility of diversifying and generating additional income through on-farm activities. This helps to maintain the viability of active farms and vitality of rural communities," said Dr. Lisa Chase from UVM Extensions Vermont Tourism Research Center and an organizer of this summer's International Agritourism Conference. "We thank Governor Scott for this important recognition and look forward to welcoming the world to Burlington to celebrate and grow agritourism around the world."
Vermont would be a different place without our farms and working lands. That's why Vermont's Department of Tourism and Marketing (VDTM) is a strong partner supporting Vermont agriculture and those who are making their living off the land.
"Tourism is critical to our state's economy and our agricultural heritage is a key component of the Vermont brand experience," said VDTM Commissioner Heather Pelham. "Visitors are increasingly seeking authentic, hands-on experiences when they travel. Thanks to our farms and farmers, visitors to Vermont are able to enjoy unique culinary and farm-related activities across the state and can buy agricultural products directly from our producers to bring home with them. Agritourism allows Vermont to fully take advantage of our state's cultural heritage, while growing the economy and supporting our farmers as they maintain and grow our working landscape."