By: Annika Fuller, VT Agency of Agriculture, Food & Markets
April 1, 2023 | Montpelier, VT - Woodnotch Farm, run by Loren Wood, his wife and their four sons, milks around 1000 cows on two separely permitted farm operations. Before this year, they had a nearly two-acre feed bunk facility on one of their operations that had an insufficient silage leachate collection system. In 2022, however, they remedied this issue by completing a liquid Waste Storage Facility project with joint funding from the Environmental Quality Incentives Program (EQIP) from the USDA Natural Resources Conservation Service (NRCS) and the Best Management Practices (BMP) grant from the Vermont Agency of Agriculture, Food and Markets. 
The old vegetated treatment system for silage leachate was causing the storm runoff to overload a small Vegetated Treatment Area with nutrients. Additionally, since the low flow tank did not have an automatic pump system, "the farm would have to go down there with a tractor and pump out the tank every so often. Which wasn't a very feasible option," said Jason Bradley, the State of Vermont BMP Engineer that helped the farm with the project. If the low flow tank overflowed, it had the potential to flow into a small stream below the feed bunk, and from there into Lake Champlain. 
Wanting to address the situation before matters worsened, Woodnotch reached out to George Tucker, a soil conservationist with NRCS.  
When farmers such as Wood reach out to NRCS about infrastructure projects, "[we are] pretty honest about whether farmers should go for one funding program alone or if it's going to be large and expensive then they can tie the state and the federal programs together," Tucker said.  
When Tucker assessed the site, he recommended pairing EQIP with the State's BMP program to cover more of the cost than EQIP or BMP could alone.  For BMP-only projects, funding cannot exceed $100,000.  But for EQIP projects, BMP can contribute up to $200,000 on top of an EQIP maximum of $450,000 for each Farm Bill.  Combined, these two programs can fund up to $650,00.  At a total construction cost of less than $150,000, the Woodnotch project was not nearly this costly, but while EQIP was only able to cover 67% of the construction cost, BMP was able to "cover the gap" and contribute an additional 23%.  Combined, EQIP and BMP were able to fund the project at the 90% level. 
For Woodnotch's project, Bradley was able to represent both the federal EQIP program and the state BMP program, ensuring that cooperation between the two funding programs was smooth.  In other parts of the state, the BMP engineer may only act to administer BMP funding, while an EQIP engineer will provide primary technical design on the project.   
With the help of the two programs, Woodnotch Farms was able to expand their Waste Storage Facility to around seven times its original size, so it can now hold all the silage leachate and contaminated runoff from the feed bunk complex.  
This type of waste collection project "gives the farmers flexibility to deal with their waste when it is convenient for them and also when it is the right time for the field to absorb those nutrients," Bradley said. And while it has helped the farm's daily management not have to constantly monitor and pump out leachate from the tank in order to avoid overflow and runoff, it also allows the farm to comply with state requirements. "The state is strict with their rules, as they should be, but this is one less thing that our farm will have to worry about," Loren Wood said.  
Completing projects with help from both EQIP and BMP can be convenient and can cover a much higher percentage of costs than either program alone. However, Tucker says there are some things farmers need to make sure of when using these two different programs together. He recommends that farmers have a good estimate from the start and ensure that all their questions are asked and answered before the project begins on the ground. Then, once the project is approved, bills and hours need to be well tracked. 
With these things in mind, EQIP and BMP coordinated projects have a high potential to improve farm operations. "At the end of the day, we are really glad we did this project," Wood concluded.  
To apply to EQIP contact your local USDA NRCS service center (https://www.farmers.gov/working-with-us/service-center-locator). For more information about the state BMP program and to apply, visit https://agriculture.vermont.gov/bmp. BMP applications for the 2023 season should be submitted by April 1.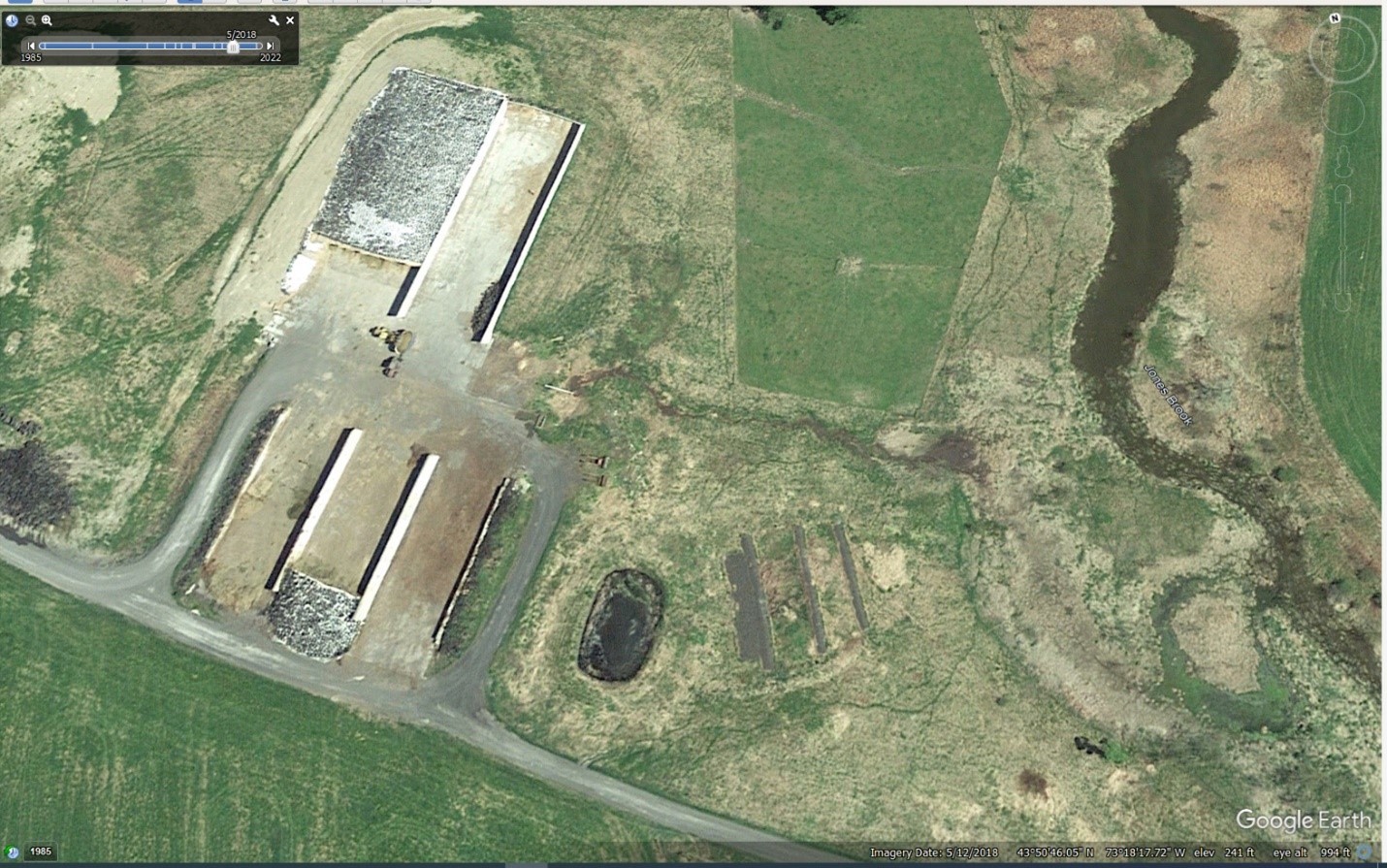 Satellite picture of the Woodnotch Farm feed bunk facility before the EQIP & BMP project.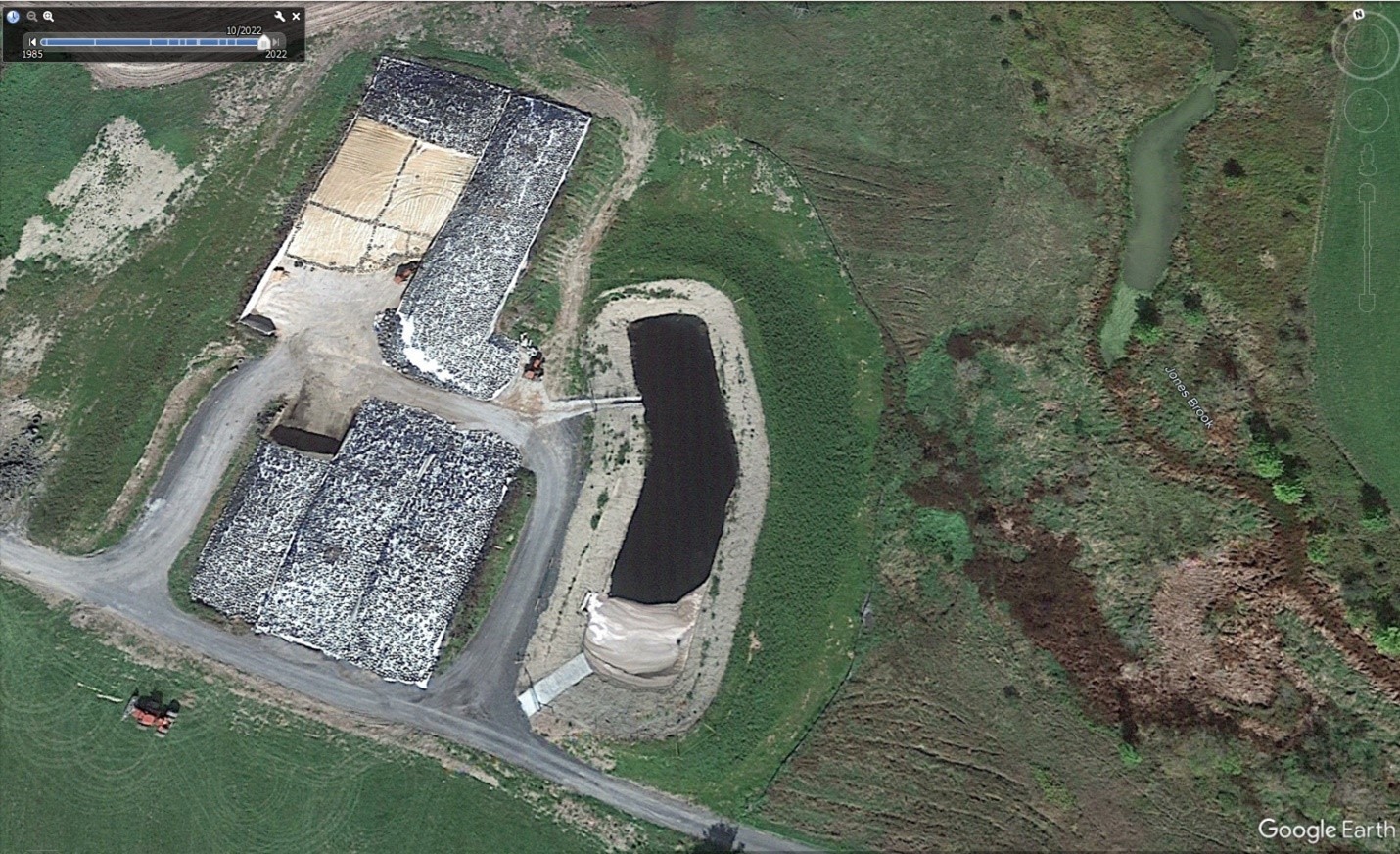 A satellite view of The Woodnotch Farm feed bunk facility after the EQIP & BMP project.