Vermont Cannabis Quality Control Program
The Vermont Agency of Agriculture, Food and Markets establishes a Cannabis Quality Control Program under 6 V.S.A. § 567 for the following purposes:
to develop potency and contaminant testing protocols for hemp and hemp-infused products,
to verify cannabinoid label guarantees of hemp and hemp-infused products,
to test for pesticides, solvents, heavy metals, mycotoxins, and bacterial and fungal contaminants in hemp and hemp-infused products, and
to certify testing laboratories that can offer the services for cannabinoid label guarantees and contaminant testing.
Questions about testing, contaminant action limits, and laboratory certification may be emailed to AGR.HempLabCertification@vermont.gov.  
Required testing under the Vermont Hemp Rules
The Agency continues to develop the Cannabis Quality Control Program and has not begun certifying laboratories. The Agency asks registrants to test  crops and products for compliance with hemp potency and contaminant action limits using a laboratory even if it is not certified by the Agency, at this time. Hemp Program registrants must comply with the Vermont Hemp Rules related to testing hemp crops and products, reporting to the Hemp Program of non-compliance, and maintaining required records.  The Agency compiled a list of laboratories that expressed interested in becoming certified once the program is in place.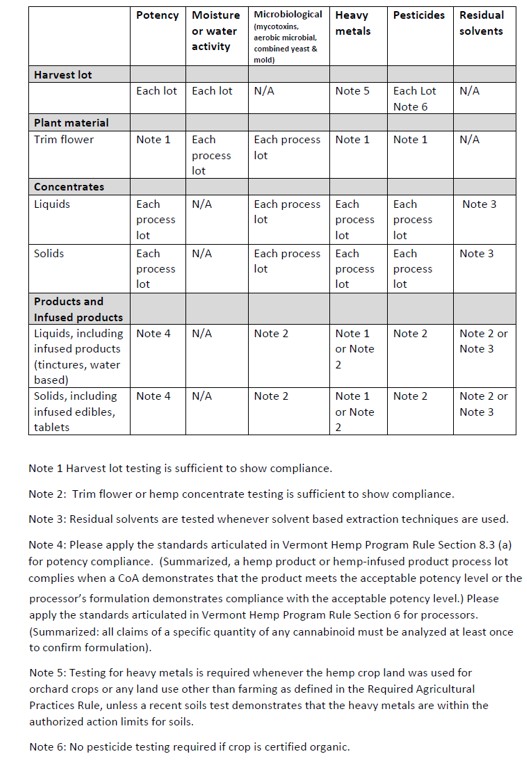 Certification of Laboratories (coming soon)
In support of the hemp industry in Vermont, the Hemp Program will certify laboratories used by registrants for compliance purposes.  Once certified laboratories are in place, only a test from a certified laboratory can be used as proof of compliance with the Vermont Hemp Rules. 
To begin the process of becoming a certified laboratory, a person will need to submit a complete application, including necessary documentation, and pay a fee.   The Agency will conduct a review of the application materials to ensure the laboratory's accreditations, practices, procedures, and personnel meet the requirements of the program for the testing area in which the applicant seeks certification. In additon to these standards, a laboratory must also review the Vermont Hemp Rules, be knowledgeable of the testing requirements on hemp crops, hemp concentrates, hemp products, and hemp-infused products, understand contaminants and potency action limits for regulatory compliance, maintain appropriate documentation, and report required information to the Hemp Program. 
In the development of the Cannabis Quality Control Program, the Agency solicted input from a stakeholder group representing existing Vermont laboratories, growers and processors. This group engaged with the Agency on all elements of the Cannabis Quality Control Program, including required application materials and standards, to administrative processes, proficiencies and comtaminant action limits.  A summary of the comments and responses is provided, here.
Helpful Resources
Cannabis Quality Control Program (coming soon)