The Agency of Agriculture is now providing complimentary monthly Agriview subscriptions to Vermont farmers and producers.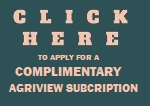 Subscription Information for Vermont Farmers and Producers. Click HERE to apply for your complimentary monthly Agriview newspaper. 

Subscription Information for Existing Subscribers - Classfied Club.

  If you have paid for a subscription to Agriview in the past, you don't have to do anything! You will continue to receive your monthly copies. If your interest is to place classified ads you will still need to send in the yearly fee. Please contact Faith Raymond if you have any questions regarding your subscription, faith.raymond@vermont.gov or 802-828-1619.

Subscription Information for Readers Who are NOT Farmers, or Located Outside of Vermont.

Readers who are not farmers/producers or reside outside of Vermont, will pay the $30 yearly fee to receive the Agriview. 

To pay online, please use the below link: 
              https://nws.vermont.egov.com/forms/vaafm/agriview_paid_signup
 ​All Agriview readers, see information below regarding classified ad placement 
If you have any questions or concerns about your subscription, have accidentally received multiple copies, or would like to be removed from our Agriview mailing lists, please email: AGR.Agriview@vermont.gov or call: 802-828-1619.